Cardamom Citrus Coffee Cake
Cardamom Citrus Coffee Cake is the perfect, cozy fall coffee cake recipe.
Your house will smell amazing while baking it!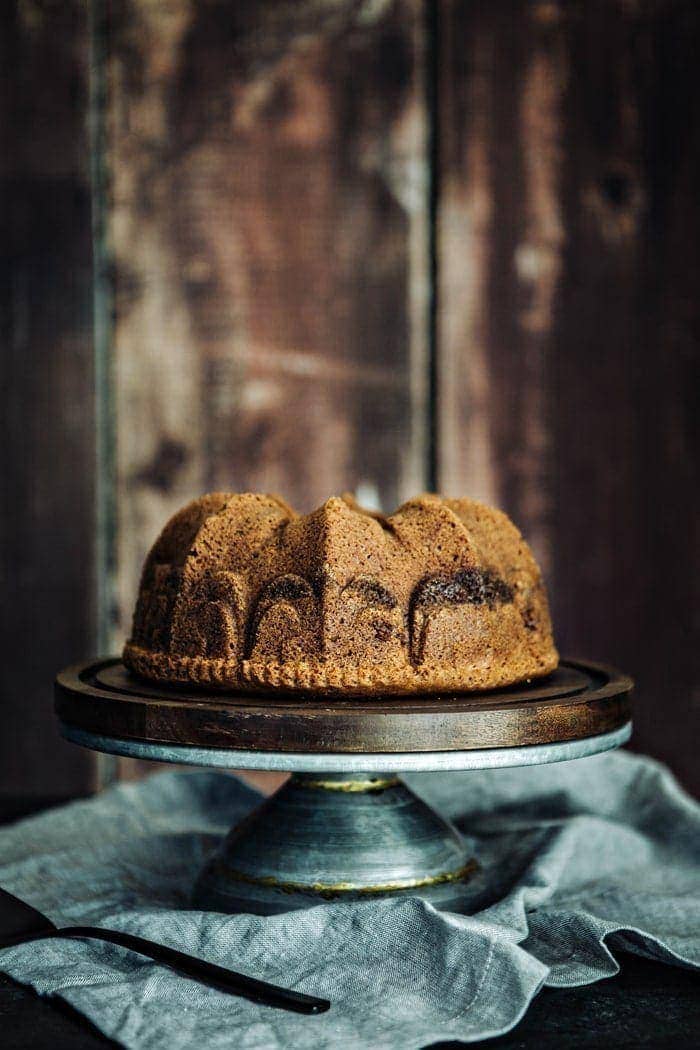 Save this recipe for Cardamom Citrus Coffee Cake to Pinterest!
Logan recently mentioned coffee cake and I realized that I haven't baked on in a while.
It was the perfect time to do some baking last night.
Kevin was out of town last night and I didn't have any of the kids home.
It has been cold and dreary outside all week. Baking something like this instantly warms the house and makes it smell so good and cozy.
So, I spent the evening baking this delicious Cardamom Citrus Coffee Cake and watching Grey's Anatomy in my pajamas with the Bailey, our dog.
Meet Bailey here if you haven't seen her yet. She's so cute!
I've been baking this recipe for more than 9 years.
The base of the recipe was something that I first learned when I took a college cooking class years and years ago.
Over the years I have tweaked or adapted it multiple times.
I've added things like cranberries or blueberries. I've used ricotta instead of sour cream.
And in this version I've added orange zest and plenty of cardamom for the perfect fall smells and flavors.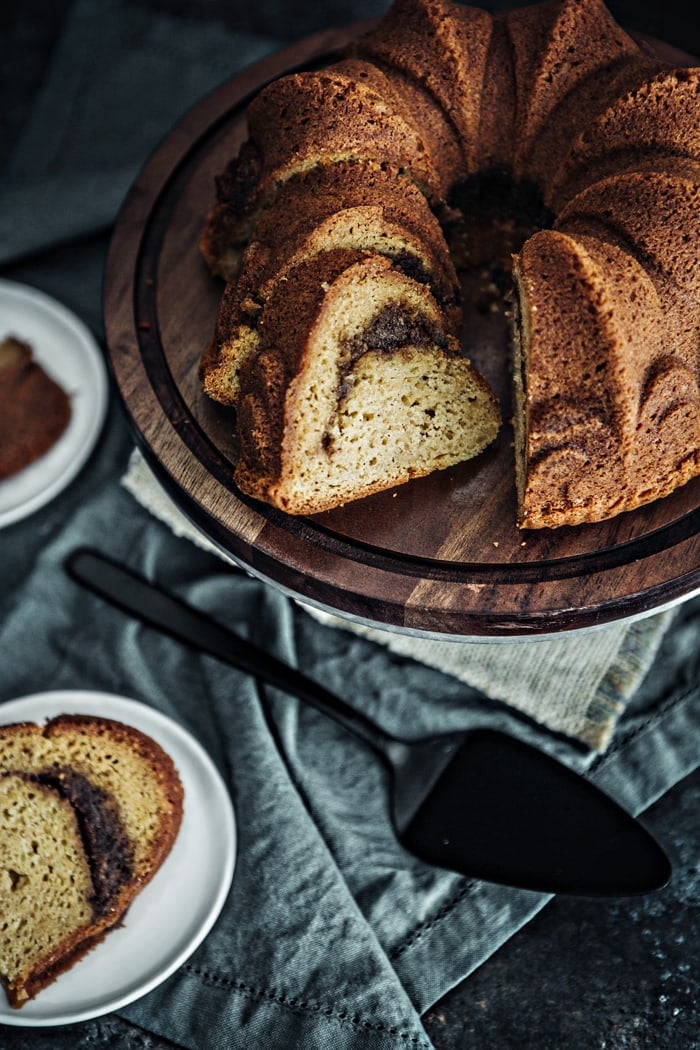 Save this recipe for Cardamom Citrus Coffee Cake to Pinterest!
What does cardamom taste like?
I first learned about cardamom when I originally made this recipe about 9 years ago.
Before that I can't recall ever having tasted or cooked with cardamom.
I didn't even know what flavor profile to expect from the name.
Cardamom is described as having a strong, unique spicy-sweet taste, which is slightly aromatic.
It is spicy, citrusy, herbal, and a bit woody all at the same time. It is a really complex flavor.
If you're a tea drinker, you might be familiar with cardamom because it is a common ingredient in Chai Tea, a spicy black tea.
What flavors go well with cardamom?
If you haven't tried cardamom before, you definitely should. It is one of my favorites!
It is said to match well with chicken, cinnamon, coffee, coriander, dates, curries, ginger, oranges, rice, and tea.
Personally, I love the way cardamom pairs with all of those lovely fall flavors so it is usually a no-brainer addition it to things with pumpkin, apples, pears, or cinnamon.
It smells so good when it is baking!
Cardamom is also common in Indian cooking.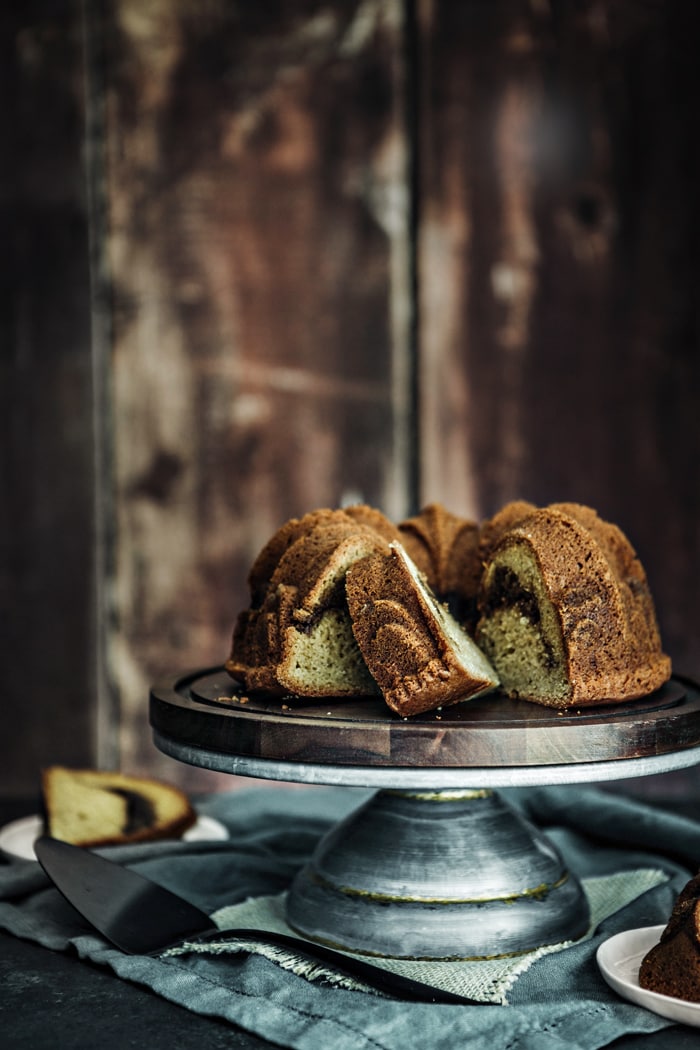 Save this recipe for Cardamom Citrus Coffee Cake to Pinterest!
How to Cook with Cardamom
Looking for a few more recipes to make using cardamom?
Check out some of these favorite recipes, or browse the ingredient index archives for even more great cardamom recipe ideas:
Pumpkin Sugar Cookie Bars are a fun take on classic sugar cookies. I've added pumpkin puree and some yummy fall spices, like cardamom, for a seasonal version.
For a savory dish, cardamom is an excellent addition to garam masala and fresh ginger in Indian Butter Chicken.
If you're looking for an excuse to eat dessert for breakfast, you might like to try out this recipe for Overnight Oatmeal Breakfast: Apple Pie Steel Cut Oats Recipe. It contains cardamom, which I think pairs really well with apples!
I love these Maple and Cardamom Spiced Pears with Pecans spooned over a bowl of vanilla Greek yogurt!
I love pears with cardamom. Try this recipe for Vanilla Spiced Pear Butter and learn How to Can Pear Butter; it is so good on a piece of toast!
Here is another pear recipe for you – Cinnamon Pear Crostata with Almond Oat Crust – a crostata is like a free form pie, and I love that they're meant to look imperfect and rustic!
This post as been updated from the archives. The original blog post dated December 30, 2009 follows:
Save this recipe for Cardamom Citrus Coffee Cake to Pinterest!
I confess. I haven't used cardamom, at least to my knowledge, before this past year.
I don't think I even really knew what the taste of cardamom was or what kind of dishes one would cardamom it in.
Now I do.
And I'm not looking back.
Thank you, The Flavor Bible for educating me on the matter!
Save this recipe for Cardamom Citrus Coffee Cake to Pinterest!
My latest experiment with cardamom is definitely blog worthy!
This recipe for Cardamom Citrus Coffee Cake needs to be added to your to-do list immediately..
Especially if you haven't given cardamom a try yet. This is a great recipe to start with.
And definitely give it a try if you have a refrigerator full of oranges.
Love this recipe for Cardamom Citrus?
Sign up for Good Life Eats email updates and never miss another recipe!
What do you like to use cardamom for?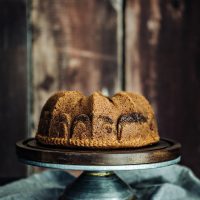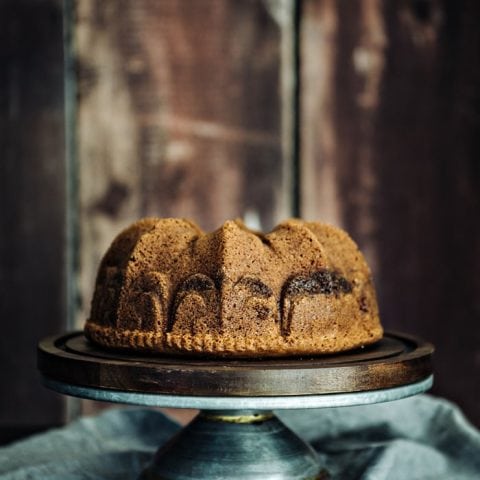 Citrusy Cardamom Coffee Cake
Yield: serves 14

Prep Time: 15 minutes

Cook Time: 1 hour

Total Time: 1 hour 15 minutes

Cardamom Citrus Coffee Cake is the perfect, cozy fall coffee cake recipe. Your house will smell amazing while baking it!
Ingredients
Cake:
3 cup Flour
1 1/2 teaspoon Baking Powder
1 1/2 teaspoon Baking Soda
3/4 teaspoon Salt
3/4 teaspoon Ground Cardamom
1 cup Granulated Sugar
1/2 cup Brown Sugar
Zest of 1/2 large Orange
3/4 cup Butter, softened
1/2 a Vanilla Bean split open and seeded or 2 teaspoons Vanilla Extract
3 Eggs, room temperature
1 1/2 c Sour Cream
Filling:
zest of 1/2 large orange
1/2 cup brown sugar
1 teaspoon cinnamon
1/2 teaspoon ground cardamom
Instructions
Preparation
Preheat oven to 350 degrees F.
Generously grease bottom and sides of a bundt cake pan.
For the filling
Prepare the filling by combining the orange zest, brown sugar, cinnamon, and cardamom; set aside.
For the cake Batter
In a mixing bowl, combine flour, baking powder, baking soda, salt, and cardamom; set aside.
In a small food processor, combine the sugars and the orange zest. Pulse several times until the zest is finely chopped and sugar is fragrant.
Alternatively, you can place the sugars in a bowl with the zest and rub it with your fingers.
Using an electric mixer, preferably a stand mixer, beat sugars and butter until fluffy, scraping the sides every few minutes.
Add vanilla bean or extract and eggs to the butter and sugar mixture, beat on medium for 2 minutes, scraping bowl periodically.
Beat 1/4 of the flour mixture and sour cream at a time alternately into sugar mixture on low speed till blended.
Assembly
Spread half of the batter into the prepared bundt pan. Sprinkle prepared filling mixture on top.
Add the remaining batter and carefully spread (it may help to spray a spatula with PAM).
Bake for 50-60 minutes, or until tooth pick comes out clean.
Cool 30 minutes in pan on wire rack. Remove the cake from the pan to wire rack, cool completely.
Notes
This is a great base recipe. You can change up the spices or add fruit to the batter - cranberries or blueberries both work well.
Recommended Products
As an Amazon Associate and member of other affiliate programs, I earn from qualifying purchases.

Be sure to follow Good Life Eats on Instagram. Tag @goodlifeeats and include the hashtag #goodlifeeatsrecipes so I can see what you're cooking up in YOUR kitchen!
Save this recipe for Cardamom Citrus Coffee Cake to Pinterest!