Peanut-Free Peanut Butter Pie Recipe
A few days ago a quick visit to Twitter left me staring at some shocking news. Food blogger Jennifer Perillo's husband had passed away due to a sudden, unexpected heart attack. I don't know Jennifer well, but those words broke my heart.
Bombarded with email messages and offers of help, Jennifer sent out a simple request "For Mikey." What did she want us to do? To make her husband Mikey's favorite Peanut Butter Pie recipe and share it with someone we love.
Jennifer's post about this pie took me back to my childhood. While on a business trip to New Orleans, my dad found a Peanut Butter Pie recipe in the newspaper. The recipe was clipped and brought home.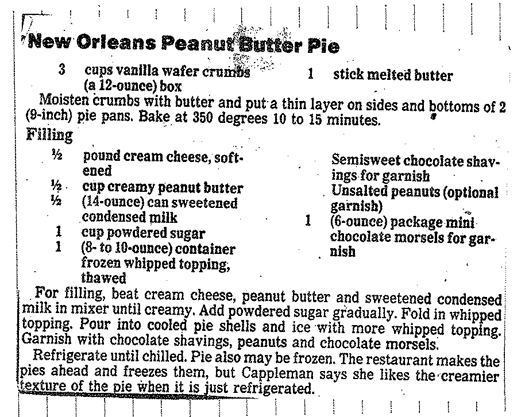 For years we enjoyed this pie as a family. That is, until Logan was diagnosed with a severe, life-threatening peanut allergy. I haven't had the pie in at least 6 1/2 years.
For quite sometime I've been meaning to use my favorite Barney Butter Peanut-Free Almond Butter to make a peanut-free version of this pie that would be safe for Logan to enjoy.
I'm ashamed that it took Jennifer's tragedy and request for me to finally complete this task I've had in the back of my mind for so many years. So here it is. Peanut-Free Peanut Butter Pie.
Just a tad different from the one I grew up with with a crust made of chocolate cookies rather than vanilla wafers and almond butter instead of peanut butter, but still just as good and just as worthy of sharing with someone you love.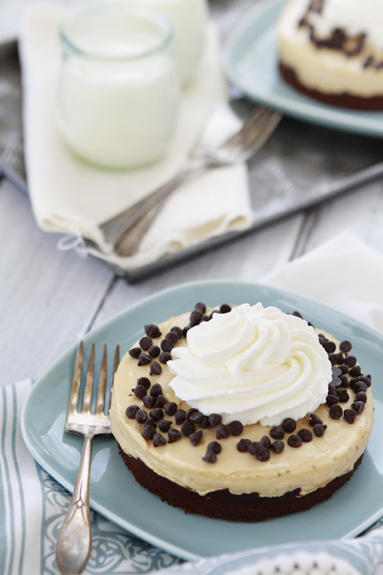 So on this last day of summer I'll be sharing this pie I love with the family I love. And even though the kids have been making me crazy for the last week, I'll cherish every moment that I'm able to spend with them.
Because I'm here. Alive. And a day with kids fighting in a house full of mess is better than any day that I'm not able to be with them.
More Peanut Allergy Posts
Find more Peanut Butter Pie recipes on the Facebook page  "Peanut Butter Pie for Mikey Friday."
Peanut-Free Peanut Butter Pie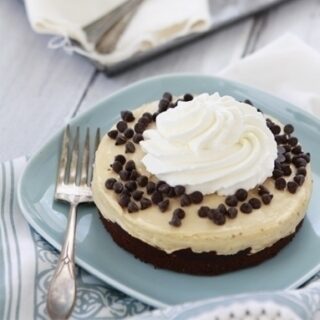 Ingredients:
8 ounces chocolate cookies
4 tablespoons butter, melted
4 ounces finely chopped chocolate or semi-sweet chocolate chips
1 cup heavy cream
8 ounces cream cheese
1 cup creamy-style peanut-free Almond Butter
1 cup powdered sugar
1 – 14 ounce can sweetened condensed milk
1 teaspoon vanilla extract
1 teaspoon freshly squeezed lemon juice
Garnish: whipped cream and mini chocolate chips or chocolate shavings
Directions:
Process the cookies in a food processor until fine crumbs are formed. Combine the cookie crumbs with the melted butter and stir well. Press mixture into the bottom and 1-inch up the sides of a 9-inch springform pan. (I used 4 4 mini springform pans and divided the crumbs evenly).
Melt the chocolate in the microwave - 30 seconds at a time at 50% power, stirring in between each 30 seconds. Spread on the bottom of the cookie crust using a spatula. Set the pan aside in the refrigerator.
Beat the heavy cream using a stand mixer until stiff peaks form. Set aside in a bowl in the refrigerator. Add the cream cheese and almond butter in the stand mixer bowl. Beat on medium until combined and fluffy. Reduce to low and gradually add the powdered sugar, 1/3 cup at a time. Slowly add the sweetened condensed milk, vanilla and lemon.
Beat the mixture on medium, stopping to scrape the sides of the bowl with a spatula as needed, until all the ingredients are combined and the mixture is smooth.
Stir half of the whipped cream into the mixture. Then fold the remaining whipped cream in. Add the filling to the prepared pan(s). Refrigerate for at least 3 hours, or overnight. Just before serving top with whipped cream and mini chocolate chips for garnish. Serve immediately.