Almond Butter Cookies
Giving up peanuts when we found out that Logan had a severe allergy wasn't too difficult, though I have missed Peanut Butter Cookies.
What has been hard is how many of our favorite things are processed with peanuts, because we can't even have that in the house.
Our nut options have been pretty limited the past 3 years because almost all of them are processed on shared equipment.
That isn't to say that we don't eat nuts on occasion, but we try to maintain as close to a peanut-free house as we can so accidental exposure on our own turf isn't even a possibility.
Imagine my excitement when I found an almond that was actually labeled "Peanut-Free."
And more excited that Logan liked them (the vanilla bean flavor)!
Within the same week, while browsing online, I came across Barney Butter – a peanut-free Almond Butter.
So far we've been limited to Soy Nut Butter, as all the other nut butters I've come across have been labeled that they may contain traces of peanuts.
Soy Nut Butter was functional for the kids, but I didn't really care for it.
Barney Butter is delicious!
It had me immediately craving "peanut" butter cookies.
I found a recipe for peanut butter cookies that also had ground peanuts in them for extra flavor and I substituted almond butter and ground vanilla bean almonds.
These Almond Butter Cookies have been Good Life Eats family approved!
I can't believe that I never thought to substitute another nut butter in peanut butter cookies before.
Iam so glad that I finally figured it out. Almond Butter Cookies are delicious!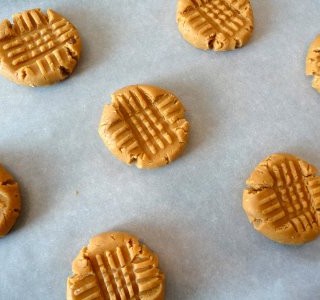 Ingredients:
2 1/2 c flour
1/2 tsp baking powder
1/2 tsp baking soda
1 tsp salt
16 Tbs (2 sticks) unsalted butter, softened but still cool
1 c brown sugar
1 c granulated sugar
1 c almond butter
2 large eggs
2 1/2 tsp vanilla
1 c almonds, ground to resemble coarse breadcrumbs
Directions:
Line baking sheet with parchment paper or spray with nonstick cooking spray. Preheat oven to 350 degrees F.
Combine flour, baking soda, baking powder, and salt. Set aside. Beat butter until creamy. Add sugars beating until fluffy, approximately 3 minutes. Scrap the bowl as necessary. Beat in almond butter until incorporated. Beat in vanilla and then eggs, one at a time.
Gently stir in the dry ingredients (I switched to the paddle on my kitchen aid mixer). Add ground almonds and stir until just incorporated.
Roll cookies into 2 Tbs sized balls. Place on baking sheets and press each ball twice with a fork to make a crisscross design. Bake cookies for 10-12 minutes. Edges should be slightly browned and the cookies puffed. Cool on sheets for 4 minutes before transferring to a cookie cooling rack.
If peanut allergy is a concern: Look for an almond butter labeled "Peanut Free," i.e. Barney Butter. For the ground almonds, I recommend Blue Diamond Brand as a peanut-free option.