Along with hot cocoa, caramels, and cider this time of year brings cookies in many different shapes and forms.
One of my favorite cookie recipes is the NY Times Chocolate Chip Cookies recipe. I love the way the dough on that cookie turns out. How it is gooey in the middle and slightly crispy crunchy on the outside.
This cookie recipe features a great base dough that I have used many times with different mix ins. I love to experiment by using different mix ins with a dough recipe that I already love. Here are a few more ideas to enjoy this Christmas.
Other Mix In Ideas:
You can create so many different cookie recipes by changing up the ingredients you stir into the batter. The possibilities are practically unlimited!
Dried Cranberries, Orange Zest, and Chopped Walnuts
Dried Cherries and Chocolate Chunks
Chocolate Chunks and Crushed Candy Cane
Candied Orange Peel and Chocolate Chunks
Candied Lemon Peel and White Chocolate Chunks
White Chocolate and Macadamia Nuts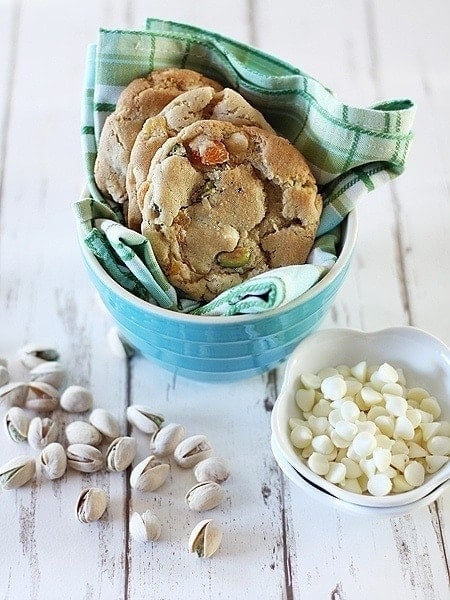 One of my favorite mix in ideas is the combination of white chocolate, pistachios, and dried apricot.
I've actually written about these White Chocolate Pistachio Cookies before, but they're tucked in with the original Chocolate Chip Cookie as a variation and it was quite a while back. I thought it was high time that the recipe for White Chocolate Pistachio Cookies got a place of their own.
Pistachios are definitely my all-time favorite nuts. No contest. Not just because I love them but because I have many memories associated with them. My dad first introduced me to them as a child and I remember him bringing them home from trips.
This might be is a little different from the usual holiday cookie, but pistachio pairs wonderfully with white chocolate and apricot and I find them just as tasty and festive.
More on Christmas Cookies:
What is your favorite Christmas Cookie to enjoy this time of year?