Chocolate Chip Pecan Blondies
This recipe for Chocolate Chip Pecan Blondies is one of my favorite quick recipes when I want that chocolate chip cookie taste. They are the perfect go-to if I don't already have some frozen cookie dough or don't have the time to invest in preparing my favorite chocolate chip cookies.
I have been tasked with bringing something "sweet" and "kid friendly" to our neighbor's this Sunday for a little game day get together. I decided that these Chocolate Chip Pecan Blondies would be perfect low maintenance but tasty treat to share.
I love the taste and crunch that the chopped up Fisher Nuts Pecans add to the bars. If you have a nut allergy to account for this recipe will do just fine with omitting the pecans.  I usually end up making 2 pans, one with and one without nuts so everyone is happy.
Kids will like them because they have that familiar chocolate chip cookie taste. Parents will like them because they are easy to cut up into small squares for the kiddos instead of handing off gigantic cookies. And I like Chocolate Chip Pecan Blondies because they're small enough that I can convince myself that eating more than one is okay!
If I were filling out a questionnaire about myself and had to list my hobbies and interests, eating would totally be listed as a "hobby" and good food would definitely find a place under my "interests," not that I don't enjoy other things of the non-food variety.
Do your hobbies and interests fall closer to enjoying the game this coming Sunday? Or maybe you are like me and are more excited about spending time with friends while snacking on a bunch of delicious food. It doesn't really matter. Either way if you are doing something this Sunday I hope you have fun.
More Game Day Snacks
Chocolate Chip Pecan Blondies
Yield: 12 bars
Prep Time:5-10 minutes
Cook Time:18-22 minutes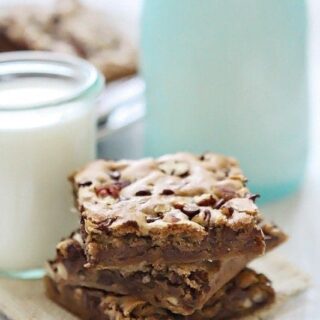 Ingredients:
1 cup flour
1 teaspoons Cinnamon
1/2 teaspoon baking powder
1/4 teaspoon salt
1 cup firmly packed brown sugar
1/4 cup (1/2 stick) butter, melted
1 egg
1 tablespoon Vanilla Extract
1/2 cup mini chocolate chips, plus a handful for sprinkling on top
1/2 cup Fisher chopped pecans, plus a handful for sprinkling on top
Directions:
Preheat oven to 350°F.
Line an 8-inch square baking pan with parchment paper - if you don't know how to do that, check out this tutorial for lining pans with parchment paper.
In a medium bowl, whisk together the flour, cinnamon, baking powder and salt. Set aside.
In another bowl, add the brown sugar, melted butter, egg, and vanilla. Whisk until well blended. Then use a wooded spoon to stir in the flour mixture just until moistened, do not beat. Add the 1/2 cup chopped pecans and the 1/2 cup chocolate chips and gently stir into the batter.
Add the batter to the prepared pan. Spray a spatula with cooking spray to grease and use that to evenly spread the batter. Sprinkle the extra nuts and chocolate chips on top.
Bake at 350 degrees F for 18-22 minutes, or until a toothpick inserted in the center comes out clean and the bars are golden brown. Remove from oven and cook in the pan on a wire rack. When cool, lift the parchment paper to remove the bars from the pan. Cut into 12 squares.
Notes:
These freeze really well. Just make sure to cool the bars completely first. Place in a gallon sized ziplock bag in one flat layer. Zip the bag most of the way, and then insert a straw into the bag to suck out extra air. Remove the straw and zip completely. Don't forget to label the bag with recipe name and date.
This post is sponsored in partnership with Fisher Nuts. All opinions are my own.