The New York Times Chocolate Chip Cookie has cracked the code for the perfect recipe for chocolate chip cookies. The results are a chewy cookie with crispy edges and a soft, gooey center. Learn what exactly makes this the best chocolate chip cookie recipe and get answers to frequently asked questions.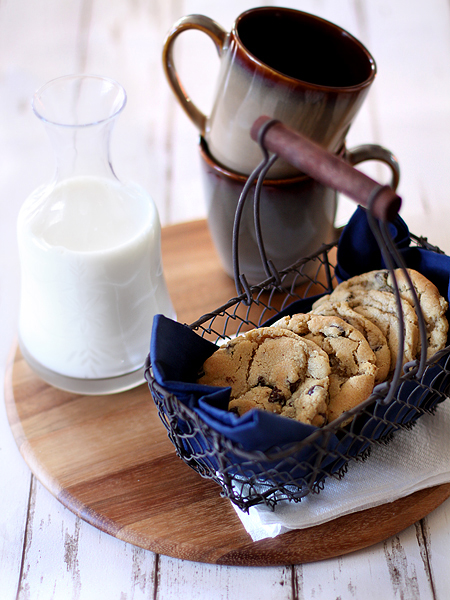 Making the New York Times Chocolate Chip Cookie Recipe
My dad is a pretty darn good cook. We always have fun in the kitchen together making differing things. He makes awesome sandwiches. Can grill anything.
But one thing he's the king of is making chocolate chip cookies. He's been king for as long as I can remember. His recipe tastes great and is always baked with love.
I'll always remember how he likes to use brown paper grocery bags to lay them out on all over the counters to cool.
And how awesome the kitchen smells. That he says the trick is to let it mix for a long time in the Kitchen Aid.
The Best Chocolate Chip Cookie Recipe
But now I'm in a bit of a predicament. My dad has always made the best cookies, until now.
But, I'm pretty sure I've found a chocolate chip cookie recipe that I like even better than my dad's. It's so good that I think we'll have to do a blind taste-test next time we visit.
I don't really want him to lose the title of Chocolate Chip Cookie King, but this new to me recipe is out of this world!
What's the Big Deal about the New York Times Chocolate Chip Cookie?
The NY Times Chocolate Chip Cookies have the perfect crispness on the outside with a nice chewy texture and a soft middle. With lots of gooey chocolate inside.
And I love the sprinkling of salt on top to balance all the sugar.
The chocolate chip flavor of this recipe is absolutely wonderful, so close to perfect that it really might be the perfect cookie. It's definitely one of our all time favorites.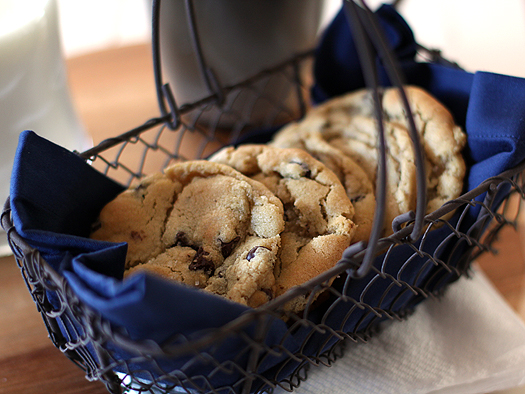 This post may include affiliate links. As an Amazon Associate and member of other affiliate programs, I earn a small commission from qualifying purchases.
Tools Needed to Make these Cookies
You'll need a few kitchen tools to prepare these homemade chocolate chip cookies. Here's what I recommend having on hand before beginning this famous cookie recipe:
Measuring Cups and Spoons – to measure ingredients.
Kitchen Scale – weighing the dry ingredients is the most accurate way to measure.
Mixing Bowl and Wire Whisk – to combine the dry ingredients.
Stand Mixer with Paddle Attachment – to prepare the cookie dough.
Silicone Spatula – for scraping the sides of the stand mixer's bowl.
Storage Container with Lid or Plastic Wrap – for storing the cookie dough while it chills.
Cookie Scoop – makes scooping the dough for the cookie dough balls super easy.
Baking Sheet – for baking the chocolate chip cookies.
Parchment Paper – lining your baking pans makes the baked cookies easy to remove.
Wire Rack – first you'll cool the cookies on the cookie sheet on a cookie cooling rack, then transfer cookies directly to the rack.
Ingredients in New York Times Chocolate Chip Cookie Recipe
For the most part, the ingredients are pretty standard in the New York Times Chocolate Chip Cookies recipe. However, you will need two different types of flour to achieve the distinct texture of these cookies.
Bread Flour
Baking Soda
Baking Powder
Coarse Salt
Unsalted Butter
Light Brown Sugar
Granulated Sugar
Eggs
Vanilla Extract
Bittersweet Chocolate
Flaky Sea Salt
For the complete ingredient list and detailed instructions, scroll to the bottom of this post for the FREE printable recipe card.
How to Make the Best Chocolate Chip Cookies
This recipe instructions start out pretty standard:
First, combine dry ingredients in one bowl, whisking well.
Cream butter with the sugars in the bowl of a stand mixer.
Then, add the eggs and vanilla to the butter mixture.
After that, combine the flour mixture and the butter mixture until combined. Stir in the chocolate chips.
Next is where the recipe gets a little different: you'll need to chill the cookie dough for 1-2 days before baking them.
After chilling, then you can roll your cookie dough balls.
Add a sprinkle of sea salt on top of the cookies, and then bake until golden brown.
The above is simply a quick summary of this recipe. Check out the full recipe in the free printable recipe card at the bottom of this post for all the detailed instructions.
Tips for Making the Best Chocolate Chip Cookies
This recipe produces a pretty perfect chocolate chip cookie, but only if you follow the key points that make this recipe different from others:
You must use cake flour and bread flour. Substituting all-purpose flour in this recipe will not yield the same chewy texture. Trust me, I've tried it.
Buy good quality chocolate. Big chunks of well melted dark chocolate make these cookies so decadent.
Use a kitchen scale. Weighing the dry ingredients is much more accurate than using measuring cups. And to get those big bakery-style cookies, you'll want to make sure your dough balls are big enough.
Do not skip the chilling time. It gives the dry ingredients time to soak up the wet ingredients. The texture and flavor won't be as good within at least 24 hours to chill.
Recipe FAQ for New York Times Chocolate Chip Cookie
Got questions about how to make New York Times recipe for chocolate chip cookies? Here are the answers to a few commonly asked questions. Feel free to leave any other questions in the comments on this post and I'll respond with answers.
What are the Best Chocolate Chips to Use in these Cookies?
The New York Times recommends using bittersweet chocolate chips with at least 60% cacao. It is also recommended to use chocolate disks or fèves, specifically Jacques Torres Chocolate or Valrhona.
While absolutely delicious, both of those choices are a bit pricy so I've tested this recipe using these more budget friendly options with great results:
Can I Use Milk Chocolate Chips in the New York Times Chocolate Chip Cookie Recipe?
Sure! The flavor will be different since milk chocolate is much sweeter and milder in taste than bittersweet chocolate, but substituting them won't negatively affect the way the recipe bakes.
How Should I Store Leftover Baked Cookies?
This chocolate chip cookie recipe from the New York Times actually stores really well. Just make sure you let them cool completely first.
After that, transfer them to an airtight container or a freezer bag (remove as much air as possible and seal) and store in a cool place.
The chocolate chip cookies will last up to 5 days, assuming no one eats them! If you prefer to enjoy warm cookies, just pop one in the microwave for a few seconds before eating.
Can I Freeze this Cookie Dough?
Yes! That is one of the things I LOVE about this recipe.
This chocolate chip cookie dough freezes extremely well. We almost always make a triple batch so we can stash cookie dough in the freezer for later.
Here's how to freeze cookie dough and bake it later.
Try the New York Times Chocolate Chip Cookies!
Next time you're looking for the best chocolate chip cookie recipe, give this recipe from the NY Times try!
Were they your family's favorite chocolate chip cookies? Leave a comment below and give it a review for others to see what you thought of this chocolate chip cookie recipe.
On Instagram? Share your photo and tag me with @goodlifeeats and #goodlifeeatsrecipes. I'd love to see your photo of my favorite cookie recipe!
More Chocolate Chip Cookie Recipes to Try
White Chocolate Raspberry Cheesecake Cookies feature cream cheese in the batter, bits of raspberry jammy goodness, and melty chunks of white chocolate.
Dark chocolate pairs deliciously with soft pumpkin spice cookies in this recipe for Dark Chocolate Chip Pumpkin Cookies.
These Triple Chocolate Chunk Cookies are flavored with chocolate three ways – a chocolate cookie dough paired with white chocolate and dark chocolate chunks.
For a bright summer twist on chocolate chip cookies, try these Lemon Coconut White Chocolate Chip Cookies.
Get More Delicious Recipes via Email
Did you love this chocolate chip cookie recipe? Sign up for Good Life Eats Email Updates and never miss another recipe!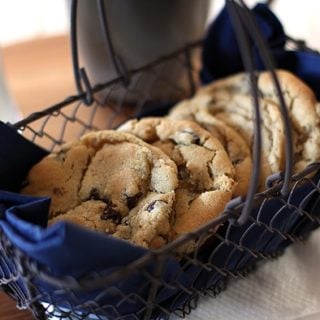 NY Times Chocolate Chip Cookies
Yield:
1 1/2 dozen 5 inch cookies
The New York Times Chocolate Chip Cookie has cracked the code for the perfect recipe for chocolate chip cookies. The results are a chewy cookie with crispy edges and a soft, gooey center.
Ingredients
2 cups minus 2 tablespoons cake flour (8½ ounces)
1 2/3 cups bread flour (8½ ounces)
1 1/4 teaspoons baking soda
1 1/2 teaspoons baking powder
1 1/2 teaspoons coarse salt
1 1/4 cups unsalted butter (2½ sticks), softened
1 1/4 cups light brown sugar (10 ounces)
1 cup plus 2 tablespoons granulated sugar (8 ounces)
2 large eggs, room temperature
2 teaspoons pure vanilla extract
1 1/4 pounds bittersweet chocolate, at least 60% cacao
Sea salt
Instructions
Making the Chocolate Chip Cookie Dough
In a medium sized mixing bowl, combine the cake flour, bread flour, baking soda, baking powder, and coarse salt. Stir using a wire whisk until well sifted. Set aside.
In the bowl of a stand mixer, add the softened butter, granulated sugar, and brown sugar. Beat using the paddle attachment until well creamed and very light, approximately 5 minutes.
While continuing to mix, add one egg at a time, mixing in between each addition. Then, stir in the vanilla extract.
Decrease the mixer speed to low. Slowly add the flour mixture 1 cup at a time. Scrape down the sides of the mixing bowl using a silicone spatula if needed.
After all of the flour has been added, scrape down the sides again and continue to mix on low speed just until combined, about 10 seconds.
Add the chocolate, stirring slowing so the pieces don't break.
Remove the bowl from the stand mixer and transfer the chocolate chip cookie dough to a container with a lid and refrigerate for 24-36 hours before baking cookies.
Baking the Chocolate Chip Cookies
Remove the dough from the refrigerator and let sit at room temperature while the oven preheats and you prepare the baking pans.
Preheat the oven to 350 degrees F. Line baking sheets with parchment paper.
Scoop cookie dough in 3½-ounce sized balls (approximately golf ball size). Place 6 balls of cookie dough onto each prepared baking sheet, spacing them so they don't stick together while cookie.
Lightly sprinkle the tops of each cookie dough ball with a pinch of sea salt.
Transfer the baking sheet to the preheated oven. Bake cookies at 350 degrees F for 16-20 minutes, or until golden brown but still soft.
After baking, place the cookie sheets on a wire cooling rack and let sit at room temperature for 10 minutes.
Then, remove cookies from the baking sheet and place directly on the wire rack to cool for 5 more minutes before serving.
Repeat the process with the remaining cookie dough, transfer leftover cookie dough back to the refrigerator, or freeze cookie dough.
Notes
For regular sized cookies, use about 3 tablespoons (large cookie scoop) and bake for approximately 12 minutes.
Storage
Cookie dough should be baked within 72 hours of preparing or stored in the freezer until ready to bake.
Recipe Source
Recipe found via The New York Times The New York Times (Recipe from Jacques Torres; Adapted by David Leite)
Recommended Products
As an Amazon Associate and member of other affiliate programs, I earn from qualifying purchases.
Nutrition Information
Yield

18
Serving Size

1
Amount Per Serving
Calories

500
Total Fat

24g
Saturated Fat

14g
Trans Fat

0g
Unsaturated Fat

8g
Cholesterol

57mg
Sodium

327mg
Carbohydrates

68g
Fiber

3g
Sugar

43g
Protein

5g
GoodLifeEats.com offers recipe nutritional information as a courtesy. This provided information is an estimate only. This information comes from online calculators. Although GoodLifeEats.com makes every effort to provide accurate information, these figures are only estimates.