White Chocolate Lemon Coconut Cookies
We have been enjoying cookies a lot lately. It all started when my mom came out to visit for my birthday a couple weeks ago. Everyone was craving a sweet snack after school one day.
Cookies quickly became the topic of conversation leading Logan, Madeline and me to beg my mom to make us a batch. With 3 against 1 my mom could hardly say no, so she got to work in the kitchen with a little help from the kids.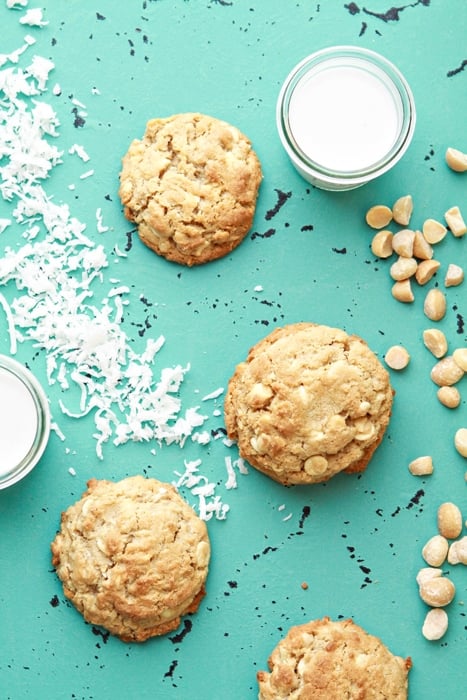 I love when they are able to make memories doing some of the things with her that I remember doing with her when I was their age. Baking cookies was a pretty prominent feature of my childhood years. I love seeing Logan and Madeline having fun with my mom and getting to know her better each time she visits.
I have been really lucky that my parents are both pretty present in my kids' lives, seeing them multiple times a year. Growing up my grandparents lived far away and I didn't see them often. I have a few fond memories of baking with my Grandma and picking strawberries in her backyard, but I love seeing my kids connect with my parents on a much more regular basis
Often times that connection occurs in the kitchen. I shouldn't be surprised at this point because that is just how my family has always been. Food and relationships have always come together.
Whether we're visiting with Grandma, Grandpa, aunts, uncles or cousins we always end up cooking, baking, or eating something delicious and hanging out in the kitchen together while we enjoy that food.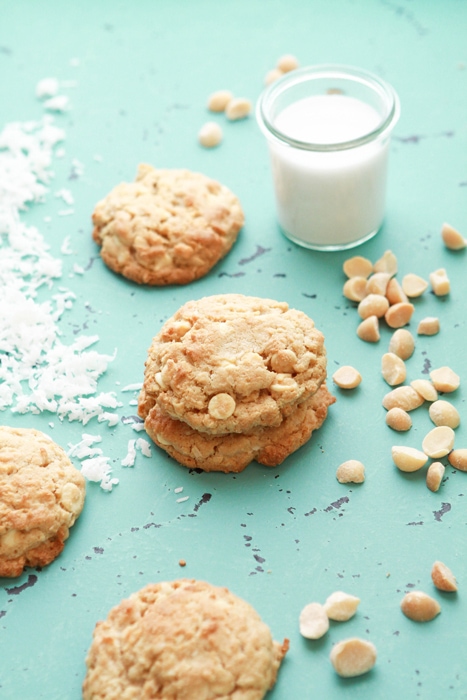 That first batch of cookies turned into 2 or 3 over the course of a couple of weeks and we enjoyed every single one. It became our routine after dinner to make some cookies with the dough in the refrigerator and then enjoy them while we spent time together in the evenings after dinner.
Here is a new cookie recipe to give a try and share with your family. These White Chocolate Lemon Coconut Cookies are a fun twist on the usual chocolate chip cookies. I usually make half with macadamia nuts and half without since Logan doesn't do nuts, but they are good both ways. The coconut keeps them super moist and chewy and the lemon adds a bright zing!
White Chocolate Lemon Coconut Cookies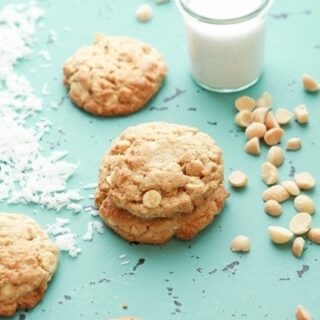 Ingredients:
2 cups minus 2 tablespoons (8 1/2 ounces) cake flour
1 2/3 cups (8 1/2 ounces) bread flour
1 1/4 teaspoons baking soda
1 1/2 teaspoons baking powder
1 1/2 teaspoons coarse salt
2 1/2 sticks (1 1/4 cups) unsalted butter
1 1/4 cups (10 ounces) light brown sugar
1 cup plus 2 tablespoons (8 ounces) granulated sugar
2 large eggs
2 teaspoons natural vanilla extract
8 ounces chopped macadamia nuts, optional
1 1/4 cup shredded coconut
1 1/4 pound white chocolate chips
zest of 3 large lemons
Directions:
Sift flours, baking soda, baking powder and salt into a bowl. Set aside.
Using a mixer fitted with paddle attachment, cream butter and sugars together until very light, about 5 minutes. Add eggs, one at a time, mixing well after each addition. Stir in the vanilla. Reduce speed to low, add dry ingredients, coconut and lemon zest, and mix until just combined, 5 to 10 seconds.
Stir in the white chocolate pieces. Press plastic wrap against dough and refrigerate for 24 to 36 hours. Dough may be used in batches, and can be refrigerated for up to 72 hours.
When ready to bake, preheat oven to 350 degrees. Line a baking sheet with parchment paper or a nonstick baking mat. Set aside.
Scoop 6 3 1/2-ounce mounds of dough onto baking sheet, making sure to turn horizontally any chocolate pieces that are poking up; it will make for a more attractive cookie.
Bake until golden brown but still soft, 15 to 20 minutes (for traditional sized cookies with a large cookie scoop, cook for about 10-13 minutes). Transfer sheet to a wire rack for 10 minutes, then slip cookies onto another rack to cool a bit more. Repeat with remaining dough, or reserve dough, refrigerated, for baking remaining batches the next day.
Want to know how to build a successful restaurant? Check out BonAppetit.com's "Out of the Kitchen," a glimpse into the inner workings of two successful restaurants. Meet the back of the house inner circle and see how face-to-face relationships keep customers coming back for more.
This is a sponsored conversation written by me on behalf of Bon Appetit. The opinions and text are all mine.