Written by Erin Truax, guest travel writer
This spring I had the opportunity to go skiing for the first time at Beaver Creek. I was traveling with my boyfriend and his sister, who both have experience snowboarding and skiing respectively. Since I had never skied before I knew I was going to need a lesson to learn the basics, especially if I wanted to even attempt to keep up with them on the mountain!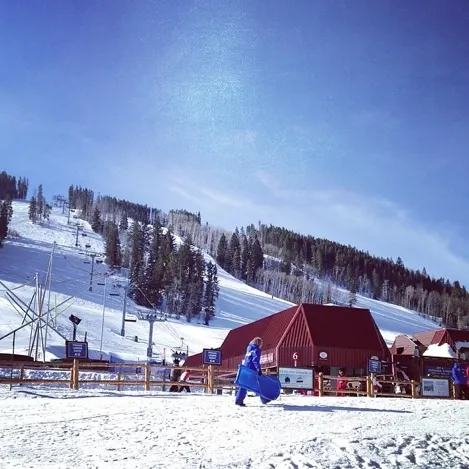 Known as the "Ivy League of Ski Schools" Beaver Creek is the perfect place to ski for the first time. Visiting their website I knew ahead of time that they offered a variety of lessons for all ages and skill levels, but the one that interested me the most was the Adult First Timers.
For Adult first timers (and beginners) Beaver Creek offers group single day lessons, which run from 9:45 to 3:30, of if you have time you can do a 3-day session as well. Since I was only skiing at Beaver Creek for one day, I went with the single day option.
When I arrived the day of my lesson I was both excited to experience something new, and also nervous that I was potentially going to be terrible at skiing. At the information desk I quickly checked in, and directed to the time and location of my class's meeting spot. Ski rentals in hand, I headed towards the bottom of the mountain where a large banner labeled "Adult First Timers" greeted me.
I was the first one to arrive at my lesson, but with in minutes I was joined by a few other classmates, and finally my instructor Steve. I knew immediately that Steve was going to be an awesome instructor. He greeted each of us with a smile, asked a little bit about each of us, and quickly mastered all of our names – which really impressed me.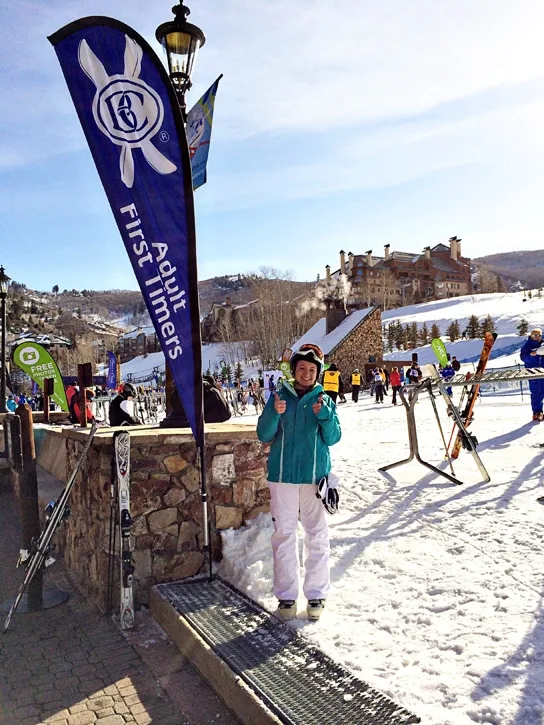 Through group introductions I quickly learned that many of my classmates and I had something in common – we were all there with friends and family who already knew how to ski, and were anxious to learn so that we could join them on the mountain. Steve assured us that we were going to take things slow at first, and hopefully by the end of the day we would all be ready to join them – on the easy trails of course.
On a small area at the base of Buckaroo Express Gondola, Steve began with the basics – What is a ski? What does it do? How do I get them on and off? We then practiced putting on one ski at a time and doing simple gliding. From there we put on both skis and learned how to step, as well as slide down the bunny hill while creating a "wedge", which is how you stop yourself – or the position you rely on as a newbie because it makes you go SLOW.
Once we had practiced sliding and stopping ourselves with the wedge on the small hill we rode the gondola up to the ski school learning area – small bunny hill with magic carpet lifts. Here, Steve had us practice more sliding and stopping, all while encouraging each of us and critiquing our form. Steve eventually taught us how to turn as we went down the hill – allowing us to control our speed.
Up to this point ski school had been easy for me, but as I began my first set of turns I got a little TOO confident. When I turned left for the first time, my skis crossed, and I face planted into the snow. Steve was quickly at my side to make sure I was okay, help me up, and get me back into my skis. He assured me that everyone falls their first time skiing, and to not be embarrassed, which is exactly how I was feeling. More importantly he encouraged me to try again, this time following his lead down the hill, and I did it without falling
After we took a break for lunch, we rode the gondola back up to the ski school area, to continue practicing our turning. After a few rounds, Steve decided that we were ready to try a remaining portion of the Cinch green trail that was near the school area. Next thing I knew I was following Steve and my classmates down an actual trail! I fell once before I made it to the bottom, but I got back up and kept going.
Once at the bottom, we learned to ride the ski lift back to the top. This was tricky, but Steve showed us exactly what to do, and the lift attendees helped us each get on safely. We all re-grouped at the top, and repeated the same trail to finish up our day.
Here's what I had learned by the end of my first day:
About my equipment and how to use it properly
How to stop using a wedge
How to get up from a fall
Making different sizes and types of turns to control my speed
How to get on and off a chairlift
The Beaver Creek Ski School also incorporates a program called EpixMix Academy, which instructors use to track your progress throughout lessons. At the end of the day I received an email from EpicMix that included the skill and level scores from Steve – a 7 for skills and a Level 2 overall.
The next day I went skiing at Vail with my boyfriend and his sister, and we stayed on green trails so that I could ski with them. Was I ready? Maybe not 100%. I spent majority of my first run down the mountain falling. It was really frustrating, but they both encouraged me to get back up and keep going.
Overall, I would say my first experience skiing would not have been possible without Beaver Creek Ski School. If I could do it again, I would enroll in the 3-day program so I could have more instruction before going taking on an entire green trail for the first time. However, the instruction that I received from Steve was more than helpful, and I will use those basic skills every time I ski.