I'm going to be totally real with you. Sometimes this is what my Friday or Saturday night looks like. Me with work and dinner spread out over the coffee table in front of my family room couch. Sometimes I need a break from working upstairs in my office.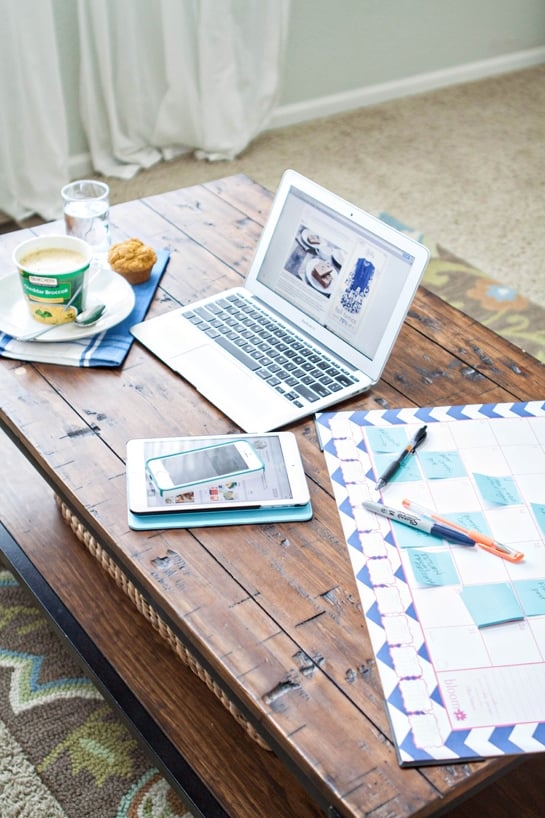 It isn't uncommon on a weekend that my kids are with their dad that I'm busting my butt trying to get things done, cross as many things off my to-do list as I can, write up blog posts while the two most important people in my life don't need my attention.
And as un-fun as that might sound, I'm incredibly grateful that I have the kind of job I can work around my schedule with my kids. When they're home my goal is to be present with them.
Another real thing? It isn't often that I cook homemade meals or follow recipes for myself when they are away. If I am cooking, it is because I'm playing host to friends. But, lets face it, that isn't happening every time the kids are away.
Usually I'll do something once every couple of months. Sometimes I eat out with friends. Other times I'm making something quick from my pantry because this cooking for one business isn't something that I've learned to enjoy yet. Even more so I don't like cleaning up the mess after cooking for one when I'm home alone. And I want to maximize my alone time by getting things done that I don't want to do when the kids are home.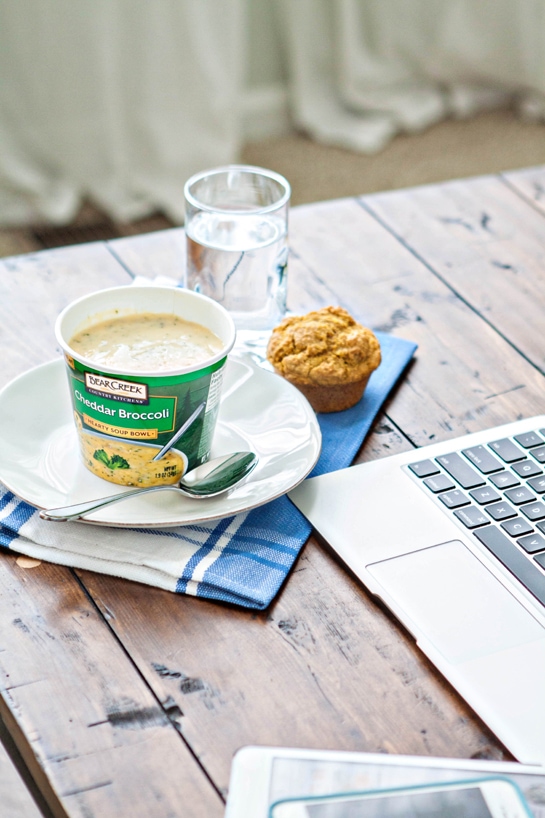 Most of the recipes I blog about are made during the week when the kids are home so that I can feed them. The work I do on the weekend is more of the writing posts variety. For me it is all about balance. Balancing eating and time spent on work vs. time spent on the kids.
I recently had the opportunity to try Bear Creek Country Kitchens new ready-to-eat, single-serve Hearty Soup Bowls. Paired with a quick side salad and a slice of toasted whole grain bread or whole grain crackers, these Bear Creek Hearty Soup Bowls are perfect for me when I'm alone and need a no-fuss, but still satisfying, option for dinner. Also? They're full of flavor with plenty of seasoning and spices
These new ready-to-eat, single-serve Hearty Soup Bowls are a fresh take on Bear Creek's well-loved dry soup mixes that consumers have enjoyed for over 20 years, just in a more convenient package.
In less than 5 minutes I can add water, heat, and enjoy a bowl of thick and creamy Cheddar Broccoli soup without the hassle, mess, and frustration that comes with cooking for one. And the struggle regarding the mess is real. My kids contribute so much to cleaning up after dinner that I dread cleaning up that mess alone!
Giveaway
The folks at Bear Creek are going to give one lucky reader a full set of the new Bear Creek Hearty Soup Bowls! All you have to do is post a photo on Twitter or Instagram with the hashtag #BearCreekSoups showing us what your busy day looks like. And don't forget to tag @goodlifeeats and @bearcreekfoods. Good luck!
Bear Creek Country Kitchens began over 20 years ago with one goal in mind: to create home-style soups that will satisfy every appetite. Combining high-quality ingredients and a special blend of spices, Bear Creek soups are delicious and easy to prepare.
This is a sponsored conversation written by me on behalf of Bear Creek Soups. The opinions and text are all mine.