Winter Minestrone Soup with Swiss Chard and Sausage [Holiday Recipe Exchange]
We've had a cold front come through here in the last week so I am in full on soup mode for our evening meals. I love a big bowl of soup on cold nights, even more so now that it's dark at 5 pm – not my favorite thing about this time of year.
Homemade Minestrone Soup has always been a soup favorite of mine. It is loaded with vegetables, yet feels hearty with the added pasta. In the summer I tend to lead towards adding vegetables like squash and red bell peppers, but this version of minestrone soup features vegetables seen more during winter since we're quickly headed that way.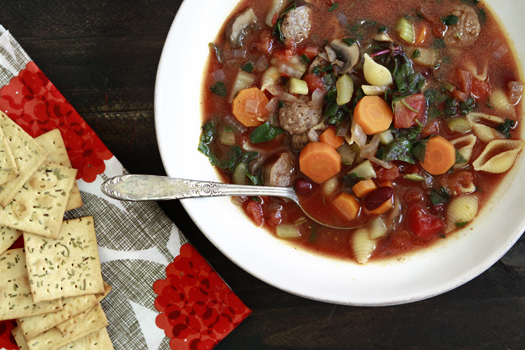 While you might not typically see Italian Sausage featured in a Minestrone Soup recipe, I wanted to add a little bit for an extra burst of flavor and heartiness. If you desire a vegetarian minestrone soup recipe, just omit the sausage and be sure to use vegetarian broth, such as Pacific Natural Foods Organic Vegetable Broth, rather than a chicken based broth.
Swiss chard and baby bella mushrooms replace summertime vegetables. I've had swiss chard growing wild in my backyard since I planted it two years ago. I haven't done a thing to it and it rarely even gets watered since I haven't set foot out there in quite a while.
We didn't plant much of a garden this year, just fresh herbs, but I'm grateful for the swiss chard that keeps coming back for more. Along with the arugula that's gone to seed every which way. But we'll deal with that another day. For now, I'll just be glad that I was able to find a use for the swiss chard.
I have been using Pacific Naturals Broths for years, long before I became a blogger, so I'm excited to bring you this wonderful Soup, Stews and Chili themed Holiday Recipe Exchange sponsored by Pacific Natural Foods. I can't wait to see what soups, stews, and chilis you all cook up using their delicious broths. Head over to My Baking Addiction to see the Italian Sausage and Lentil Soup that Jamie cooked up for this exchange.
Winter Minestrone with Swiss Chard and Sausage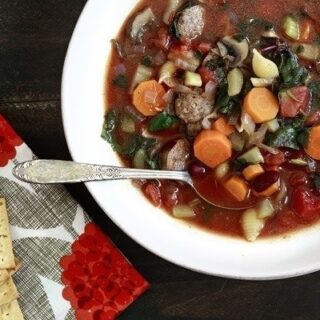 Ingredients:
3/4 lb. Italian Sausage (sweet or mild)
1 tablespoon olive oil
1 red onion, diced
4 cloves garlic, minced
3 carrots, sliced
8 ounces baby bella mushrooms, sliced
2 celery ribs, sliced
2 - 14.5 ounce cans diced tomatoes
6 cups Pacific Naturals Chicken or Vegetable Broth
2 - 3 cups water
1 can tomato paste
2 bay leaves
1 small stem fresh rosemary, needles removed and minced, about 1/4 - 1/2 teaspoon
1/2 teaspoon fresh thyme leaves
1/2 teaspoon fresh oregano, minced
1 cup dark red kidney beans
1 cup cannellini beans
salt and pepper, to taste
1 large bunch swiss chard leaves, chopped (stems discarded)
2 cups uncooked medium shells or ditalini pasta
Directions:
Prepare the pasta to al dente according to package instructions.
In a large dutch oven, brown the sausage links over medium low heat until browned on all sides and cooked through, cooking about 3-5 minutes per side. Remove and set aside to cool slightly. When the sausage has cooled, slice into thin rounds.
Add olive oil to the pan and heat till shimmering. Stir in the onion and saute until tender, about 5-7 minutes. Add the garlic and saute for another two minutes. Add the carrots, mushrooms, and celery. Saute for about 7 minutes. Mushrooms should be tender and the whole mixture fragrant.
Stir in the tomatoes, broth, water, and tomato paste. Add the bay leaves, rosemary thyme, and oregano. Return the sausage to the pan. Bring the mixture to a simmer over medium-high heat, then turn down to low and let simmer for 30 minutes, or until the vegetables are tender.
Drain the beans and stir them into the soup, season to taste with salt and pepper and add the swiss chard. Discard bay leaves before serving. Let cook until the swiss chard has wilted, then stir in the prepared pasta and serve topped with freshly grated parmesan.
Notes:
Note: If you are not finishing the entire pot of soup in one sitting, spoon pasta into individual bowls and ladle soup on top. Reserve extra pasta in a separate container for later use. This will prevent the pasta from absorbing all of the liquid in the soup while the leftovers refrigerate.
How To Participate
For a chance to win A year's supply of Pacific Natural Foods products valued at approximately $200!

Write and post a recipe on your blog featuring Soups, Chilis or Stews.

Include "Come join the fun at the My Baking Addiction and GoodLife Eats Holiday Recipe Swap sponsored by Pacific Natural Foods in your blog post.
No blog? Just leave your recipe in the comments section.
Add your link to the widget on either GoodLife Eats or My Baking Addiction (we have the same widget code, so only add it on one site).
Submit your post before Nov. 16, 11:59 PM.
Anyone can participate in the link up, but the prizes will ship to US addresses only.
More detailed info are available here.
Everyday Chef Challenge
Pacific Natural Foods is also hosting the Everyday Chef Challenge. Be sure to submit your favorite holiday recipe for a chance to win BIG! The submission period ends on Monday, so check it out soon! You can also join Pacific Natural Foods on Facebook and Twitter for contest info, recipes and more.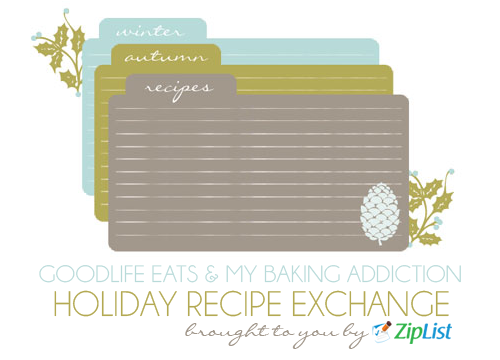 Link Up Your Recipes:
Love any of the recipes featured in today's Holiday Recipe Exchange? If so, be sure to to use the Ziplist Web Recipe Clipper to add your holiday favorites to your online recipe box.
This Week's Prize:
A year's supply of Pacific Natural Foods products valued at approximately $200.
Prizes provided by Pacific Natural Foods
Recipe Theme Schedule: