Italian Sausage Orzo Soup
I think we've officially crossed the line into fall here in Colorado. We've had plenty of cooler days, changing leaves and pumpkin patch visits, but just as many warm, late summer days too. This week, though, I sense a change in the weather and in our meal planning. Soups, like this delicious Italian Sausage Orzo Soup, and other hearty dishes are making their way onto our weekly menu.
The grill hasn't been touched in a week. The evenings are cooler, darker, and much more fall-like. Our morning walks to school are chilly. No one wants to get out of their warm beds in the morning and I'm wearing pants, fuzzy socks, and boots. Yes, it is definitely fall. Yay for that!
I love that this Italian Sausage Orzo Soup is so full of pretty basic vegetables, yet nothing about it is boring. I mostly used it as a means to clean out the fridge of a bunch of random bits of leftover produce that was teetering a little too closely to past its prime status. Italian Sausage Orzo Soup is full of flavor from the rosemary, thyme, and Italian Sausage. It is hearty without feeling heavy. And even Logan ate it!
We definitely aren't there yet, but eventually the novelty of fall and winter produce will wear off. We'll tire of carrots, potatoes and squash. Soups, like this Italian Sausage Orzo Soup, are such a great way to stretch out the fall and winter produce. Perfect to present seasonal vegetables in different, more interesting ways when dinnertime starts getting repetitive and we find ourselves craving the bright, sunny spring and summer produce.
You can come up with so many different one-pot concoctions using what often feels like a very similar ingredient list and nearly identical preparation techniques. In that way, soup is an amazing dish!
What are your favorite soup recipes?
Italian Sausage Orzo Soup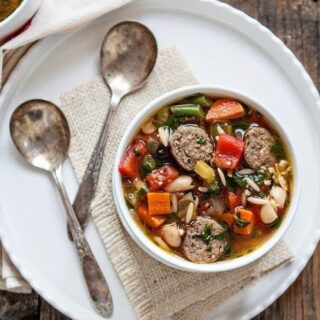 Ingredients:
1 tablespoon olive oil
1 large onion, diced
2 tablespoons minced garlic
4 carrots, peeled and sliced into half moons - about 1/4 inch thick
2 celery ribs, sliced about 1/4 inch thick
1 large red bell pepper, chopped
1 - 19 ounce package Italian Sausage, browned, cooked through and sliced into 1/2 inch slices
1 - 14 ounce can fire roasted tomatoes
5 cups chicken broth
3 cups water
1 sprig fresh rosemary
1 sprig fresh thyme
1 - 14 ounce can cannellini beans
2 ounces chopped fresh spinach
1 cup sliced green beans - about 1/2 inch in length
2/3 cup uncooked orzo pasta
Directions:
In a large soup post or French oven, heat the olive oil over medium heat. Add the onion and sauté for 3-5 minutes. Add the garlic, carrots, celery and red bell pepper. Sauté for an additional 3-5 minutes, until the veggies are fragrant and begin to soften.
Add the sausage, fire roasted tomatoes, broth, water, rosemary, and thyme to the pot. Bring to a boil over medium-high heat. Reduce the heat to low and simmer for 30-45 minutes. Stir periodically.
Add the beans, spinach, green beans, and orzo. Continue cooking over low heat for 20 - 30 minutes, or until the orzo is cooked and tender. Remove the rosemary and thyme stems. Serve.