Pumpkin Black Bean Turkey Chili
Pumpkin Black Bean Turkey Chili is a great fall chili recipe with tons of flavor! And it is super easy to make.
If you follow me on Instagram, you may have seen me talking about plans to make my Beefy Kidney Bean Chili for dinner last night.
Well, that didn't happen at all. But, something else really good happened instead.
As I often do in the kitchen, my good intentions for meal planning and dinner prep got side tracked, distracted, or altered.
Honestly, the plans I make almost never stick, so I usually find myself wondering "what's the point?"
Really.
If there is anything that the last couple of years, a failed marriage, and becoming a single mom has taught me is that sometimes it is just easier to take the days as the come.
Because planning everything out, trying to predict how things might go, and then being frustrated or disappointed when whatever it is didn't go how I wanted…sometimes, to me, feels a little bit like wasted energy.
So, my plans are a lot less rigid these days.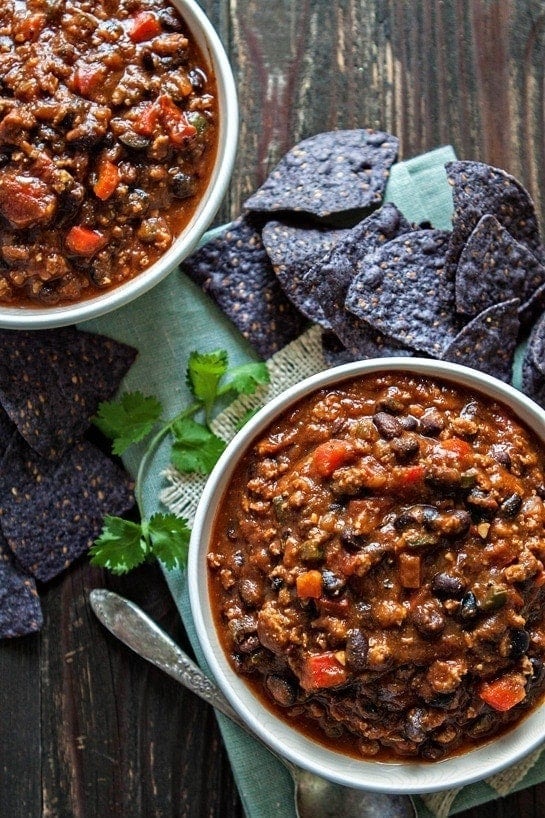 Save this recipe for Pumpkin Black Bean Turkey Chili to Pinterest!
Anyway, I had a meal plan this week, but then I had pumpkin on the brain (because everything is pumpkin this and pumpkin that right now!) and started wondering if I could make a decent Pumpkin Chili.
The answer is yes!
My distraction from my well-intentioned meal plan is to your benefit because this Pumpkin Black Bean Turkey Chili turned out totally delicious!
If you're looking for a Pumpkin-y, pie-like flavored chili, this isn't that.
Instead this Pumpkin Black Bean Turkey Chili is a thick, rich chili that is a little less on the tomato-y side.
It has the bonus of being loaded with extra vegetables in the form of pureed pumpkin in addition to all the flavor that comes with the ground turkey, garlic, black beans, poblanos, and chili powders.
And really, that is what makes this chili successful.
Not because it has pumpkin, but because it depends on the richness of flavors.
The best chili recipes are all about layered flavors – from the carefully sautéed onions and garlic, the blend of chili seasonings, the browned meat, the tender beans, to the rich and thick tomato base.
So, in case you were wondering how NOT to cook your chili, I present to you my best do's and do not's of chili making.
How NOT to Cook Your Chili
Skip Sautéing the Veggies
DO: Sweat the Mirepoix and Aromatics
I consider them the basics: onion, leeks, garlic, carrot, or celery.
Cooking these ingredients for about 5 minutes over medium heat before adding the remaining chili ingredients will deepen the flavor of the soup.
When I was a young(er), inexperienced cook I made the mistake of thinking chili was all the ingredients dumped into a pot of broth.
Honestly it just doesn't taste as good made that way!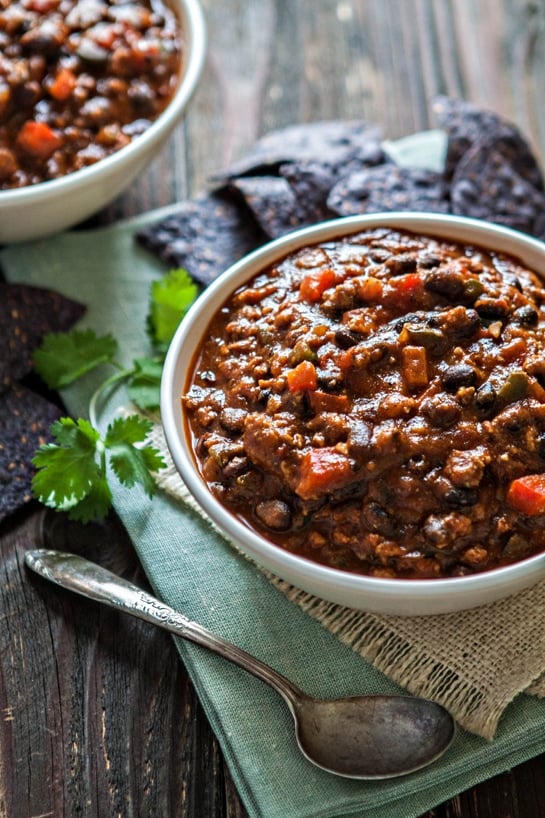 Save this recipe for Pumpkin Black Bean Turkey Chili to Pinterest!
Season Just Before Serving
DO: Toast the Spices
Want to really draw out the flavor from your ground spices?
Then add them directly to your veggies after you've sautéed them.
Heat and oil applied to the ground spices will give your chili a rich, bold flavor.
Adding the seasonings to the completed chili just before serving will leave you with a much rawer taste.
Throw the Meat in Raw
DO: Brown the Meats
Recipe got meat?
Make sure you brown it first.
The browned bits left in the bottom of the pan after browning the meat will build the flavor of the chili even more.
Serve Immediately
DO: Let Chili Simmer Low and Slow
I like to allow my chili to simmer for a longer period of time rather than quickly boiling them to get the vegetables tender.
Yet again…you'll get more flavor development this way.
Extra tip: If your slow cooker cooks any speed but "slow," as many often do these days, look for a model that has a "keep warm" feature.
After bringing your chili to a simmer over low or high, turn the heat down to "keep warm," this will give you a better low and slow simmer over the course of a couple of hours.
More Chili Recipes
Pumpkin Black Bean Turkey Chili not your thing?
If you like a more traditional chili, you'll like this Beefy Kidney Bean Chili. If you want a chili that is really rich and hearty, try this Braised Short Rib and Bacon Chili.
Or if you want a lighter and healthy chicken chili, then this White Bean Chicken Chili Verde will be perfect!
No matter what chili you make, you can't go wrong serving it with these Honey Corn Bread Muffins.
Seriously. Logan and Madeline say they are the best ever.
Love this recipe for Pumpkin Black Bean Turkey Chili?
Sign up for Good Life Eats email updates and never miss another recipe!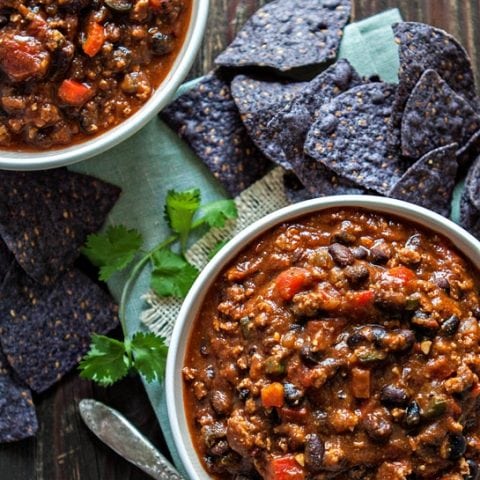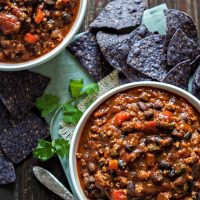 Pumpkin Black Bean Turkey Chili
Yield: serves 6 - 8

Prep Time: 15 minutes

Cook Time: 1 hour

Total Time: 1 hour 15 minutes

Pumpkin Black Bean Turkey Chili is a great fall chili recipe with tons of flavor!
Ingredients
1 tablespoon olive oil
1 large yellow onion, diced
1 poblano pepper, diced
1 large red bell pepper, diced
4 cloves minced garlic
2 tablespoons chili powder
1 tablespoon ancho chili powder
1 1/4 teaspoons cumin
1/4 teaspoon chipotle powder
1/2 teaspoon smoked paprika
1 1/2 lbs ground turkey
1/4 teaspoon dried oregano
1/4 teaspoon dried thyme
salt and pepper, to taste
2 cups beef broth
1 - 15 ounce can pumpkin puree
1 - 14.5 ounce can fire roasted diced tomatoes
1 - 6 ounce can tomato paste
2 - 15 ounce cans Bush's Black Chili Beans, undrained
1 - 15 ounce can Bush's Black Beans, drained
1 tablespoon finely minced fresh cilantro
Instructions
Add the oil to a large cast iron pot, such as a Le Creuset Round French Oven, and heat over medium heat.
Add the onions to the pan and sauté for approximately 5-7 minutes, until they are translucent.
Add the poblano, red bell pepper, and garlic and sauté an additional 2-3 minutes.
Add all of the seasonings (chili powder through smoked paprika) to the onion mixture. Cook and stir for 3 minutes.
Add the ground turkey, oregano, thyme, salt and pepper, and cook, breaking the meat using a spoon or spatula into small pieces.
Cook until the meat is completely cooked through.
Deglaze the pan with the beef broth, stir in the pumpkin puree, tomatoes, tomato paste, and all of the beans.
Bring to a boil and reduce the head to low.
Simmer for at least an hour, stirring periodically so it doesn't stick to the bottom.
Season with additional salt and pepper, if desired. Stir in cilantro. Serve.
Notes
Top with things like: shredded cheese, sour cream, fresh chopped cilantro, and/or tortilla chips.
Recommended Products
As an Amazon Associate and member of other affiliate programs, I earn from qualifying purchases.

Be sure to follow Good Life Eats on Instagram. Tag @goodlifeeats and include the hashtag #goodlifeeatsrecipes so I can see what you're cooking up in YOUR kitchen!
Let me know if you try this recipe and what you think of it by leaving a comment below.