Beefy Kidney Bean Chili
I know it is officially spring now and in a lot of places many of us are actually enjoying spring weather. A couple of weeks ago my neighbors busted out the slip and slide because it was so warm and all of the kids ended up with a little too much sun. This week I have spent a few days in Vermont and it is definitely still on the cold side of spring here. The perfect weather for a nice bowl of this Beefy Kidney Bean Chili.
Truth be told, we have a lot of back and forth in our weather this time of year in Colorado, so it is always nice to have a few new hearty chili recipes to pull out at the end of the cold weather season. This Beefy Kidney Bean Chili is super simple. It uses Bush's Kidney Chili Beans in a Mild Chili Sauce instead of regular Kidney Beans.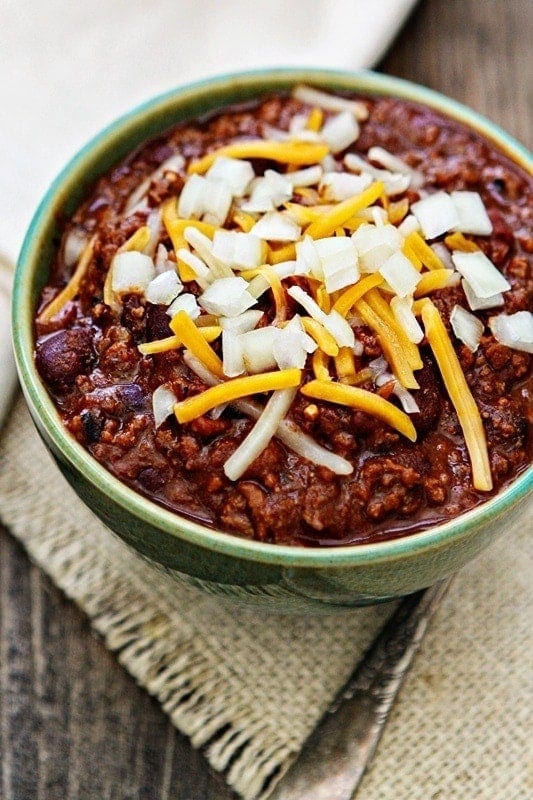 This isn't a complicated, fancy chili. Beefy Kidney Bean Chili is delicious in its simplicity and pairs perfectly with a side of Corn Bread Muffins. Or, if you're willing to put forth a little more effort, a Chile Cheese Cornbread Scone. I think it is also the perfect chili flavor for a loaded up chili dog should you be in the mood.
If you're looking for more creative and complex chili recipes, you might try Braised Short Rib and Bacon Chili, White Bean Chicken Chili Verde, or Black Bean and Sweet Potato Chili. But sometimes classic and simple is what hits the spot!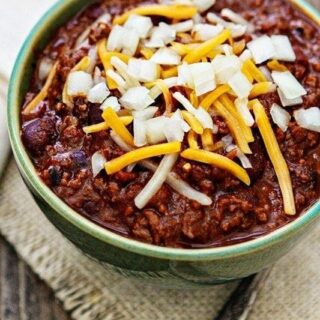 Ingredients:
2 tablespoons olive oil
1 cup chopped onions
5 large garlic cloves, chopped
2 pounds lean ground beef
2 tablespoons chili powder
1 tablespoon ancho chili powder
1 1/4 teaspoon ground cumin
1/4 teaspoon dried basil
1/4 teaspoon dried oregano
1/2 teaspoon dried thyme
1 14-ounce can diced fire roasted tomatoes, undrained
1 1/2 cup chicken broth
1 12-ounce bottle of beer, optional
1 6-ounce can tomato paste
2 15-ounce can prepared bush's kidney chili beans
Directions:
Add the oil to a large cast iron pot, such as a Le Creuset Round French Oven, and heat over medium heat. Add the onions and sauté for approximately 5-7 minutes, until they are translucent. Add the garlic and sauté an additional 2-3 minutes. Add all of the seasonings (chili powder, cumin, basil, oregano, and thyme) to the onion mixture. Cook and stir for 3 minutes.
Next, add the ground beef and cook, breaking the meat using a spoon or spatula into small pieces. Cook until the meat is completely cooked through. Stir in the tomatoes, beans, and chicken broth. Bring to a boil and reduce the head to low. Simmer for 20 minutes.
Add the beer and tomato paste. Simmer on low until thickened to desired consistency, stirring occasionally to prevent sticking, about an 1 hour. Season to taste with salt and pepper.
Notes:
if you prefer not to use beer, you may substitute an alternative liquid such as chicken or beef broth or extra diced tomatoes with liquid.
I have an ongoing relationship with Bush's Beans where I am compensated for my time, however this is a brand that I have always used in my own kitchen and any opinions expressed regarding the product are my own.