Corn Bread Muffin Recipe
I don't generally think of corn bread or anything that involves much baking in the summer, but I recently made these Honey Corn Bread Muffins and realized that they're an excellent accompaniment to other things besides chili.
Eric was out of town for a few days last week, which was a bit hectic since I just returned from Evo Conference last weekend. I wasn't up for doing a whole lot of cooking. Times like this are when I turn to simple meals that don't require anything fancy or a lot of dishes.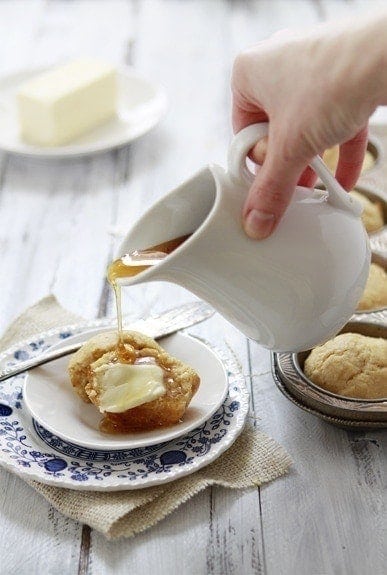 At Evo Conference we received a copy of Connie Guttersen's new book – The New Sonoma Cookbook: Simple Recipes for a Healthy, More Delicious Way to Live – as a gift from the great folks at Bush Beans.
Since meeting Connie last fall in Napa I've been in love with her cooking style. Her recipes are packed with good for you ingredients, but so full of flavor that never would you would never consider her recipes to be "diet food." Connie proves that you can eat well while eating healthy. When the weather cools off a bit, you have to try Connie's White Beans Chicken Chile Verde.
I found a simple recipe for Ranchero Beans in Connie's new book that was quick, easy. I'll post that recipe another time, but for now I'll just say they were tasty and I loved that I had a new simple recipe that came completely from my pantry. It's always stocked with a variety of beans for easy, no-meat meals.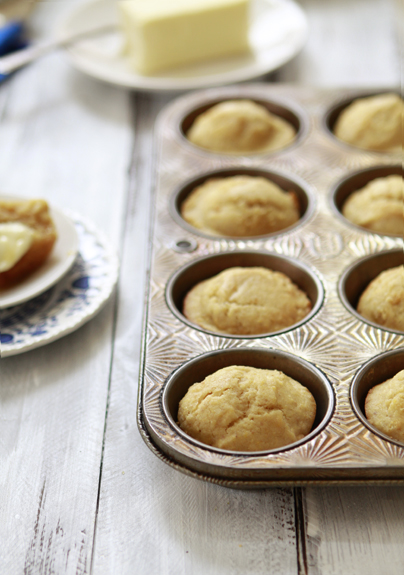 The ranchero beans went great alongside a couple of these Honey Corn Bread Muffins. Perfectly comforting on a night alone! I know I wasn't really alone – the kids were home – but when Eric is gone I usually end up sitting with the kids and talking with them while they eat and not eating my own meal until after I tucked them in bed.
What do you eat when you eat alone?
Serve Corn Bread Muffins with: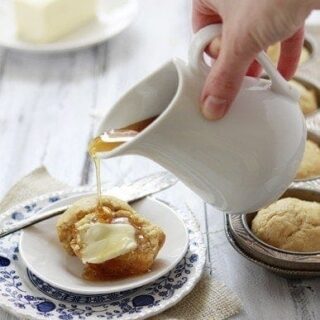 Ingredients:
1 1/2 cups all-purpose flour
1/2 cup whole wheat flour
1 cup yellow cornmeal
1 1/2 teaspoons baking powder
1 teaspoon baking soda
1/2 teaspoon salt
2 eggs
1/2 - 2/3 cup honey, depending on how sweet you'd like your muffins
8 tablespoons butter, melted
3/4 cup sour cream
1/2 cup milk
Directions:
Preheat oven to 400 degrees F. Grease a standard sized 12 cup muffin tin. Set aside.
In a medium bowl, combine the flours, cornmeal, baking powder, baking soda, and salt. Whisk until sifted together.
In a smaller bowl, whisk the eggs until lightly beaten. Add the honey, melted butter, sour cream, and milk. Then, whisk until combined.
Make a well in the center of the dry ingredients. Pour the liquids in and stir with a wooden spoon until just combined and moist. Do not beat.
Divide mixture evenly among the muffin cups (Tip: Kitchen Tip: Trick for Filling Muffin Tins). Bake at 400 degrees F for 14-18 minutes, or until golden. Cool for 5 minutes in the muffin tins, then remove and cool on a wire rack until warm.
Serve with butter and additional honey, or honey butter, if desired.