Not sure what to do with a ham bone? This Slow Cooker Ham Soup with Potatoes and Kale is both easy to prepare and flavorful, thanks to the use of a slow cooker and the rich flavor that a leftover ham bone imparts. You'll love how comforting a bowl of this creamy ham and potato soup is during cold weather.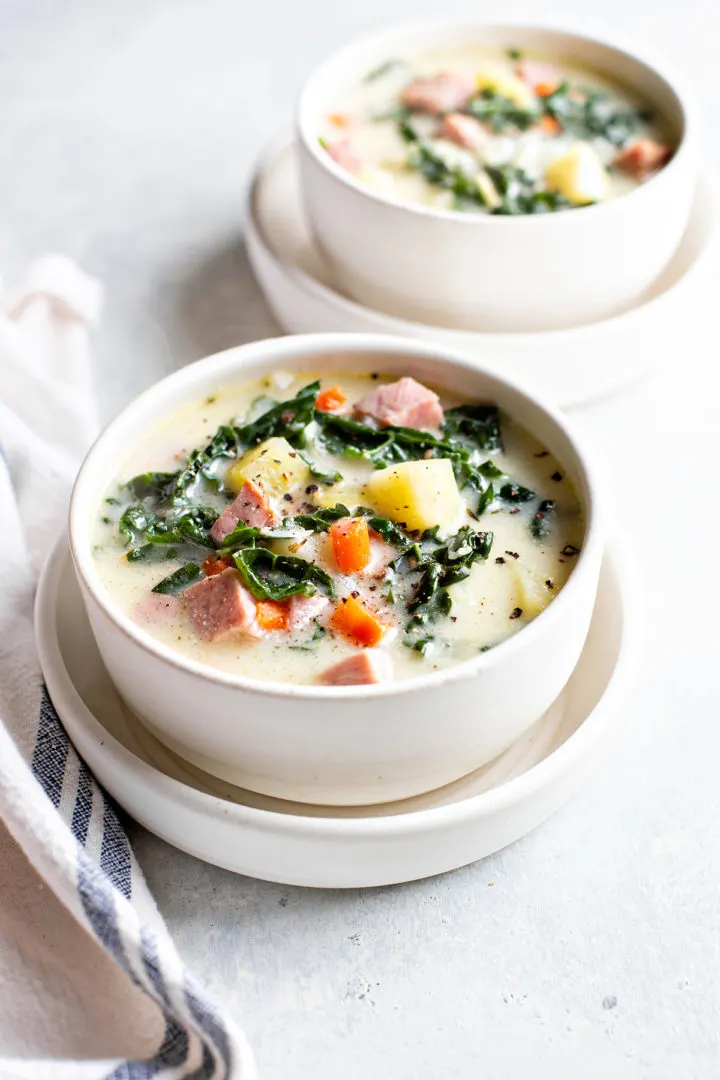 Save this recipe for Slow Cooker Ham Soup to Pinterest!
Creating This Ham Soup Recipe
When I talk to Kevin about my passion of food and cooking, feeding families, or even food blogging and aspects of the culture of that industry that I have ALL THE FEELINGS about, Kevin says "so why don't you write about that?"
I say "I don't know how!" And then he usually says something along the lines of…
"But you just did. Write what you told me."
I talk so much better about these things, and it feels like most things, when I'm not like "ok, let's sit down and write about it." When I'm just talking and having an actual conversation I can say what I want to say. I can say what I mean to say. And I can clarify if the person isn't getting it.
So, yeah, this Slow Cooker Ham Soup with Potatoes and Kale? I wasn't going to even take pictures of it. Even though "slow cooker" and "what to do with a ham bone " are probably all fantastic keyword rankings, especially this time of year.
I wasn't sure if the family, especially the kids, would even like it (much less want me to make it again). We don't do throw-away-photo-shoot-food in this house for the sake of traffic and Google rankings or in the hopes that something might go viral on Pinterest.
No matter how "in trend" the recipe is, I'm not going to share it if we don't eat it and like it. Am I right? When I made this soup for dinner I expected only revolts, like full on complaining and no one wanting to eat dinner.
My Family's Thoughts on this Slow Cooker Ham Soup
Soup? With ham? But why can't we just have ham?
Ok, Kendall actually did say that at first because she is all about the ham. Since Logan was the only one who didn't totally love the soup (he's never loved — much less liked — soup) I was forced to reconsider my posting plans.
Because step-daughter Kendall finished her dinner in about 2.3 seconds (obviously she liked it). And step-son Kayden wanted seconds while asking if I was going to post this for work.
Because Kayden tells me "I think this is my favorite soup ever and I want it for my birthday dinner" (which, by the way, is 6 months away). Madeline was bumming that she has the stomach flu because she's so hungry and wants the soup. And because Mr. Throw Meat on the Grill with "some kind of salt blend" and serve it with "something green" (his words) liked it too.
Because of all this I think, "I guess I could photograph the leftovers…if they aren't too ugly? I'm sorry, what? If they aren't too ugly? Who talks like that?
When Kayden asked for a third bowl to eat while I'm reading him Harry Potter before bed I realized that somewhere along the way, food blogging didn't just become about if the food was good and my family liked it.
For the record, I stand firm that that reasoning for posting or not posting something is completely legit. Food and recipes online became about if it looked perfect. If it photographed well. If it sounded mind-blowing creative.
And I became seriously annoyed at the Internet. Not only was I not going to post this ham bone soup recipe because I didn't think the family was going to like it (They proved me wrong!). But also because it was ugly and boring.
Note: this post no longer contains the original photos. It has been reshot to include more professional photography
What I Love About this Ham Soup
The things that I want to say about this Slow Cooker Ham Soup with Potatoes and Kale (which are all sounding way better in my head than they are on paper and I hope don't come across like one big rant…) are that sometimes I make food that is really not pretty.
It doesn't have OH MY GOSH status in terms of creative appearance, trendiness, or ingenuity. And so I think, "this will never make it on the blog!"
This slow cooker ham and potato soup is one of those recipes and I hope you don't judge it by how it looks or because it isn't some fantastically amazing creative idea. It is just soup, and a relatively generic one at that. And it really isn't particularly attractive.
But it was good. My family liked it. It helped us not waste leftovers. And it made people happy.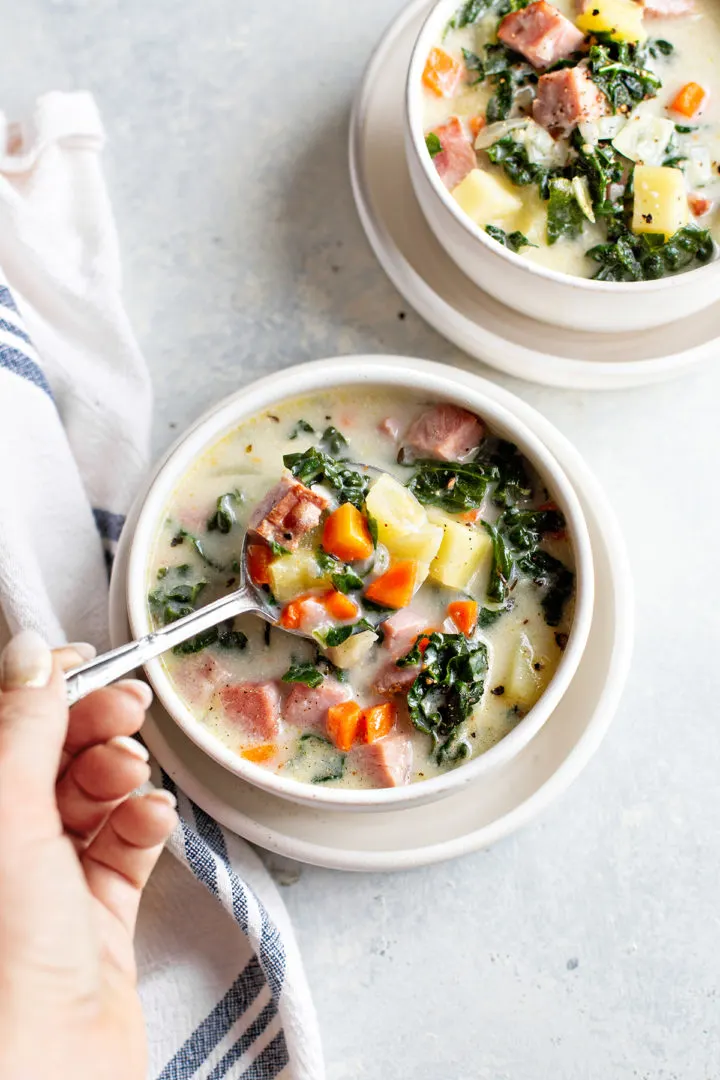 Sharing this Potato and Ham Soup Recipe
The thing about food on the internet is that it is all about how it looks. And honestly if you ask me, some of it is really sterilized lately. It doesn't look like real food that you feed real families. The food is styled too perfect. Maybe the veggies are arranged just so.
Because, really, do we place every leaf of kale and every dice of carrot in a bowl of soup when we serve it? Or it is all about the WOW factor.
Crazy-over-the-top recipes created for the sole purpose of going viral that leave me going (quite honestly) WHAT? WHO IS GOING TO MAKE THAT?!
Or if you do make it, are you seriously ever going to make it again? What happened to sharing real recipes that we actually make for our real friends and our real family.
Recipes that we actually make more than once because, for real, we like them? Not because they're going to be all wow on Pinterest. And because Google would really like it. Or because wouldn't that look so cool?
Hello, Easy Honey Mustard Baked Chicken that I've made at least 100 times already because all my people love it.
And Crock Pot Mexican Chicken that I make whenever we need shredded chicken for a Mexican recipe.
How about 7 dozen Chocolate Chip Cookies that were devoured after my Army husband's change of command ceremony? I'm looking at you.
Apparently a 9-year-old has figured out what the rest of us have forgotten. That what matters is if the recipe tastes good and the people you love like it or not. It shouldn't matter if it sells well or looks pretty or goes viral on Pinterest.
And if you like it, you should share it. No apologies. That doesn't mean that I don't appreciate a good or pretty picture, or that I'm suddenly going to stop bothering to style and photograph nicely. Just a little re-evaluating the status quo.
So, earlier this week I opened said ham soup leftovers that I already decided I didn't care about were now even uglier. I microwaved them, and looked for a bowl to photograph the soup in.
The bowls I wanted were — par for the course at this point! — in our storage pod. I cannot wait to have all my stuff back, to unpack my new kitchen, and start cooking in it!
A little about the recipe now that I've gotten that off my chest.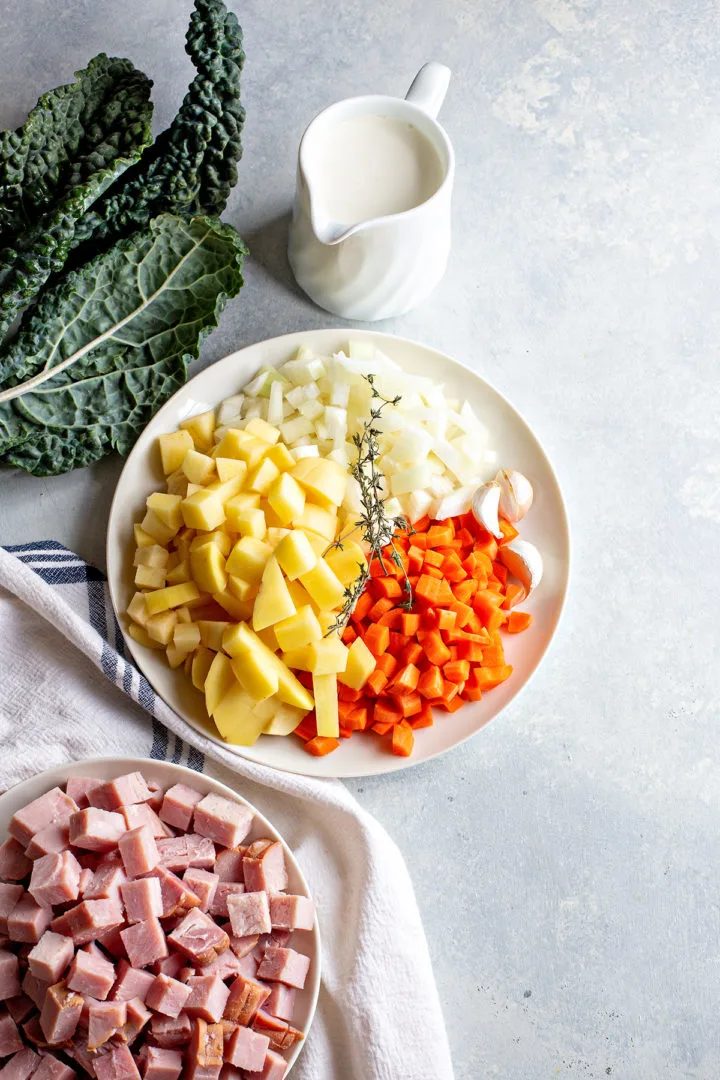 Save this recipe for Slow Cooker Ham Soup to Pinterest!
Ham Soup Ingredients
I used the ham bone to make the broth for the soup, cubed extra ham that we had frozen. Threw in some veggies and a bit of cream at the end to thicken it up.
I know I've been chatting your ear off, so I'll keep the rest of this post focused on the recipe. Here's what you'll need to make this slow cooker ham bone soup:
For the Homemade Broth
Ham Bone
Water
Yellow Onion
Celery
Carrot
Fresh Parsley
Black Peppercorn
For the Ham Soup
Homemade Broth
Yellow Onion
Carrot
Garlic
Potatoes
Thyme
Ham
Heavy Cream
Flour
Kale
Salt
Ground Black Pepper
Cayenne
For the complete ingredient list and detailed instructions, scroll to the bottom of this post for the FREE printable recipe card.
How to Make Ham Soup
Making this slow cooker ham and potato soup is fairly straightforward. You first need to make the homemade ham broth using the leftover ham bone (this is done in your slow cooker as well).
Once the broth is prepped and strained, add sautéed onion, garlic, and carrots into the slow cooker along with the broth. Add the potatoes, thyme, and cubed ham and let cook low and slow until the veggies are tender.
Stir in a mixture of cream and flour to thicken up the soup, then add in the cayenne, salt and pepper, and kale. If needed, transfer the soup to a stockpot and bring it to a boil to thicken it up further.
The above is simply a quick summary of this recipe. Check out the full recipe in the free printable recipe card at the bottom of this post for all the detailed instructions.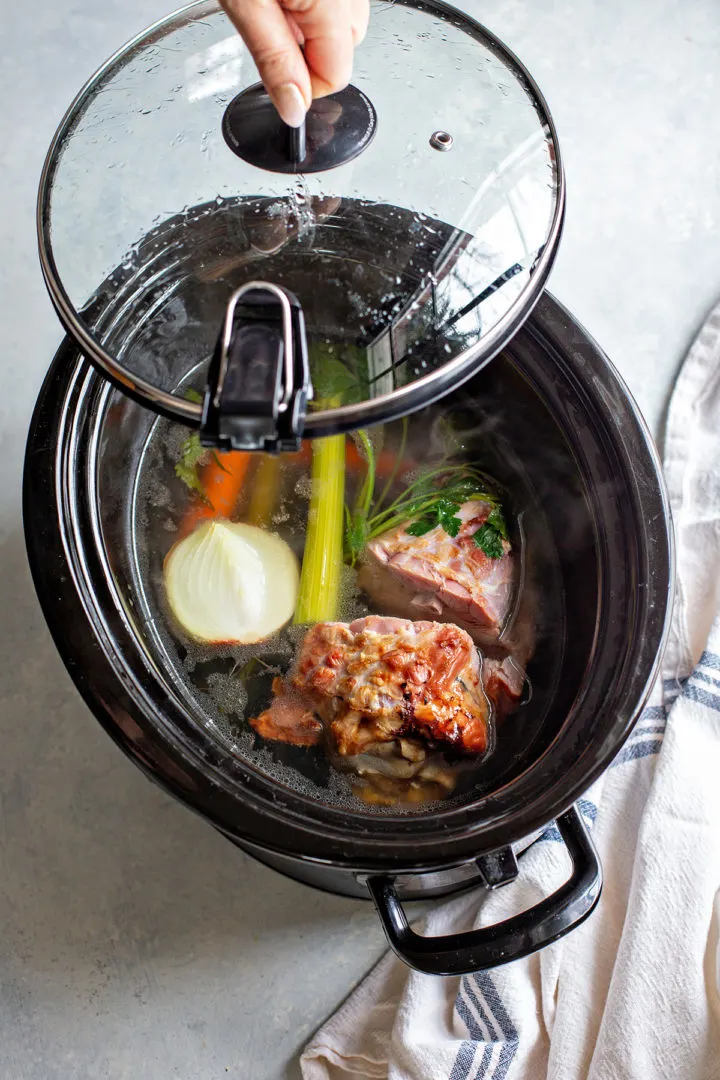 Tips for Making The Best Ham Soup
Make sure your slow cooker is big enough to fit your ham bone before starting this recipe.
If your slow cooker insert is stovetop-safe, you can bring the soup to a boil on the stove directly in the insert. If you're not sure whether your slow cooker insert can be used on the stove, pour the ham soup into a stockpot to be safe.
Ingredient Substitutions in this Recipe
This slow cooker ham bone soup is a great way to use up any extra produce you have lying around.
If you have spinach that's about to go bad, use that in place of the kale in this delicious soup.
Don't have potatoes? Try beans instead – navy beans, cannellini beans, or great northern beans would all work well to create a ham and bean soup recipe.
Finely chopped butternut squash might be good in place of the carrots, and so on.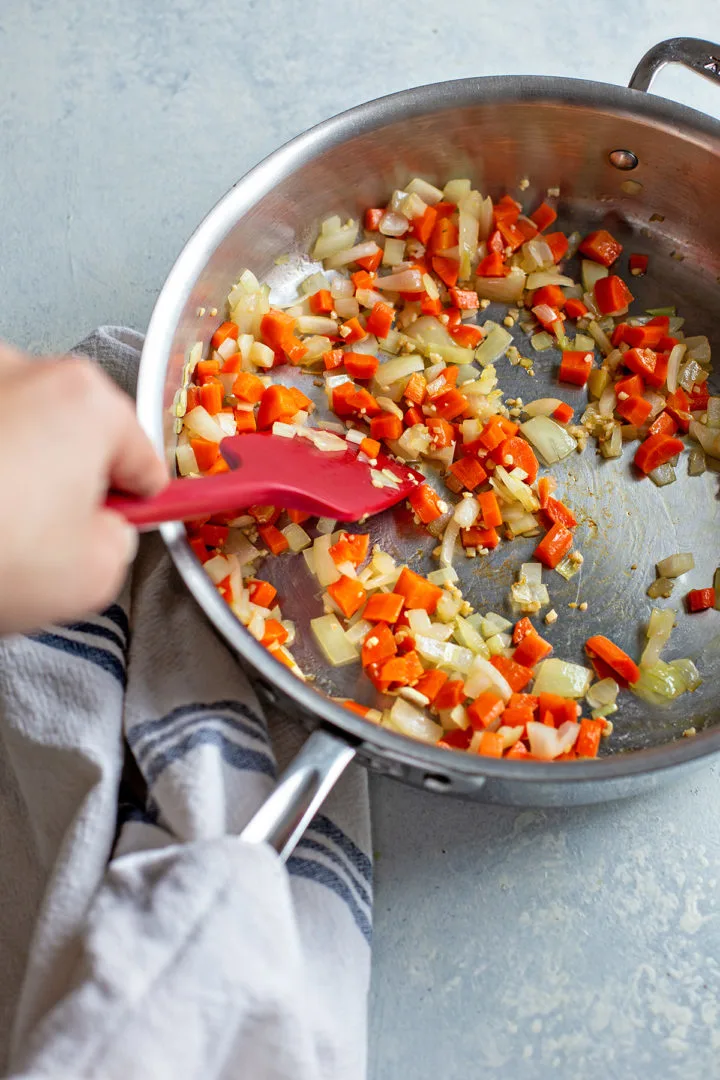 Do I Have to Make the Homemade Broth?
No, if you've used your ham bone in another recipe or don't have one, you can substitute chicken broth or chicken stock instead.
What to Serve with this Slow Cooker Ham Bone Soup
We like to serve these Beer Batter Muffins with Caramelized Onions and Parmesan on the side to round out the meal and call it good.
Don't see what you're looking for here? You can always head over to check out the recipe index to look for more recipes.
Can I Freeze Ham Soup?
I think this slow cooker ham soup would freeze pretty well. Check out this post on how to freeze soup for more instructions.
I typically don't freeze soups that have a lot of dairy in them (i.e. cheese, heavy cream, or half and half) since dairy tends to split in the freezer. But since there's only a cup of cream in this soup I bet you could freeze it without issue.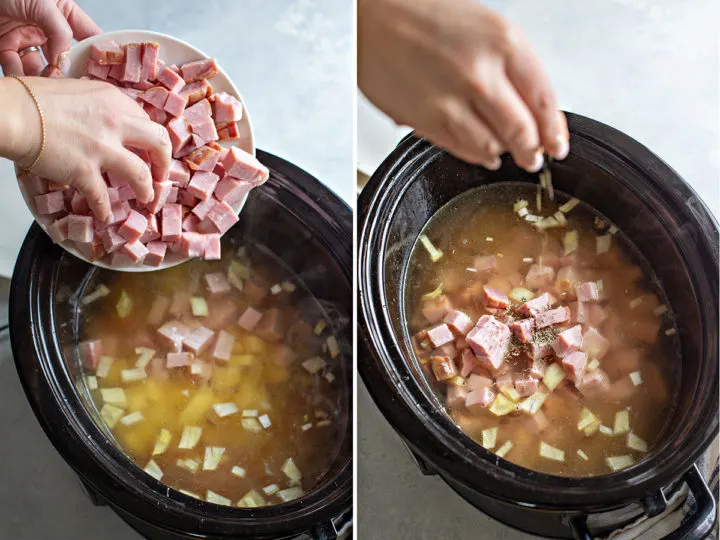 Try this Creamy Soup with Ham and Potatoes!
Next time you're looking for a way to use up leftover ham after your holiday meal, give this Ham and Potato Soup recipe a try!
Did you think this tasty soup was perfect for a busy weeknight? Leave a comment below and give it a review for others to see what you thought of this soup recipe.
On Instagram? Share your photo and tag me with @goodlifeeats and #goodlifeeatsrecipes. I'd love to see your photo of this delicious ham soup!
More Easy Soup Recipes:
Italian Sausage and Kale Soup is another hearty soup recipe my family absolutely loves. It's packed with veggies and is a cinch to prep.
This Vietnamese Rice Noodle Soup with Beef comes together quickly and is a great soup to make in the winter.
If you prefer thicker soups, make a batch of this Pumpkin Black Bean Turkey Chili. It's incredibly flavorful and is loaded with good-for-you ingredients.
If I'm having guests over, I like to make a Loaded Baked Potato Soup Bar so that each person can customize their own bowl of soup.
I can't get enough of this Cheesy Enchilada Chili during the winter months. It has all of my favorite Mexican flavors in it!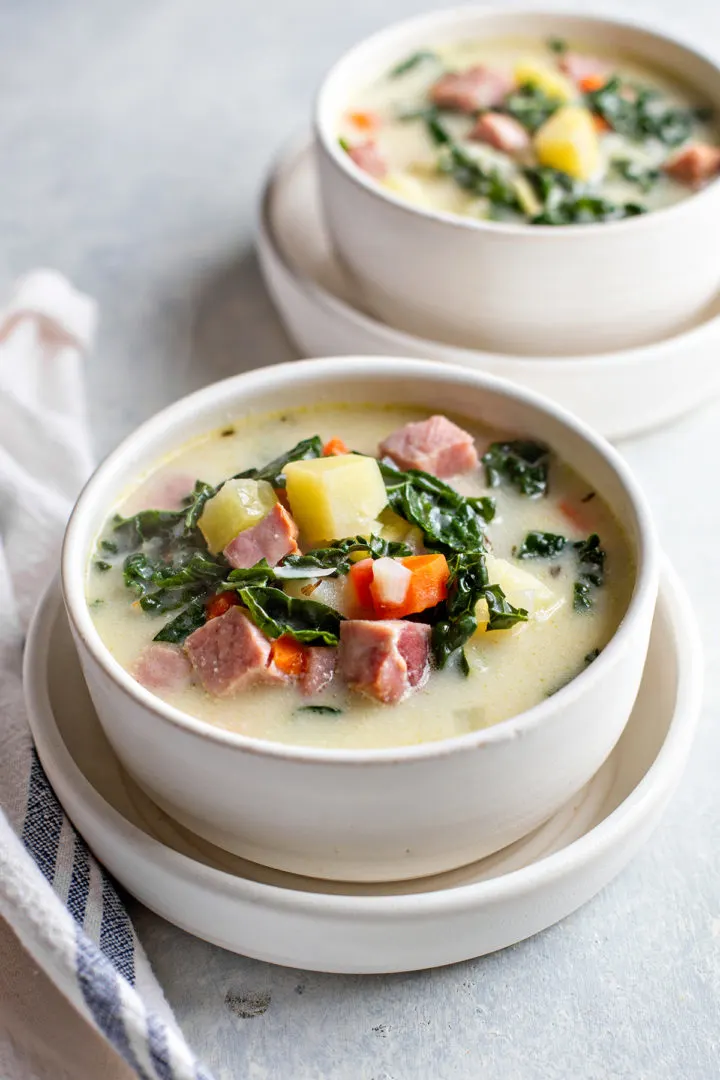 Save this recipe for Slow Cooker Ham Soup to Pinterest!
Get More Easy Recipe Ideas via Email!
Did you love this recipe for Slow Cooker Ham Soup with Potatoes and Kale? Sign up for Good Life Eats Email Updates and never miss another recipe!
What is your favorite slow cooker soup recipe?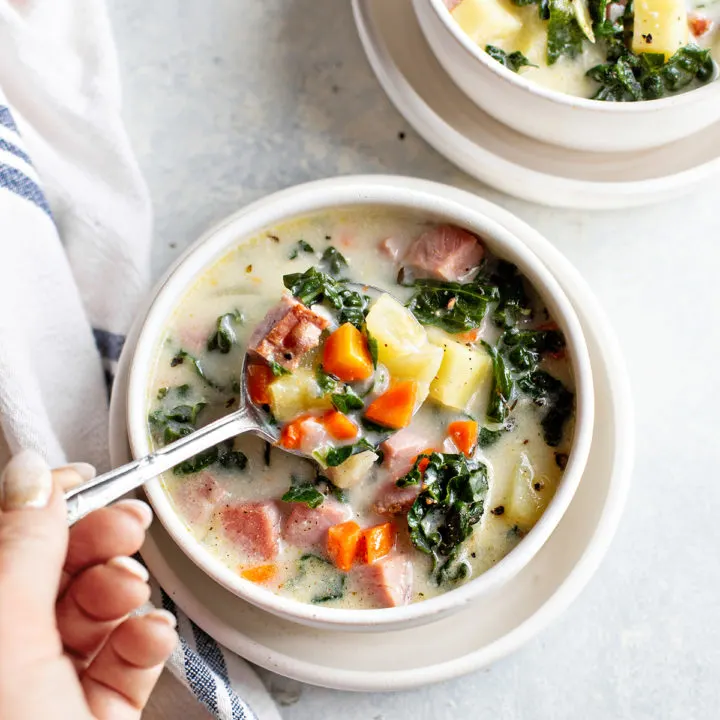 Slow Cooker Ham Soup with Potatoes and Kale
Total Time:
7 hours
15 minutes
Slow Cooker Ham Soup with Potatoes and Kale is both easy to prepare and flavorful, thanks to the use of a slow cooker and the rich flavor that a leftover ham bone imparts.
Ingredients
For the Homemade Broth
1 leftover Ham Bone
8 cups boiling Water
1/2 of a Yellow Onion
1 large rib Celery
1 large Carrot
3 stems fresh Parsley
1 teaspoon Black Peppercorns
For the Ham Soup
1 tablespoon Olive Oil
1 Yellow Onion, diced
2 Carrots, peeled and chopped
1 1/2 teaspoons minced garlic
2 lbs. Yukon Gold Potatoes, peeled and diced
1/2 teaspoon dried Thyme Leaves
1 lb. leftover Ham, cubed
1 cup Heavy Cream
3 tablespoons flour
3 cups roughly chopped Kale Leaves, stems and ribs discarded
Salt and Pepper, to taste
2 dashes Cayenne
Instructions
For the Broth
In a slow cooker, combine the hambone, water, 1/2 yellow onion, celery, carrot, parsley, and peppercorns.
Cook on high heat for 1 - 2 hours.
Afterwards, strain through a fine mesh strainer, making sure to reserve the broth.
Discard the onion, celery, carrot ham bone, and peppercorns.
Return the broth to the slow cooker.
Set aside.
For the Soup
In a large saute pan or cast iron skillet, heat the olive oil.
Add the onion and carrot and sauté for 3 - 4 minutes.
Add the garlic and sauté for another minute.
Transfer the sautéed vegetables to the slow cooker.
Add the potatoes, thyme, and ham.
Cover with the lid and cook on low for 3 - 5 hours, or until the vegetables are tender.
Meanwhile, whisk the flour and the cream together.
After the veggies become tender, slowly whisk in the heavy cream and flour mixture.
Stir in the kale, salt and pepper (to taste), and cayenne.
If the slow cooker insert is stovetop safe, transfer it to the stove and bring the soup to a boil, stirring periodically, until it thickens slightly.
Alternatively, if the insert is not stovetop safe, you can transfer the soup to a stock pot to bring it to a boil.
Serve.
Notes
If you've used your ham bone in another recipe or don't have one, you can substitute chicken broth instead.
Recommended Products
As an Amazon Associate and member of other affiliate programs, I earn from qualifying purchases.
Nutrition Information
Yield

8
Serving Size

1
Amount Per Serving
Calories

381
Total Fat

18g
Saturated Fat

8g
Trans Fat

0g
Unsaturated Fat

7g
Cholesterol

85mg
Sodium

814mg
Carbohydrates

34g
Fiber

5g
Sugar

5g
Protein

23g
GoodLifeEats.com offers recipe nutritional information as a courtesy and is an estimate only. This information comes from online calculators. Although GoodLifeEats.com makes every effort to provide accurate information, these figures are only estimates.