Savory muffins, like these Beer Batter Muffins with Caramelized Onions and Parmesan, are the perfect, comforting addition to a fall or winter evening meal.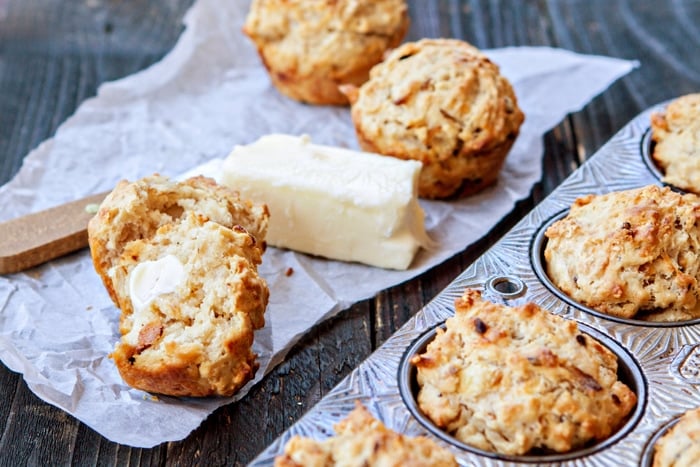 I first made this recipe for Beer Batter Muffins with Caramelized Onions and Parmesan a few months ago when I was testing the Slow Cooker Ham Soup with Potatoes and Kale. Life is funny sometimes and the kids are often so unpredictable when it come to my recipe testing.
I was sure that everyone would hate the soup and gobble up the muffins. So completely sure. From everything I had hear from Kevin, neither he nor his kids were soup people. I knew that Logan and Madeline weren't really crazy into soup at least half the time. But, I decided to make the soup anyway because I wanted to use up the leftover ham.
Everyone loved the soup. In fact, I've been asked on several occasions when can I please make it again? The response to these Beer Batter Muffins with Caramelized Onions and Parmesan was a little underwhelming.
It wasn't that no one liked them. It was more that they're so used to stuff like this that I make being good that they were just like "meh. duh. of course we like it. BUT OH MY GOSH THIS SOUP IS AMAZING WHY HAVE YOU NEVER MADE IT BEFORE?!?!?"
I guess that's what happens when you make something for dinner that is not something they usually like and then they're totally surprised that they liked it but you also serve it with something that's pretty much a given that they'll like.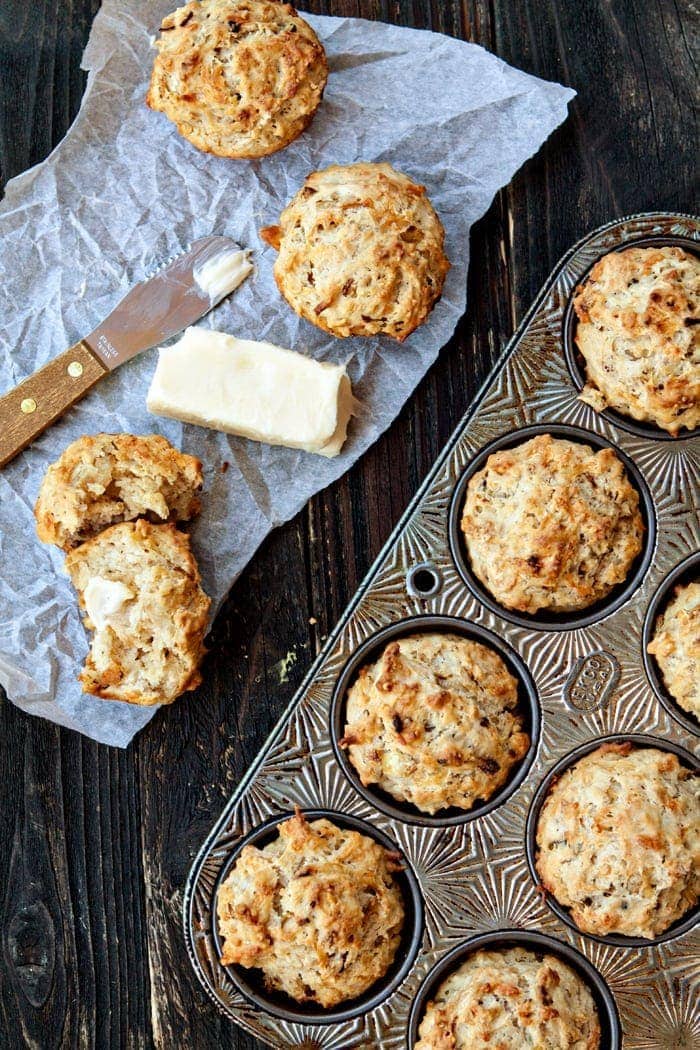 I'm glad that I made these muffins to round out the meal, because I thought they paired really well. They were super easy to make and it was nice to have a muffin that was savory, rather that sweet…which is what I typically think of when I think muffin. I love that they have a hearty, rustic feel to them and a nice crusty top rather than a perfectly manicured dinner roll.
I shouldn't be surprised at all that these muffins were great. I adapted them from my friend Allison's recipe for Beer Batter Bread. During the time I new Allison when I used to live in New Mexico, she never made a single thing that didn't taste awesome. (Which apparently is why my family was so not amazed by these muffins. They're just used to me making things that taste in ways they like)
She has great taste in food (and pretty much all things if you ask me), plus she's one of the sweetest people I know and you can't help but love being around her because even though life has thrown her some real doozies, she's always finding a way to make it not so bad. I love reading her blog and being inspired by her recipes and her outlook on life.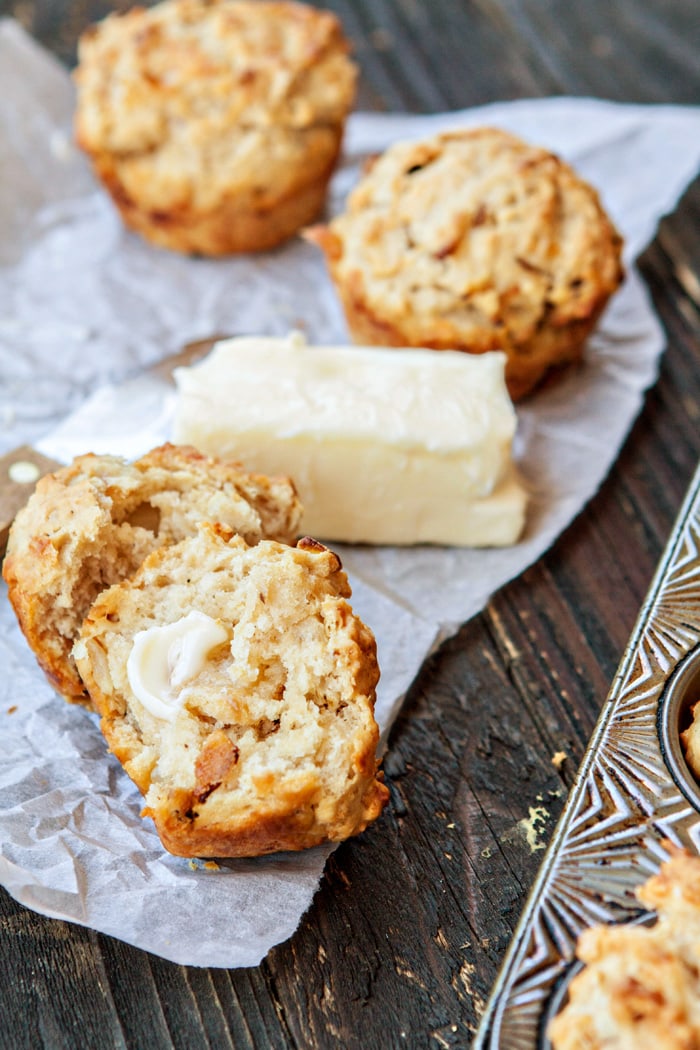 Allison made this recipe as a loaf bread, but I wanted something that was individual sized, so I opted to bake muffins out of the batter. I didn't have any fontina cheese on hand, but I had plenty of fresh grated parmesan so I used that instead with great results.
Just writing about these muffins has me craving them again, so I'm going to try to whip up a batch for dinner tonight!
More Savory Breads
We often think of sweets when we think of baked goods. Here are some of our favorite savory baked goods. They make great additions to a big breakfast Saturday morning or as a savory served alongside dinner.
Classic Buttermilk Biscuits are delicious, savory goodness with the addition of parmesan and chives in these Parmesan Chive Buttermilk Biscuits.
Your next bowl of Creamy Butternut Squash Soup or Pumpkin Soup with Toasted Walnuts should be served with these Savory Gruyere, Apple and Sage Scones for dipping.
Thanksgiving and Christmas have passed, but keep these Sweet Potato Dinner Rolls in mind for next holiday season.
Chile Cheese Cornbread Scones go perfectly with a bowl of Beefy Kidney Bean Chili for dinner.
Rustic Rosemary Garlic Bread is a classic accompaniment to any plate of Spaghetti and Meatballs. It is also perfection for dipping in herbed olive oil or making a tasty sandwich with.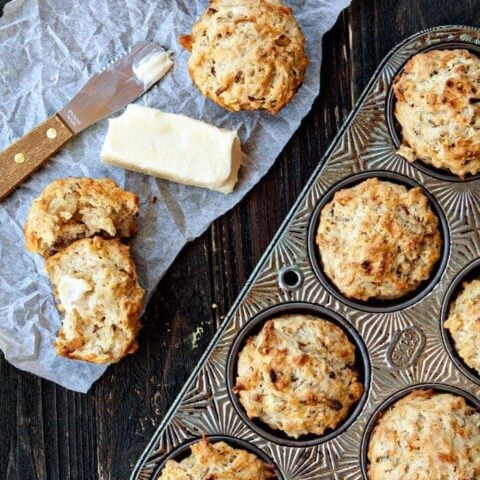 Beer Batter Muffins with Caramelized Onions and Parmesan
Savory muffins, like these Beer Batter Muffins with Caramelized Onions and Parmesan, are the perfect, comforting addition to a fall or winter evening meal.
Ingredients
1 tablespoon Butter
1 heaping cup of sliced Yellow Onion (about 1 large Onion)
3 cups All Purpose Flour
3 tablespoons Sugar
2 teaspoons Baking Powder
1 teaspoon Salt
1 cup (4 ounces) fresh grated Parmesan Cheese
1 (12 oz) bottle of Amber Ale
1/3 cup Melted Butter, divided
Instructions
Preheat oven to 375 degrees Fahrenheit. Coat a 12 cup muffin tin with cooking spray. Alternatively, you may use cupcake liners. Set aside.
Add 1 tablespoon of butter to a large skillet and melt over medium-low heat. Add the sliced onion and cook until it is soft and golden, stirring periodically so it doesn't burn, for about 7 - 10 minutes. Set aside and allow to cool to room temperature. Once cooled, chop into diced size pieces.
Add the flour, sugar, baking powder, salt, and parmesan to a large mixing bowl. Whisk the dry ingredients until well sifted, then make a well in the center. Add the onion and beer. Stir, using a wooden spoon or spatula, just until combine; do not over mix.
Divide the batter between 12 muffin cups. Drizzle the tops of the muffins with the melted butter. Bake at 375 degrees F for 15 - 20 minutes, or until they are cooked through (test with a metal skewer or knife in the center and the tester comes out clean) and the tops are golden brown.
Remove from the oven, place the pan on a wire rack and cool for 5 minutes, or until they are cool enough to handle. Remove from the pan and cool an additional 5 minutes on the wire rack.
Eat warm, serving with butter.
Notes
Store any leftovers in an airtight container and consume within 2 days.
Baking times often depend on the oven. Many run hot or cold and some people have convection ovens. The baking times are meant to be used as guidelines, so keep an eye on the muffins and don't be shy about adding additional time if they look like they aren't baking up quickly. Or, likewise, if they look done a minute or two earlier.
Recommended Products
As an Amazon Associate and member of other affiliate programs, I earn from qualifying purchases.
Nutrition Information
Yield

12
Serving Size

1
Amount Per Serving
Calories

202
Total Fat

6g
Saturated Fat

4g
Trans Fat

0g
Unsaturated Fat

2g
Cholesterol

16mg
Sodium

315mg
Carbohydrates

30g
Fiber

1g
Sugar

4g
Protein

4g
GoodLifeEats.com offers recipe nutritional information as a courtesy and is an estimate only. This information comes from online calculators. Although GoodLifeEats.com makes every effort to provide accurate information, these figures are only estimates.