I had sandwiches on the menu for dinner last week (Friday), but I never specified what kind we were making.
That was just because I didn't know yet.
What I ended up making was an open face vegetable sandwich on this delicious Rustic Rosemary Garlic Bread.
I'll share the sandwich recipe with you later, it's pretty simple but was very satisfying.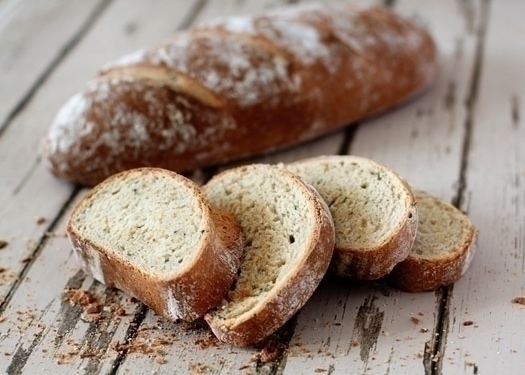 The Rustic Rosemary Garlic Bread was inspired by this Rosemary Focaccia recipe but adapted from this Rustic White Bread recipe.
While I mentioned in my Top 5 Baking with Yeast Tips that you don't need any fancy equipment to make bread, I did opt to test out the Cuisinart Elite 12 Cup Food Processor's ability to make bread dough.
I've never used a food processor for that before.
Just my own two hands or my stand mixer.
But I thought this Rustic Rosemary Garlic Bread was the perfect recipe to try.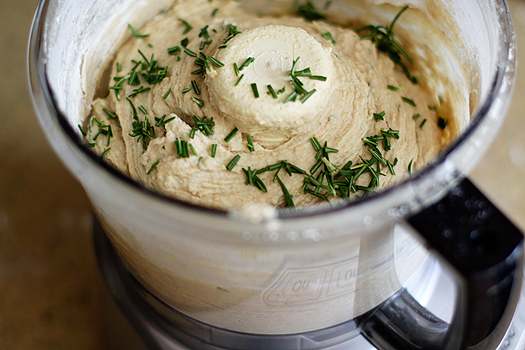 Madeline helped me and she had an absolute ball.
She loves to press any button in the kitchen for me so that was her job in this recipe.
Afterward I let her knead the dough a little bit.
She likes patting dough and playing with it and I figured a 3 year old doesn't really have the strength to overwork dough.
It's been really fun being home with just her during the day now that Logan is in kindergarten.
We didn't have a lot of mommy-daughter kitchen opportunities before, and she's at the age where it is super fun and she is actually helpful.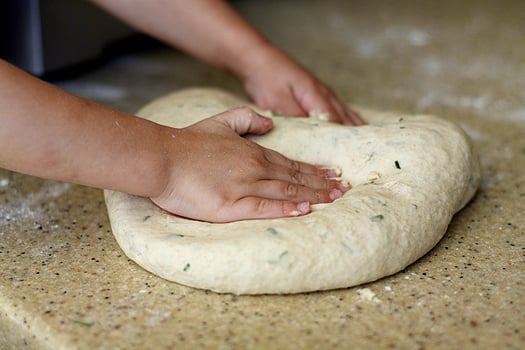 I thought the Cuisinart Elite 12 Cup Food Processor performed wonderfully at making the bread dough for this Rustic Rosemary Garlic Bread.
The whole process is pretty straight forward so I won't explain that, but I did find it neat that the unit came with a specific dough blade (plastic, not metal and not sharp like the typical blade).
The loaves turned out great, so I can tell that the machine didn't overwork the dough (nor did Madeline).
Even though the processor is a bit messier to clean up (more parts than a stand mixer), it did keep the mess well contained where sometimes flour spills out of the stand mixer bowl.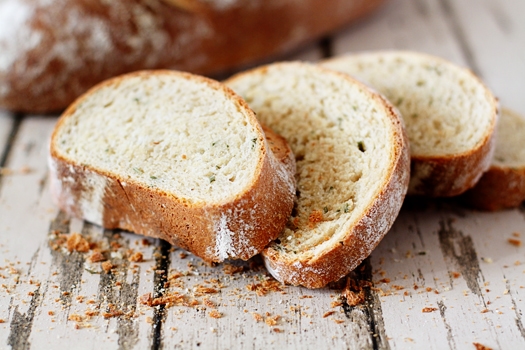 I hope you'll try this delicious free-form rustic bread.
It's great as a snack, with soup, or to make sandwiches or a panini with.
And it is part all-purpose and part whole wheat, so you'll be able to sneak some extra nutrients into your mouth with this bread.
Note: For my whole wheat flour I used freshly ground hard white wheat.
Alternatively, you can purchase already ground white whole wheat flour from King Arthur when making this Rustic Rosemary Garlic Bread.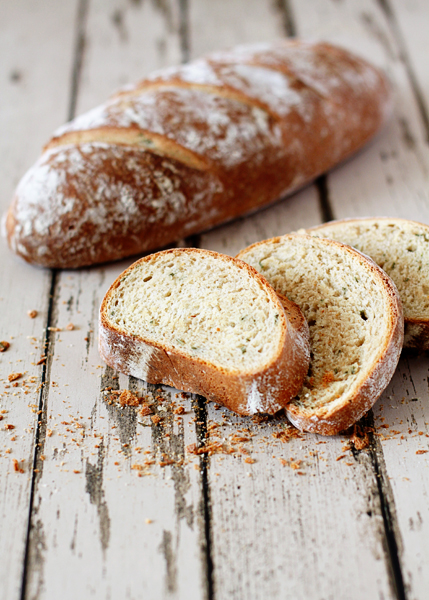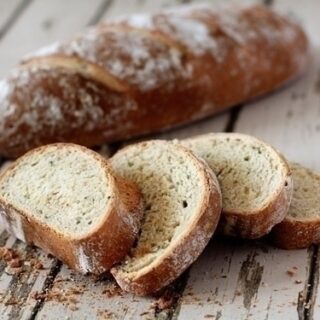 Rustic Rosemary Garlic Bread
I hope you'll try this delicious free-form rustic bread. It's great as a snack, with soup, or to make sandwiches or a panini with.
Ingredients
2 cups warm tap water, about 110 degrees
1/4 cup olive oil
2 1/2 teaspoons (1 envelope) active dry yeast
2 3/4 - 3 cups all-purpose flour
2 1/2 cups whole wheat flour
6 cloves garlic, minced
1/3 cup fresh rosemary, chopped
4 teaspoons salt
1/4 cup flour for dusting the loaves
Cornmeal for the pans
2 small cookie sheets or a large (at least 11×17-inch) jelly roll pan
Instructions
To make the dough, in a small bowl or 2 cup measuring cup place water and sprinkle yeast on surface, allowing it to stand for three minutes before whisking.
After dissolved, whisk in the olive oil. To mix dough in a full-sized food processor, place 2 3/4 cup all-purpose flour and 2 1/2 cups whole wheat flour, garlic, rosemary, and salt in bowl of the food processor fitted with a dough blade.
Add water, oil, and yeast mixture and process to form a smooth, elastic and slightly sticky dough, about 45 seconds. Incorporate the remaining 1/4 cup all-purpose flour a tablespoon at a time if the dough is too soft.
Place dough in an oiled bowl and turn dough over so top is oiled. Cover bowl with plastic wrap and allow dough to rise at room temperature until doubled.
To shape loaves, scrape risen dough onto a lightly floured surface and press it to deflate it. Divide dough in half and shape one piece at a time. Press dough into a square, then roll it up tightly. Rotate cylinder of dough 90 degrees and roll up again from short end. Arrange dough seam side down, cover with plastic or a towel and let it rest of 5 minutes. Repeat with remaining piece of dough.
Dust pan with cornmeal. Roll each piece of dough under palms of your hands to elongate it. Work from middle of loaf outward, pointing the ends slightly.
Place loaves seam side down on cookie sheets and dust each loaf heavily with flour, using about 1/4 cup in all. Cover with plastic or a towel and allow to rise until doubled.
About 30 minutes before you intend to bake the loaves, preheat oven to 500 degrees F and set racks at the middle and lowest levels. Set a pan on the lowest rack to absorb some of the excess bottom heat and keep the bottom of the loaves from burning.
Holding a razor blade or the point of a very sharp knife at a 30-degree angle to the top of each loaf, make 3 to 4 diagonal slashes in each loaf. Immediately place loaves in oven and lower temperature 450 degrees F.
After loaves have baked for 20 minutes and are completely risen, lower temperature to 350 degrees F and continue baking about 20 to 30 minutes longer, until bread reaches an internal temperature of about 210-220 degrees F.
Remove loaves from oven and cool on a rack.
Recommended Products
As an Amazon Associate and member of other affiliate programs, I earn from qualifying purchases.
Nutrition Information
Yield

24
Serving Size

1
Amount Per Serving
Calories

256
Total Fat

4g
Saturated Fat

1g
Trans Fat

0g
Unsaturated Fat

3g
Cholesterol

0mg
Sodium

368mg
Carbohydrates

49g
Fiber

3g
Sugar

1g
Protein

7g
GoodLifeEats.com offers recipe nutritional information as a courtesy and is an estimate only. This information comes from online calculators. Although GoodLifeEats.com makes every effort to provide accurate information, these figures are only estimates.
Disclosure:
The people at Cuisinart provided me with a Cuisinart Elite 12 Cup Food Processor for the purposes of review and to test with this recipe for Rustic Rosemary Garlic Bread.
I was not compensated for this review outside of the product sample.
Opinions are my own.
Stay tuned….you'll soon be able to win your own Cuisinart Elite 12 Cup Food Processor.
Other recipes I've tested with the Cuisinart Elite 12 Cup Food Processor are:
Restaurant Style Salsa and Zucchini Cherry Muffins with Pecan Streusel Topping