Cinnamon Applesauce Bread with Walnuts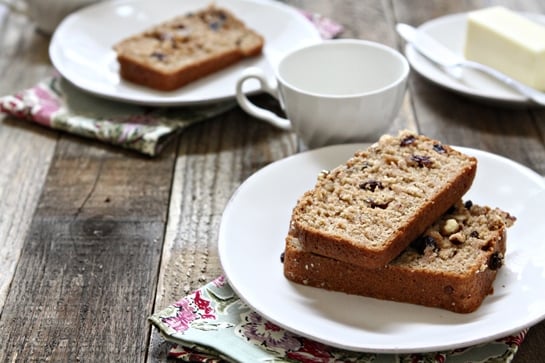 This Cinnamon Applesauce Bread with Walnuts is perfect for fall and features some of fall's best flavors – cinnamon, sweet, juicy apples, and delicious nutty walnuts.
I love summer. I love the lazy mornings. The afternoons at the pool. The sun. But, I have a hard time with baking during the summer. It already feels like a million degrees in the house because of the heat outside that the thought of turning on the oven for anything sounds kind of awful to me.
But, it's fall now. I LOVE this time of year. I love waking up to a chilly house and a bed that is so warm and comfortable that it is hard to get up. I love wearing sweaters and boots. I love all of the gorgeous fall leaves and the crisp air outside. And of course I LOVE all of the fall produce and recipes. Apples and cinnamon, cranberries, pumpkin, hot bowls of chili and freshly baked bread. Yep, I was made for fall!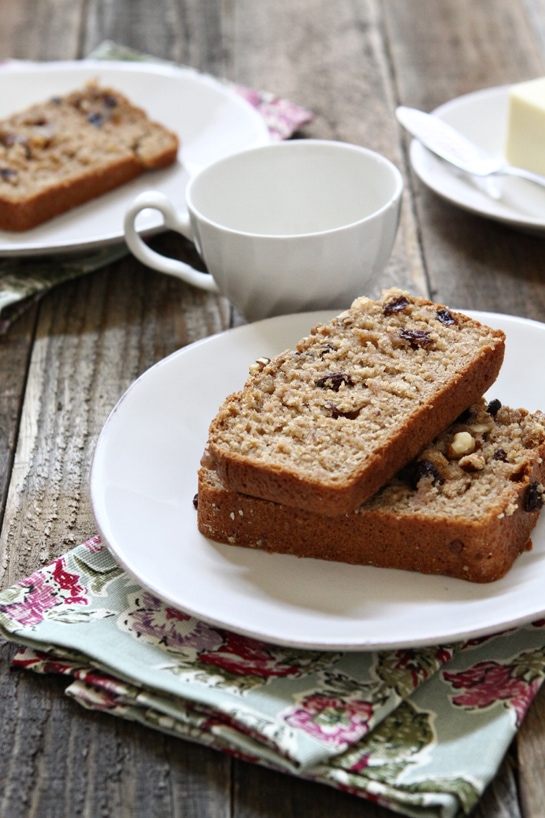 So I'm totally ok turning on the oven for all of the delicious fall baked goodies, like this Cinnamon Applesauce Bread with Walnuts. Of course Logan and Madeline are completely on board with that plan, too!
This Cinnamon Applesauce Bread is perfect for fall. It is incredibly moist (thanks to the applesauce and delicious, seasonal shredded apples), has some of my favorite fall spice flavors, and a nice crunchy topping that features Fisher Nuts' preservative-free Walnuts.
Another great thing that comes along with fall is the Fisher Nuts My Fresh Twist recipe contest. I am thrilled to be partnering with Fisher Nuts for a third consecutive year and for the opportunity to share this awesome contest with you again.
If you have a great recipe to share and want a chance to win a trip for two to New York City, $500 spending money and the opportunity to meet Food Network Chef Alex Guarnaschelli at her restaurant, Butter, you should definitely be entering this contest!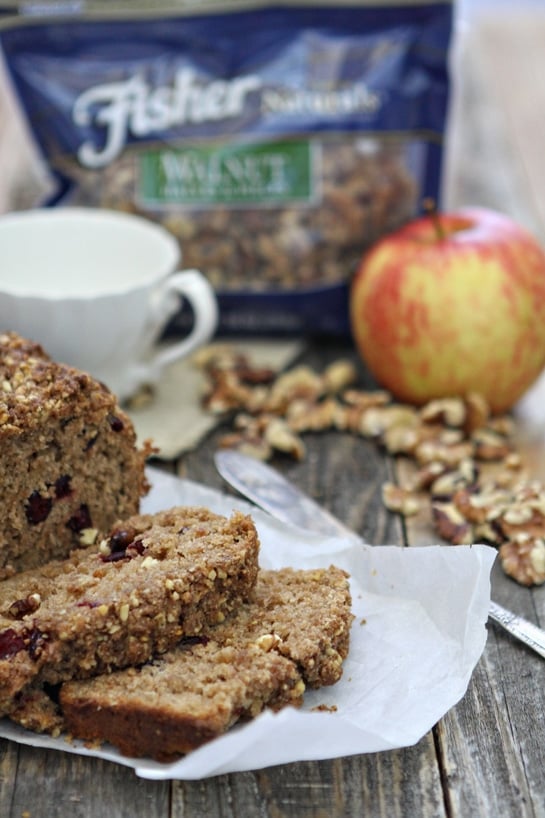 I've never been to Butter, but my neighbor Becca had the opportunity to visit New York earlier this year for a girls weekend with her mom and sister. As part of their trip they had lunch at Butter (Becca thinks Chef Alex is amazing!) and had a fantastic meal.
Submissions taken now through October 20 on the My Fresh Twist Website. Be sure to visit Fisher Nuts for official contest rules.
What are your favorite things about fall?
This is a sponsored conversation written by me on behalf of Fisher. The opinions and text are all mine.I choose to work with Fisher Nuts because it is the only brand of recipe nuts entirely without preservatives.
Cinnamon Applesauce Bread with Walnuts
Yield: 1 loaf
Prep Time: 10
Total Time: 1 hour 30 minutes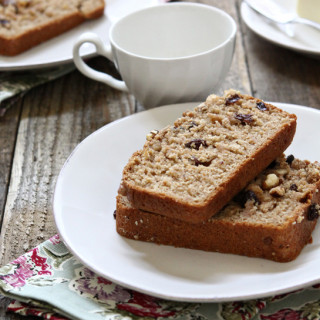 Ingredients:
For the Streusel
1/3 cup walnuts
2 tablespoons flour
1/4 cup brown sugar
2 tablespoons butter, cold and cut into cubes
3/4 teaspoon ground cinnamon
1/8 teaspoon salt
For the Applesauce Bread
2 1/2 cups flour
2 tablespoons cinnamon
1/4 teaspoon nutmeg
1/8 teaspoon allspice
1 tablespoon baking powder
1/4 teaspoon salt
1 egg
1 cup chunky applesauce
2 teaspoons vanilla extract
1 cup firmly packed brown sugar
1/2 cup grated apple, such as Jonagold or Honeycrisp
1/2 cup milk
2 tablespoons melted butter
2/3 cup chopped Fisher Nuts walnuts, divided
1/2 cup dried cranberries
Directions:
For the Streusel:
Put the nuts for the streusel topping recipe into the work bowl and pulse to roughly chop. Add remaining crumb topping ingredients and pulse until mixture is crumb-like. Remove crumb topping and set aside in a small bowl.
For the Applesauce Bread
Preheat oven to 350°F. Grease a 9x5-inch loaf pan with non-stick cooking spray.
In a medium mixing bowl, combine the flour, cinnamon, nutmeg, allspice, baking powder, and salt. Whisk well. Set aside.
In another medium bowl, beat the egg. Stir in the applesauce, vanilla extract, brown sugar, milk and melted butter.
Add the liquid mixture to the flour mixture; stirring just until moistened. It is ok if the batter is lumpy. Stir in 1/2 cup of the walnuts and dried cranberries.
Pour batter into the prepared pan. Sprinkle top evenly with streusel. Bake 55 to 60 minutes or until toothpick inserted in center comes out clean. If the streusel starts to get too browned, you can tent the top of the bread with foil if necessary.
Cool the bread in pan 10 minutes. Remove from pan; cool completely on wire rack.