Zucchini Bread Recipe with Quinoa: Health Benefits of Quinoa
This Zucchini Bread Recipe is written by Brooke of Cheeky Kitchen.
She's filling in for today as I recover from my whirlwind tour of La Paz. Welcome, Brooke!
We venture down to the weekend farmer's market whenever the morning allows. I'd much rather amble amongst plastic tents harboring baked goods and fresh picked veggies than stay home and vacuum.
Walking from farmer to farmer, shaking hands, nodding over their beloved wares reminds me that I'm a small part of a greater whole. That my interest in what they are doing makes their passion worthwhile. Vacuuming doesn't do this. So, to the Farmer's Market it is.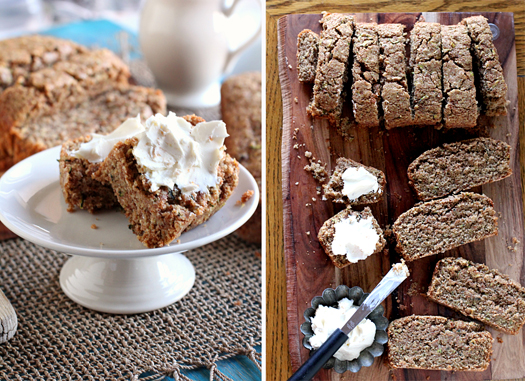 This week, zucchini's were rife. So were cantaloupes and husked ears of corn. But no one wants to want to eat Cantaloupe Bread or Husked Ear of Corn Bread, so we tossed together a simple loaf of zucchini bread with a few sneaky additions.
For one thing, quinoa was ground to a flour and stirred into the bowl. It's rich, nutty flavor combined beautifully with the cinnamon-zucchini undertones of the bread.
Better yet, the cinnamon-zucchini undertones were strong enough to distract my children from wondering what was different about these zucchini loaves from others.
The main difference in this zucchini bread recipe, of course, is that quinoa comes with several benefits over regular flour. None of which my kids would much care about. But you, being the thoughtful chiquita you are, will likely want to know all the juicy details.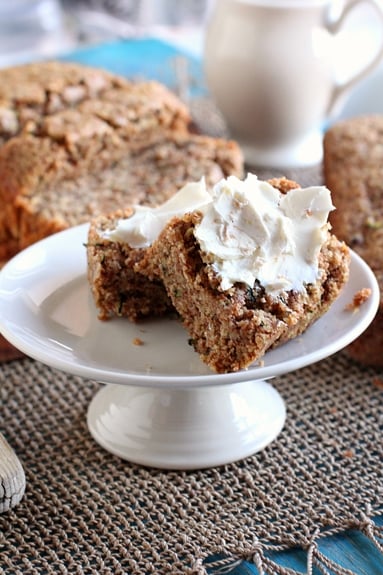 HEALTH BENEFITS OF QUINOA
It is a grain-like crop with edible seeds. You've likely boiled it like pasta and served it up as a warm breakfast cereal, or couscous like side dish.
It can be ground to make a beautiful, flavorful high-in-protein flour. All you need to do is toss a cup or so of uncooked quinoa seeds into your industrial-strength blender (such as Blendtec or VitaMix), or a grain mill. See: Grinding Your Own Flours and Using Whole Grains for tips on grinding flours into whole grains.
Quinoa is an Uber Protein
One cup of the grain has 9 grams of protein, and contains all 8 of the essential amino acids, which makes it a complete protein. A single cup actually has more protein than an egg!
Quinoa is Good for Your Waistline
Quinoa is rich in fiber and has a low glycemic index, which means you won't be stuck with a post-meal blood-sugar spike after indulging in this delicious zucchini bread recipe. It's rich texture will leave you feeling fuller longer.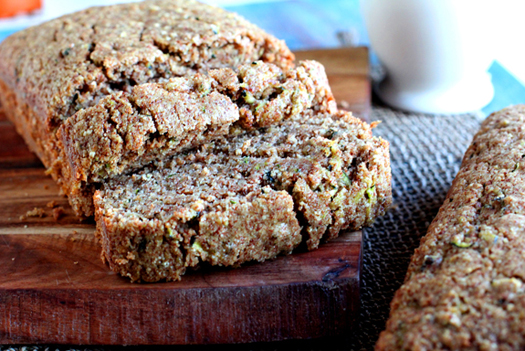 Quinoa is a Detoxifying Grain
Because quinoa is a complex carb, it actually eases the progress of food through your digestive tract. So, you may find adding it to your diet will keep you free from constipation and bloating. It's high in Vitamin B and folate, as well, which can aid your liver in eliminating wastes from your body.
Quinoa is a Bone Builder
Quinoa is a source of plant-derived calcium, a single cup contains about 30 milligrams. Better yet, you'll also be getting potassium, magnesium and zinc, minerals that help your heart, nerve and muscle functions stay strong.
Quinoa Guards Against Mommy Brain
A cup of cooked quinoa offers 15 percent of the U.S. Recommended Daily Allowance of iron, which helps to deliver oxygen to the blood, boosting energy and brain power. Quinoa's vitamin B content can help keep the mind sharp, maintain brain volume and stabilize mood. (SOURCE)
Zucchini Quinoa Bread
In this recipe, I used white whole wheat flour along with the Quinoa to hold the bread together.
If you've never tried coconut oil, now is the time to stock up on this flavorful, all-natural substitute for butter. Your body will love you for making the switch!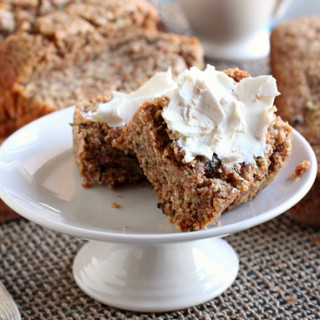 Ingredients:
2/3 cup coconut oil, melted
3 eggs
1 1/2 cups organic sugar
2 cups zucchini, grated
1 teaspoon baking powder
1/4 teaspoon baking soda
1 teaspoon salt
1 teaspoon pure vanilla
1 tablespoon cinnamon
1 cup quinoa flour
1 cup white whole wheat flour
Directions:
Preheat oven to 350 degrees. Grease and flour two large bread tins. Set aside.
In an electric mixer bowl, beat together the coconut oil, eggs, and sugar. Toss in the remaining ingredients and beat just until mixed together. Spoon half of the mixture into your prepared bread tins.
Sprinkle a bit of sugar on top of each loaf (optional), then toss in the oven and allow to bake for 45-50 minutes, or until the center of each loaf springs back when touched lightly with the tip of your finger.
Cool before serving slathered in butter & strawberry jam or whipped cream cheese.
About the Author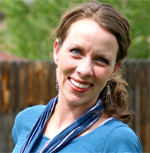 Brooke McLay writes from high in the mountains of Colorado, where she lives with her ridiculously handsome husband, and their four practically perfect children.
Her blog CheekyKitchen, has garnered praise for its colorful photographs and wholesome cooking. Her articles and recipes have been featured in national magazines, newspapers, and on several well known websites, including Babble and She Knows.