I have been baking this Coconut Lemon Banana Bread since the day after we got our kitchen unpacked and functional.
For those counting, that was the beginning of June.
It is one of our new favorites and the family is always begging me to make more because it never lasts long in our house.
It is a favorite for our guests as well.
Each time we've bad visitors since moving here I make sure to have a loaf of Coconut Lemon Banana Bread ready for breakfast.
We usually serve it with a spinach, pepper and mushroom frittata that is so delicious.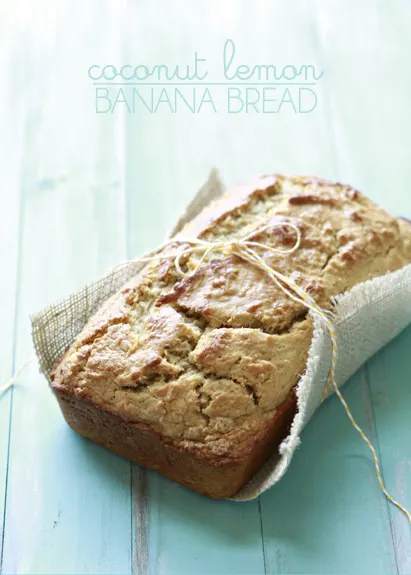 I've said before that I hate bananas…except in banana bread!
In the past I've enjoyed baking a Multi-Grain Banana Bread recipe.
This time I felt like something a little more tropical tasting since it was summer.
This time banana bread got a makeover with some coconut oil, shredded coconut, lemon juice and lemon zest.
Logan keeps insisting that he does NOT like coconut.
If I don't tell him there is coconut in the bread he gobbles it up .
Then, he tells me how awesome it is.
Eric is quick to remind him that he doesn't like coconut either but he LOVES my Coconut Lemon Banana Bread and that Logan should just eat it anyway.
Around and round we go!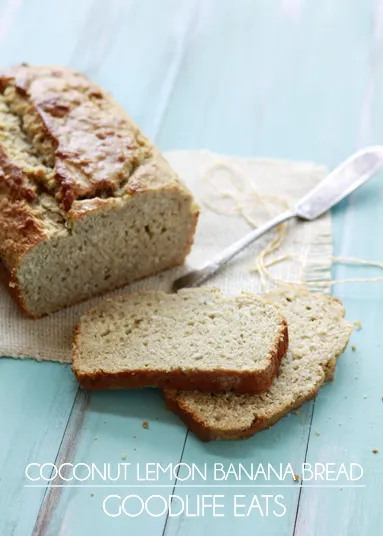 Well, today I am FINALLY sharing the recipe for Coconut Lemon Banana Bread that we've been enjoying so much.
If you prefer, toast the coconut before adding it to the recipe. Head over to this post to learn how to toast coconut flakes in 3 different ways (they're all super easy!), how to store toasted coconut, how long toasted coconut lasts, and the many different ways you can use this fun, tasty ingredient!
I'm glad that I put off posting it because today I am taking it to my friend Jen's Virtual Baby Shower.
Surprise!
Jen is expecting a sweet baby girl at the beginning of October and I am so excited for her.
Jen is such a sweet person and I've really enjoyed her blog, My Kitchen Addiction, over the years.
I'm so thrilled that Jen has such an amazing blessing coming into her life.
All babies are a blessing, but I have to say – girl babies are SO fun.
Unfortunately we can't all be there in person to celebrate, so we are doing a little virtual party for her.
I hope you'll take a moment to congratulate Jen and take a look at all the other delicious dishes that are being shared for her party.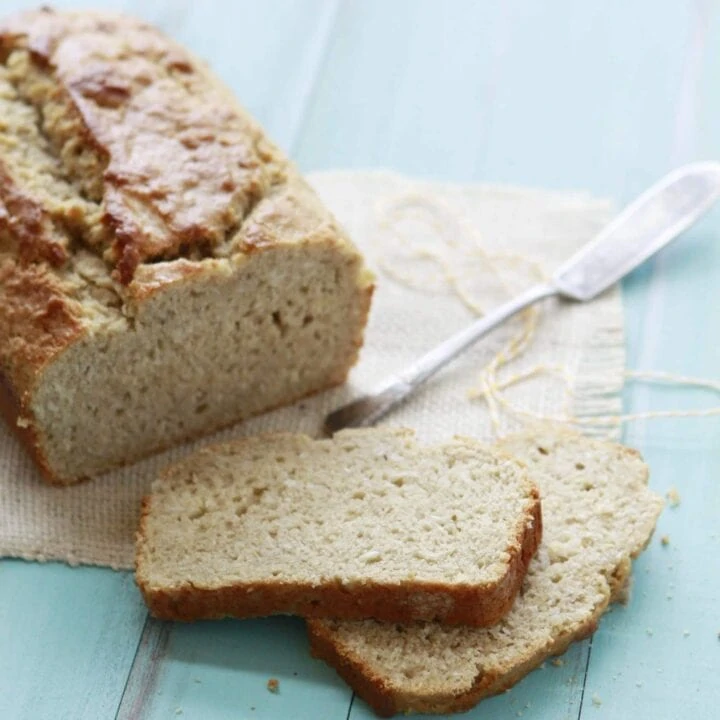 Coconut Lemon Banana Bread
Additional Time:
15 minutes
Total Time:
1 hour
30 minutes
Classic Banana Bread just got a makeover with some coconut oil, shredded coconut, lemon juice and lemon zest.
Ingredients
2 3/4 cup all-purpose flour
1 1/4 cup whole wheat flour
2 teaspoons salt
3 teaspoons baking powder
1 1/4 cup Organic Cane Sugar
6 tablespoons butter, room temperature
8 tablespoons coconut oil, room temperature
4 eggs, room temperature
6 medium ripe or extra ripe bananas, mashed or pureed
1 teaspoons vanilla extract
1 tablespoon lemon juice
zest of 3 lemons
1 cup shredded coconut
Instructions
Preheat oven to 350 degrees F.
Grease two 9x5 inch loaf pans. Set aside.
In a medium bowl, combine the all-purpose flour, whole wheat flour, salt, baking powder and sugar. Whisk until well sifted.
In the bowl of a stand mixer, add the butter and coconut oil.
Mix on medium-high speed until well creamed using the whisk attachment, about 2 minutes. Scrape down the sides as necessary.
Beat in the eggs, mashed or pureed bananas, vanilla extract, lemon juice and lemon zest..
Remove the whisk attachment and switch to the paddle attachment.
Add the dry ingredients and mix on low speed until just combined.
Stir in the shredded coconut by hand using a spatula or wooden spoon.
Divide the batter evenly between the two greased pans.
Bake at 350 degrees F for 45-60 minutes, or until done in the center and nicely browned crust has developed on top.
Check in the center using a toothpick.
Cool for 15 minutes before removing from pan.
Recommended Products
As an Amazon Associate and member of other affiliate programs, I earn from qualifying purchases.
Nutrition Information
Yield

12
Serving Size

1
Amount Per Serving
Calories

432
Total Fat

19g
Saturated Fat

14g
Trans Fat

0g
Unsaturated Fat

4g
Cholesterol

77mg
Sodium

566mg
Carbohydrates

60g
Fiber

4g
Sugar

25g
Protein

7g