We are obviously partial to sweet breakfast recipes in our house, but for as many as I've posted it's not like we eat this type of stuff every day. It's more of a weekend treat, unless we have things like Whole Wheat Waffles in the freezer.
I barely have time to get everyone a bowl of cereal for breakfast before we make the mad dash for the car and pull out of the driveway by 8:10. The drive to this school is rough.
It's worth it, but some days it really gets old shuffling everyone off that early. Eric has it even worse, and had often left the house before the kids are even awake.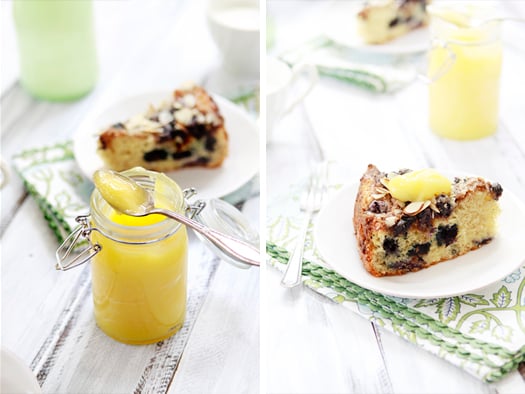 Needless to say, I am not a fan of weekday mornings, 5:30 am alarm clocks, getting myself and two kids out the door by 8 am, or driving 20 minutes just to get to school. I live for the weekends.
I think weekday mornings are why I like making breakfast special on the weekends, because it's the only chance we have to sit down and eat the first meal of the day together.
I'm lazy on the weekends. I don't jump up and get in the shower within minutes (um, or even half hours) of waking up. Sometimes I stay in my robe well past any time that could be considered "morning." It can be a little embarrassing sometimes when I realize that not only did I never get dressed, but I didn't shower either.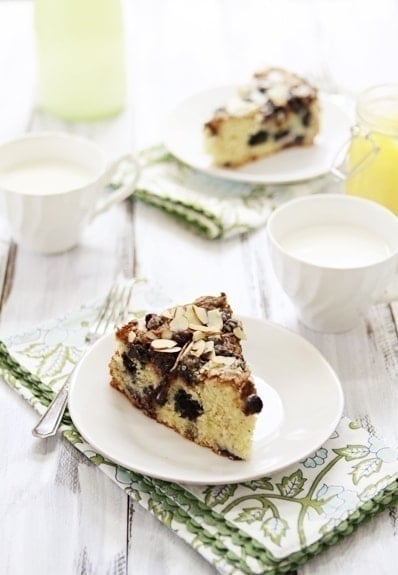 Last weekend I made this wonderful Blueberry Lemon Curd Coffee Cake with a side of Spinach and Bell Pepper Scrambled Eggs. I don't even remember what we did the rest of the day, but what's important is that we spent time together.
I do remember Logan grumbling about the fact that I put blueberries in the coffee cake (he's picky, remember?), but we told him he had to sit at the table with us anyway.
A great fall and winter variation of this coffee cake would be to use cranberries, orange zest, and some orange curd (or you could simply omit the curd with no negative consequences).
What is your favorite way to make weekend breakfast special?
Did you love this post?
Sign up for Good Life Eats email updates and never miss another update!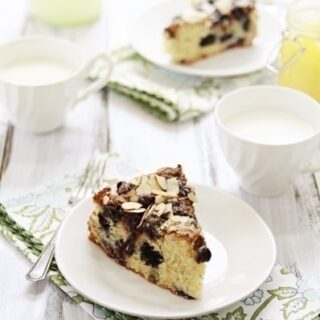 Blueberry Lemon Curd Coffee Cake
Total Time:
1 hour
25 minutes
This blueberry lemon curd coffee cake is perfect for a spring time brunch!
Ingredients
For the Streusel:
3 tablespoons all purpose flour
1/4 cup + 2 tablespoons brown sugar
3 tablespoons cold butter, cut into pieces
3/4 teaspoon cinnamon
1/2 teaspoon cardamom
For the Cake:
2 3/4 cup frozen (thawed, drained, and patted dry) or fresh blueberries
1 tablespoon flour
1 tablespoon cold milled flax or wheat germ
1/2 cup whole wheat flour
1 2/3 cup all purpose flour
1/3 cup granulated sugar
3 teaspoons baking powder
3/4 teaspoons baking soda
1/4 teaspoon salt
zest of 1 small lemon
1 cup sour cream
1/2 cup milk
2 teaspoons vanilla
3 eggs
1/2 cup sliced almonds
Instructions
For the Streusel:
In a small bowl combine the flour, brown sugar, cinnamon and cardamom.
Using a pastry blender or two knives, cut the butter into the mixture. Set aside.
Toss the blueberries with 1 tablespoon of flour. Set aside.
For the Cake:
In a medium-large bowl combine the flax or wheat germ, whole wheat flour, all purpose flour, sugar, baking powder, baking soda, salt, and lemon zest. Whisk until well sifted.
In another medium bowl, combine the sour cream, milk, vanilla, and eggs. Whisk well.
Make a well in the center of the dry ingredients. Pour in the liquids and stir using a wooden spoon until just combined. Fold in the blueberries.
Grease the bottom and sides of a 10 inch springform pan. Pour the batter into the pan.
Spread the lemon curd on top, swirling into the batter with a butter knife.
Sprinkle with the streusel topping and the almonds.
Bake at 350 degrees for 45-60 minutes, or until a toothpick inserted in the center comes out clean.
Cool for 10 minutes in the pan.
Run a knife around the outside of the cake to loosen from the pan.
Remove the springform ring. Serve.
Notes
No blueberries? Try it with raspberries instead!
Recommended Products
As an Amazon Associate and member of other affiliate programs, I earn from qualifying purchases.
Nutrition Information
Yield

12
Serving Size

1
Amount Per Serving
Calories

294
Total Fat

13g
Saturated Fat

6g
Trans Fat

0g
Fiber

3g
Sugar

15g
Protein

7g