I so loved reading all of your comments on the Eat Well, Spend Less post about DIY Homemade Pantry Basics. If you have a question or something you'd like to see addressed later on, please leave me a message in the comments section. I'd also love to hear about what helps your family Eat Well while Spending Less. We can all learn so much from each other.

I'm so proud to be part of such an amazing group of women and I wanted to take a quick moment to share with you what they've written about this week. Already this has been such a valuable topic to discuss and I can't wait to see what each of them has in store for the coming weeks. Here are a few highlights, plus links to their posts.
~~~
I learned the hard way that stocking up on whatever was free or cheap was not the best way to nourish my family.
Alyssa from Kingdom First Mom :: Using Coupons on Healthier Foods
If you think about it, many basic ingredients and foods that we consume daily or weekly can be made from scratch for much less than it costs to buy prepared.
Aimee from Simple Bites :: Homemade Substitutes for Grocery Staples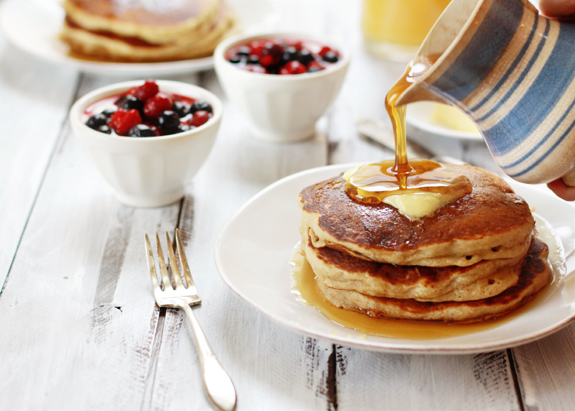 Recipe: Banana Oat Pancakes
Go to the grocery store…write down the prices of everything…get a general idea of what you normally pay for groceries.
Carrie from Denver Bargains :: Simple Steps To Get Started Using Coupons
[T]he reason for our high food expenses were mainly because I cooked what I wanted when I wanted, regardless of season or sale.
Jessica from LifeasMOM :: Avoid Expensive Ingredients to Eat Well & Spend Less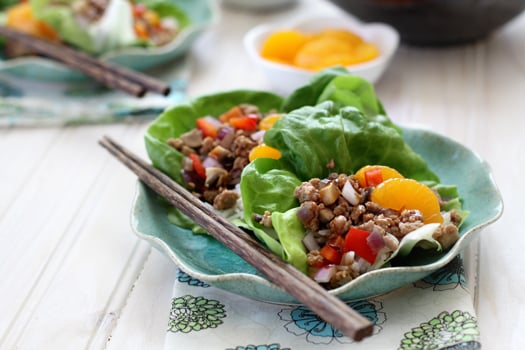 Recipe: Ground Chicken Lettuce Wraps
You can stumble across some real gems in local butcher shops, sometimes finding sources of grassfed, organic, or almost-organic meats without traveling outside the city limits.
Katie from Kitchen Stewardship :: Eat Well, Spend Less: When to Splurge, Settle, and Skip
Walmart — and other superstores — are designed to encourage shoppers to spend more money. I avoid the "Walmart effect" by only walking the grocery aisles.
Mandi from Life Your Way :: Eat Well, Spend Less: Budget for Lots of Fresh Produce
Recipe: Turkey and Artichoke Baguette Sandwich
In addition to planning to use the same foods in multiple meals, we also plan on cooking with actual leftovers in mind. Making an extra portion isn't going to take extra time, but it will give my husband lunch for the next day
Shaina from Food for My Family :: Eat Well, Spend Less: Menus and Meal Planning
Losing weight isn't just about eating less food… it's about trading in those cheap tortilla chips, frozen pizzas, and fill-me-up casseroles (the ones everyone brags about skimping on the meat to save money!) for healthier, low-calorie but filling options.
Tammy from Tammy's Recipes :: Buying in bulk, long-term food storage, and our personal methods