Citrus Curd 3 Ways: Grapefruit, Lemon and Lime
I mentioned grapefruit curd last week when I posted my Grapefruit Poppyseed Scone recipe. As promised, I'm finally sharing the recipe. The scones are wonderful as is, but mmmmmm magnificent with a little bit of the curd on top, plus they're prettier that way too!
Right now Madeline is totally smitten with any kind of curd. To her it tastes even better than frosting! She loves to eat it with a bowl of fresh or frozen berries for a snack or spread on top of a toasted English Muffin with her breakfast.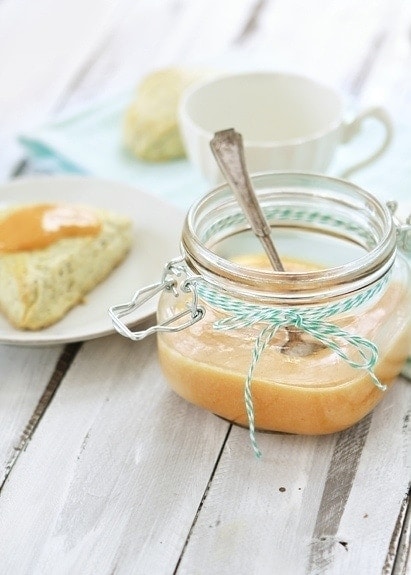 Grapefruit Flavored for Grapefruit Poppyseed Scones
Citrus curd is the perfect thing to make when you need to use up leftover egg yolks. A quick recipe search on sites like Foodgawker will show that Lemon Curd is obviously the most popular of citrus curds, but that doesn't mean you can't enjoy other flavors as well!
I'll also show you how easy it is to make other flavored citrus curds and the many ways you can use this creamy, citrus deliciousness. I could go on and on, but I think I'll round out the list at an even 15 just for good measure.
15 Ways to Enjoy Citrus Curd
Citrus curd is a great basic condiment to have on hand for sweet cravings or the need for a last minute, simple dessert. Or just to add a little brightness to the winter doldrums. Is it spring for real yet? No more tricks!
This, like so many other Pantry and Fridge Staple favorites, is so simple to make at home yourself, there is no need to experiment with store bought counterparts.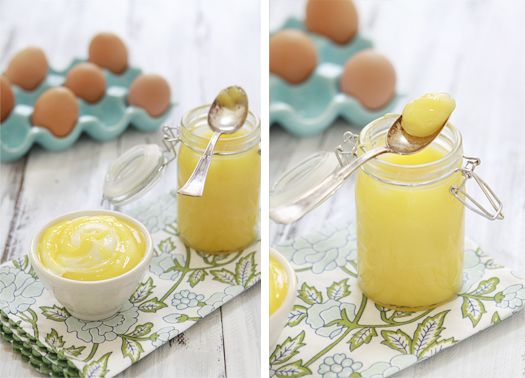 Lemon Flavored with plain yogurt.
There are so many fun ways to enjoy citrus curd that I'm sure you'll find yourself making it often. Here are a few of my favorite ways to enjoy it, plus some links for recipe inspiration. You can allow the citrusy goodness to take center stage, or be a background flavor for just a hint of flavor.

With Your Breakfast
With Dessert
What are some of your favorite ways or recipes to enjoy citrus curd?
Citrus Curd
Yield: approximately 1 pint
Note: vary the sugar amount according to your personal preferences. If you like things on the sweeter side, add the larger amount. If you like a curd with more tartness, add the smaller amount. Or maybe you like it in between.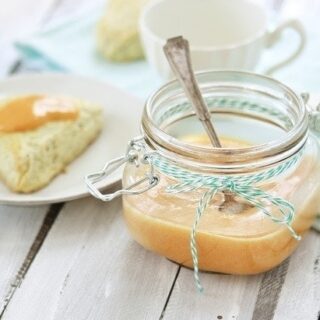 Ingredients:
Grapefruit Curd
1/2 cup grapefruit juice
2 tablespoons lemon juice
1 tablespoon grapefruit zest
1 - 1 1/2 cups sugar
8 egg yolks
10 tablespoons butter, sliced into tablespoons
Lemon Curd
1/2 cup lemon juice
1 tablespoon lemon zest
1 - 1 1/2 cups sugar
8 egg yolks
10 tablespoons butter, sliced into tablespoons
Lime Curd
1/2 cup lime juice
1 tablespoon lime zest
1 - 1 1/2 cups sugar
8 egg yolks
10 tablespoons butter, sliced into tablespoons
Directions:
In a medium saucepan, combine the juice(s), zest, and sugar. Heat over medium heat until simmering. Turn heat to low.
Meanwhile, whisk the egg yolks in a medium sized bowl until smooth. Slowly pour half of the citrus mixture into the yolks while vigorously whisking. Return the amount in the bowl to the saucepan.
Continue to cook over low heat while whisking until mixture thickens and coats the back of a spoon. About 5-10 minutes. Remove from heat and stir in the butter 1 tablespoon at a time.
Cool to room temperature, then store refrigerated in an airtight container for about a week.
Note: I added just a drop of pink food coloring to the grapefruit curd for fun.