Perfect White Cupcake: Recipe for Vanilla Bean Sour Cream Cupcakes
Last week I was all about finding the Perfect White Cupcakes for a certain someone's fourth birthday party that we had this past Saturday.
It was a week long adventure for sure!
There were several batches baked and tweaked, frustrated phone calls to Jamie from My Baking Addiction, and more tweaks.
It turns out I had a high altitude dilemma on my hands.
I don't bake cupcakes a lot and depending on the recipe, I often get lucky, but this time around it did not work out so well.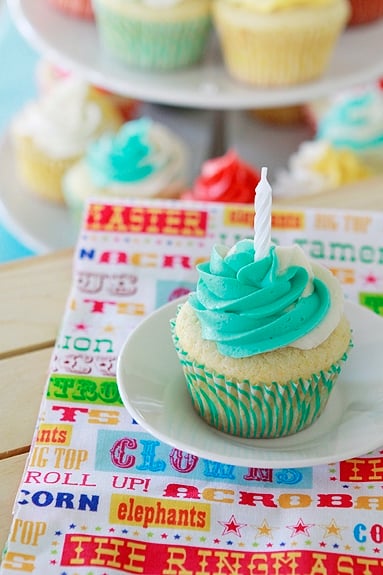 Circus Tent Cupcake Decorating Tips
We had an adorable Circus/Carnival themed birthday party for Madeline (more details to follow later this week) and I knew that I wanted a moist, Vanilla Cupcake recipe for the party so I could do two-toned frosting in the party colors on top so they would somewhat resemble a Circus tent.
I used a combination of red, yellow, and turquoise striped cupcake wrappers and frosted each with a coordinating color combo: white and red swirls, yellow and white swirls, and turquoise and white swirls.
Decorating Tools Used: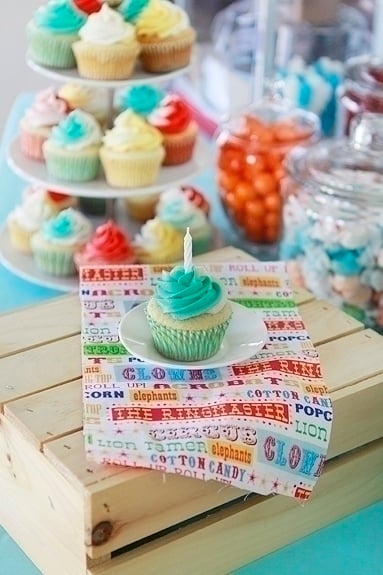 The final cupcake recipe turned out delicious! Everyone, including perfectionist me, loved them. It was well worth the effort.
I love the slight tang that the sour cream offers the cupcakes and how incredibly moist they are.
These Vanilla Bean Sour Cream Cupcakes will definitely be my new go-to Perfect White Cupcake Recipe.
Please Note:
I have not personally tested this recipe at sea level.
I live at around 5,300 feet elevation and made tweaks to the original recipe, which you can find credited in the recipe's print box.
More Yummy Cupcakes
Vanilla Bean Sour Cream Cupcakes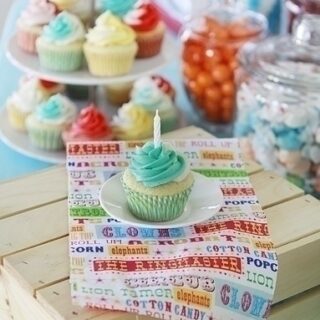 Ingredients:
For the Vanilla Bean Sour Cream Cupcakes:
1 1/4 cup all purpose flour
1 cup cake flour
1 teaspoon baking powder
1/2 teaspoon baking soda
1/2 teaspoon kosher salt
1 stick (8 tablespoons) unsalted butter, at room temperature
1 1/3 cups sugar
1 cup sour cream
1/2 cup milk
4 large egg whites, room temperature
seeds scraped from one vanilla bean
2 teaspoons pure vanilla extract
For the Vanilla Bean Buttercream:
3 sticks unsalted butter, softened
seeds scraped from one vanilla bean
2 teaspoons clear vanilla extract (to maintain the bright white color)
1 ½ pounds (24 ounces) confectioners' sugar, sifted
4-6 tablespoons heavy cream or milk
Directions:
For the Vanilla Bean Sour Cream Cupcakes:
Preheat the oven to 375 degrees F. Place the racks in the center position. Line cupcake tins with cupcake liners. Set aside.
In a large bowl combine both flours, baking powder, baking soda, and salt. Whisk to combine.
In a medium bowl whisk together the milk, sour cream, and egg whites. Set aside.
Fit a stand mixer with a paddle attachment, or use a hand mixer (I got a better dome with the hand mixer). Add the butter, sugar and vanilla to the bowl and beat at medium speed for 3 minutes, or until light. Scrape the sides as necessary.
Add the vanilla extract and one third of the flour mixture while beating on medium speed, again scraping the sides as needed. Beat in half of the sour cream mixture. Alternately add the remaining flour mixture and sour cream until all the wet and dry ingredients have added, beating until the batter fully incorporated and smooth.
Use a large scoop (about 3 tablespoons), evenly divide the batter between 18 lined muffin tins filling each about 2/3 of the way full.
Bake for 15-24 minutes, or until a toothpick inserted into the centers come out clean. Cool on wire rack.
For the Vanilla Bean Buttercream:
In the bowl of a stand mixer fitted with the whisk attachment, combine the butter and vanilla bean seeds. Beat until fluffy. Turn the mixer to low speed and slowly add the confectioners' sugar while continuing to beat.
Once well blended, add in the vanilla and 4 tablespoons heavy cream or milk. Mix on low speed until well combined and moist. If desired, an additional 1 to 2 tablespoons of heavy cream or milk until your desired consistency is reached. Beat at high speed until frosting is smooth and fluffy.
Pipe or decorate as desired. See Two Tone Frosting for Cupcakes and Cupcake Piping Tricks for piping tips.