Vanilla Cupcakes with Chocolate Buttercream and Fresh Raspberry Sauce are the perfect combo of a fluffy, light vanilla cupcake, rich chocolate buttercream, and a tangy, sweet fresh raspberry sauce.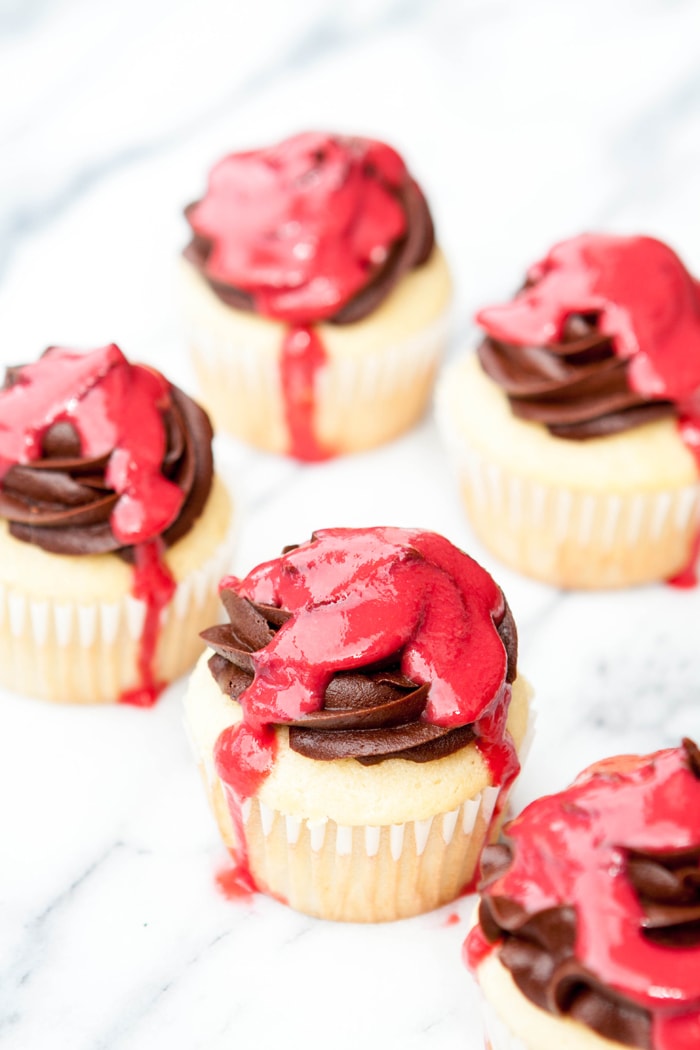 I always make cupcakes for the kids on their birthdays.
I am not so much a fan of the process of making and decorating layer cakes, so cupcakes it is.
This year, for her 9th birthday, Madeline had a really interesting request.
She wanted Vanilla Cupcakes with Chocolate Frosting and raspberry sauce drizzled all over…"to look like blood!"
Seriously, where does she come up with these ideas?
I can't make this stuff up!
For the Vanilla Cupcakes, I made my favorite Perfect White Cupcakes (Vanilla Sour Cream Cupcakes).
I love the slight tang that the sour cream offers the cupcakes and how incredibly moist they are.
Years and years ago this cupcake recipe became my go-to after several frustrated attempts at making a white cupcake that works well at higher altitude.
If you're looking for High Altitude Baking Tips for Cupcakes, look no more.
I spent days and days about 5 years ago experimenting and researching what to do for success.
Normally, I pair those cupcakes with a Vanilla Buttercream or a Vanilla Bean Cream Cheese Frosting.
If I'm mixing it up, I'll add some finely chopped strawberries, citrus zest, or a different extract for some other flavor variation.
Madeline wanted a chocolate buttercream, so I had to adapt what I normally do.
And then for the "blood."
That was a very specific request, so I knew I couldn't skip out on it.
I tweaked the raspberry sauce from my recipe for Grilled Peaches with Mascarpone and Fresh Raspberry Sauce and then drizzled that over top of the frosted cupcakes.
I'm not sure if the raspberry sauce really looked like blood or not, but I think it tasted good and the birthday girl was happy.
The sweet and tart raspberry sauce was a nice color and flavor contrast to the sweet, chocolate buttercream.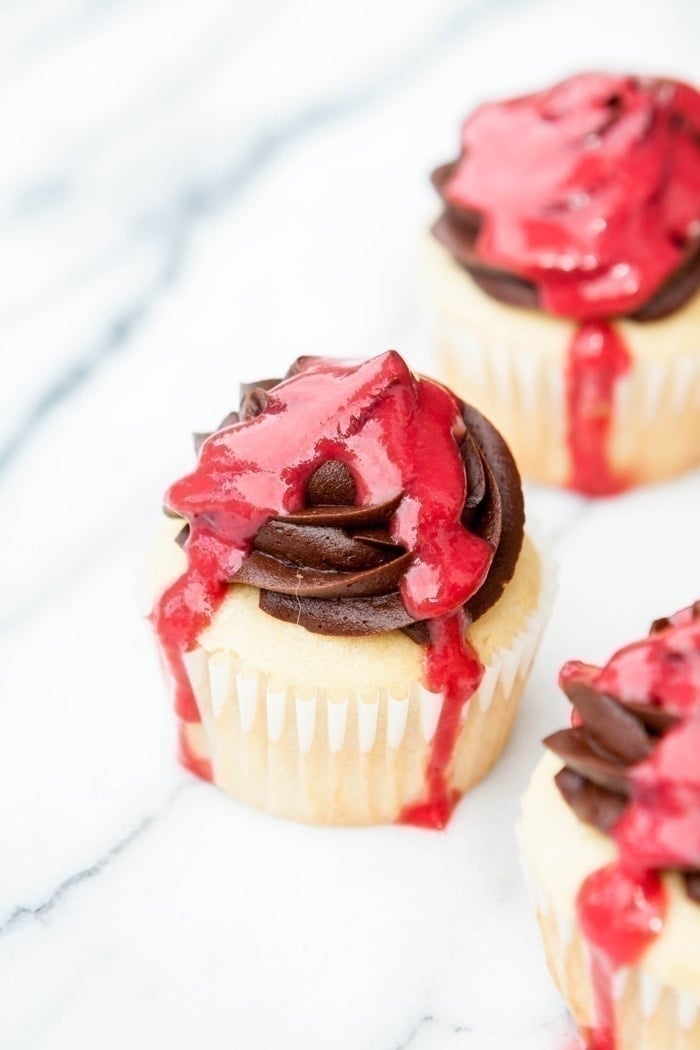 The leftovers were not so pretty though, even though they still tasted good.
I definitely recommend drizzling the cupcakes with the raspberry sauce right before you eat them and only drizzling the ones that you plan to eat that day.
Bonus: Kevin said the leftover raspberry sauce was really good on ice cream when he added some onto a bowl the following night.
Happy 9th Birthday, Madeline!
You've got another year on the books.
I absolutely love seeing you smiling and so happy about all the wonderful changes in our life lately.
I know that 9 is going to be a fantastic year for you!
You're off to a great start for 3rd grade.
You're enjoying running almost every morning before school at 100 Mile Club.
You recently started rock climbing.
And you're doing great with some new responsibilities you've taken on (like being the primary dog and fish feeder in the house).
I love you and I love seeing you learn and grow!
MORE CUPCAKE TIPS AND TRICKS
If you're looking for a little more know-how when it comes to baking and decorating a batch of delicious and beautiful cupcakes, check out some of my favorite cupcake kitchen tips featured below:
Sometimes a cupcake recipe calls for cake flour and all purpose flour on the ingredient list.
Learn how to make DIY Homemade Cake Flour for when you are all out or can't find it at the store.
For perfectly proportioned and identically sized up cakes, try this Trick for Filling Muffin Tins.
This tip also makes filling the cupcake liners really fast and easy.
Want to make the frosting extra special looking?
Try these tips for Two Tone Frosting for Cupcakes.
You can use this trick to feature multiple colors, or multiple flavors all piped together.
If you're new to piping frosting on cupcakes, these Cupcake Piping Tricks are helpful.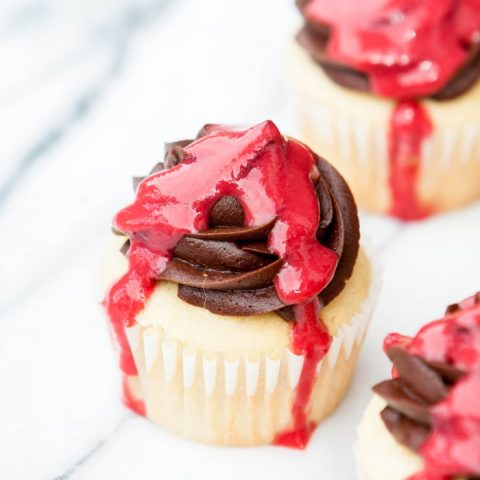 Vanilla Cupcakes with Chocolate Buttercream and Fresh Raspberry Sauce
Total Time:
1 hour
20 minutes
Vanilla Cupcakes with Chocolate Buttercream and Fresh Raspberry Sauce are the perfect combo of a fluffy, light vanilla cupcake, rich chocolate buttercream, and a tangy, sweet fresh raspberry sauce.
Ingredients
Vanilla Bean Sour Cream Cupcakes:
1 1/4 cup all purpose flour
1 cup cake flour
1 teaspoon baking powder
1/2 teaspoon baking soda
1/2 teaspoon kosher salt
1 stick (8 tablespoons) unsalted butter, at room temperature
1 1/3 cups granulated sugar
1 cup sour cream
1/2 cup milk
4 large egg whites, room temperature
seeds scraped from one vanilla bean
2 teaspoons pure vanilla extract
3 sticks butter, softened
Chocolate Buttercream
5 1/4 cups powdered sugar
3/4 teaspoon salt
3/4 cup dark cocoa powder
1 teaspoons vanilla extract
2 tablespoons Chambord Raspberry Liqueur
3 Tablespoons milk
Fresh Raspberry Sauce
6 ounces fresh raspberries
2 tablespoons water
1 tablespoon Chambord Raspberry Liqueur
2 tablespoons sugar
2 teaspoons cornstarch
Instructions
For the Vanilla Bean Sour Cream Cupcakes:
Preheat the oven to 375 degrees F.
Place the racks in the center position.
Line cupcake tins with cupcake liners. Set aside.
In a large bowl combine both flours, baking powder, baking soda, and salt. Whisk to combine.
In a medium bowl whisk together the milk, sour cream, and egg whites. Set aside.
Fit a stand mixer with a paddle attachment, or use a hand mixer (I got a better dome with the hand mixer).
Add the butter, sugar and vanilla to the bowl and beat at medium speed for 3 minutes, or until light.
Scrape the sides as necessary.
Add the vanilla extract and one third of the flour mixture while beating on medium speed, again scraping the sides as needed.
Beat in half of the sour cream mixture.
Alternately add the remaining flour mixture and sour cream until all the wet and dry ingredients have added, beating until the batter fully incorporated and smooth.
Use a large scoop (about 3 tablespoons), evenly divide the batter between 24 lined muffin tins filling each about 2/3 of the way full.
Bake for 15-24 minutes, or until a toothpick inserted into the centers come out clean.
Cool on wire rack.
For the Chocolate Buttercream:
In the bowl of a stand mixer fitted with the whisk attachment, add the butter and beat on high speed until light and fluffy.
Turn the mixer to low speed, add the salt and slowly add the confectioners' sugar while continuing to mix.
Once well blended, add in the cocoa powder, vanilla, chambord, and milk.
Mix on low speed until well combined and moist.
If desired, an additional 1 to 2 tablespoons of milk until your desired consistency is reached.
Beat at high speed until frosting is smooth and fluffy.
For the Raspberry Sauce:
Puree the raspberries, water, Chambord, and sugar in a blender until smooth.
Then, placing a fine mesh strainer over a bowl or 2 cup glass measuring cup, strain to remove the seeds.
Press the solids against the strainer to get as much of the sauce as possible.
Transfer the strained mixture to a small saucepan.
Whisk in the cornstarch. Bring to a simmer over medium heat and cook, whisking continuously, until thickened.
Let cool completely.
Assembly
Pipe the buttercream on the cupcakes according to your personal preference.
Just before serving, drizzle the cooled raspberry sauce over the tops.
Serve immediately.
Recommended Products
As an Amazon Associate and member of other affiliate programs, I earn from qualifying purchases.
Nutrition Information
Yield

24
Serving Size

1
Amount Per Serving
Calories

375
Total Fat

18g
Saturated Fat

11g
Trans Fat

1g
Unsaturated Fat

5g
Cholesterol

47mg
Sodium

265mg
Carbohydrates

51g
Fiber

1g
Sugar

38g
Protein

3g