Grilled Peaches with Mascarpone Whip and Fresh Raspberry Sauce
I am so excited for summer produce. Especially peaches! I love biting into a sweet and juicy peach, but even more I enjoy desserts with peaches in them.
With a big box of peaches from Costco on hand last week, I decided that I wanted to make myself a little treat, this time trying something a bit different: grilling the peaches!
Have you ever grilled peaches before? I haven't. I think the only fruit that I've ever grilled is pineapple and I'm a big fan of that so after seeing Aimee's husband talk about how to grill fruit recently, I knew that I wanted to give it a try for a dessert recipe.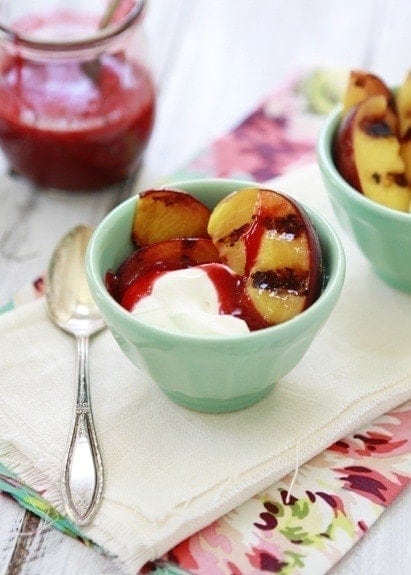 I love this recipe for mascarpone whip. I've used it with so many different fruits for a quick dessert. If you don't have mascarpone, you can use cream cheese instead. I've done that too when in a pinch.
Summers seem to leave me short on time, but I still have cravings for dessert. This recipe for Grilled Peaches with Mascarpone Whip and Fresh Raspberry Sauce is a great summer dessert recipe.
The raspberry sauce can be made a day or two in advance, the mascarpone can be made ahead the same day you plan to serve and the peaches just take a few minutes to prepare. Perfect for a no-fuss family dessert with the bonus of lots of healthy fruit.
What is your favorite way to enjoy peaches?
More Delicious Peach Recipes:
Grilled Peaches with Mascarpone Whip and Fresh Raspberry Sauce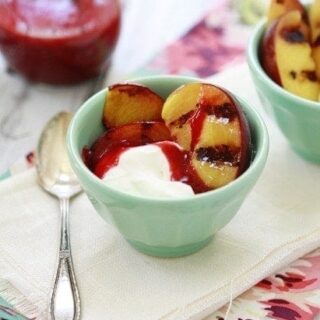 Ingredients:
6 large peaches, ripe but firm
12 ounces fresh raspberries (frozen also works)
3 tablespoons water
1 1/2 tablespoons sugar
8oz mascarpone cheese
3/4 cup heavy cream
1/4 cup sugar, or to taste
1 tsp vanilla extract
Directions:
For the grilled peaches:
Cut peaches in half, starting at the top where the stem is. Twist the halves to remove from the pit. Discard the pit. Cut each half into thirds or fourths.
Heat the grill to medium heat. Place peaches cut side down on the grill grates. Grill for 3-5 minutes per side, or until peaches are tender and have grill marks.
For the fresh raspberry sauce:
Puree the raspberries, water, and sugar in a food processor until smooth. Then, strain through a fine mesh strainer to remove the seeds. Press the solids against the strainer to get as much of the sauce as possible. This can be made ahead and refrigerated for up to 2 days.
For the mascarpone whip:
In a medium bowl, combine the mascarpone, heavy cream, vanilla, and remaining 1/4 cup of sugar. Beat the mascarpone mixture with an electric mixer until medium-firm peaks form. This can be made ahead and refrigerated for a few hours.
Serve warm, grilled peaches with a dollop of mascarpone whip and drizzle with fresh raspberry sauce.
Tip: If it's too hot to stand over the grill, try "grilling" the peaches using a panini press or cooking them stove-top using a grill pan.