Peach Berry Cobbler with Sour Cream Biscuits
This post should really be titled Saying Goodbye to Summer with Peach Berry Cobbler and Sour Cream Biscuits, but that was too long.
Just last weekend we were at the Farmer's Market on a beautiful end of summer day (highs not reaching any higher than 80 degrees). The kids played in the creek not minding that their clothes were more wet than dry.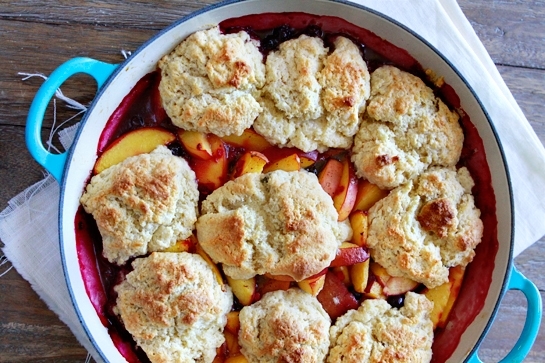 Today it has been drizzling since I woke up. Our high is a mere 58 degrees, last I checked. I have Dinner Rolls rising and a pot of Corn Chowder in the works.
How is it that just a few days ago we were enjoying our second batch of this delicious, summer Peach Berry Cobbler with Sour Cream Biscuits?
I don't know if this will be the weather change that leads us into fall or if we'll bounce right back in a few days, but either way I feel that we've given summer a proper send off.
Peaches, Peaches and more Peaches. Berries. Corn on the Cob. Saturday at the Farmer's Market. Playing in the Creek. The kids in school. "Baby" girl turns 5. Summer is definitely leading into the things of fall here in Colorado.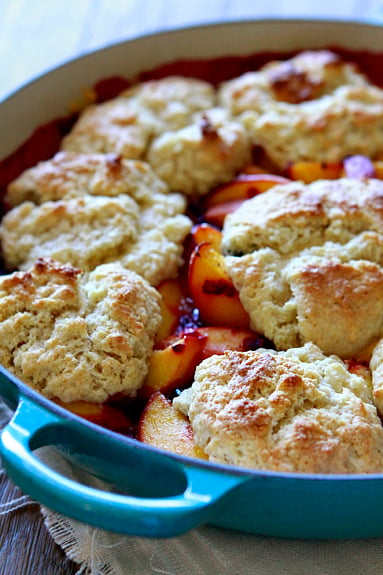 Summer, you were exhausting this year but you kind of rocked too.
We moved. And survived. We did the pool thing. A lot. The kids finally learned how to swim. We made it to the Zoo, Aquarium, Nederland, Children's Museum, Library x20, and Boulder Reservoir. Made popsicles! We ate up all your fantastic fruits and vegetables. And now it's time to say goodbye.
More Peach Recipes:
Canning Homemade Peach Jam | Use Real Butter
Ginger Peach Popsicles | Food for My Family
Peaches and Cream Popsicles | My Baking Addiction
Roasted Peach and Goat Cheese Crostini | GoodLife Eats
How do you say goodbye to summer?
Peach Berry Cobbler with Sour Cream Biscuits
Yield: serves 6 - 8
Prep Time: 20 minutes
Cook Time: 30 minutes
Total Time: 50 minutes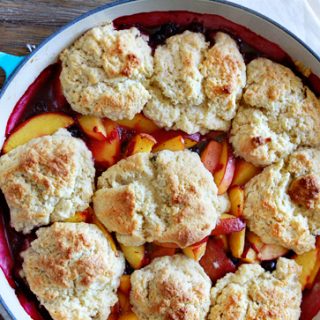 Ingredients:
For the Fruit Filling:

2 pounds ripe, but firm peaches
1/4 cup Organic Cane Sugar
2 1/2 teaspoons cornstarch
1 tablespoon lemon juice
dash nutmeg
8 ounces raspberries, fresh or frozen
8 ounces blueberries, fresh or frozen
For the Sour Cream Biscuits

2 cups unbleached all-purpose flour
1/3 cup Organic Cane Sugar
1 1/2 teaspoons baking powder
1/2 teaspoon baking soda
1/2 teaspoon salt
10 tablespoons cold unsalted butter, cubed into 1/4 inch pieces
3/4 cup sour cream
Directions:
Preheat the oven to 425 degrees F. Place the rack in the lower-middle position.

For the Fruit Filling:
Halve and pit each peach. Cut each half into 4-6 slices, depending on the size of your peach (mine were extra large). Toss the peaches with the sugar, cornstarch, lemon juice, and nutmeg. Stir to combine. Gently fold in the berries.
Place the fruit mixture in a oven safe 3.5 quart casserole dish or cast iron pan. I prefer my Le Creuset Enameled Cast-Iron 3.5 -Quart Round Braiser.
Bake, uncovered, for 12 minutes. During this time, prepare the biscuits.
For the Sour Cream Biscuits:
Combine the flour, sugar, baking powder, baking soda, and salt in a bowl. Whisk until well sifted. Add the butter. Using either 2 knives, a food processor, or a pastry blender, cut the butter into the flour mixture until is resembles a coarse meal. For a food processor about 10 1-2 second pulses will do the trick.
Using a spatula or wooden spoon, stir in the sour cream until a cohesive dough is formed. Take care not to over mix. This causes tough biscuits.
Divide the dough into 10 evenly sized amounts and roughly shape them into mounds. After the peach mixture has baked for 10 minutes, arrange the dough on top of the baked fruit.
Return to the oven and bake uncovered for 15-20 minutes, or until the biscuits are a golden brown and the fruit is bubbling. Cool for 10-15 minutes before serving.
Notes:
Some prefer the peaches peeled in desserts such as this. The peel, however, does not bother me or my family so we leave it on to save time. If you prefer peeled peaches, see this tutorial: How to Peel a Peach.