This apple crisp with oatmeal crumble topping is an elevated take on the classic dessert. Serve as is or enjoy with a scoop of ice cream!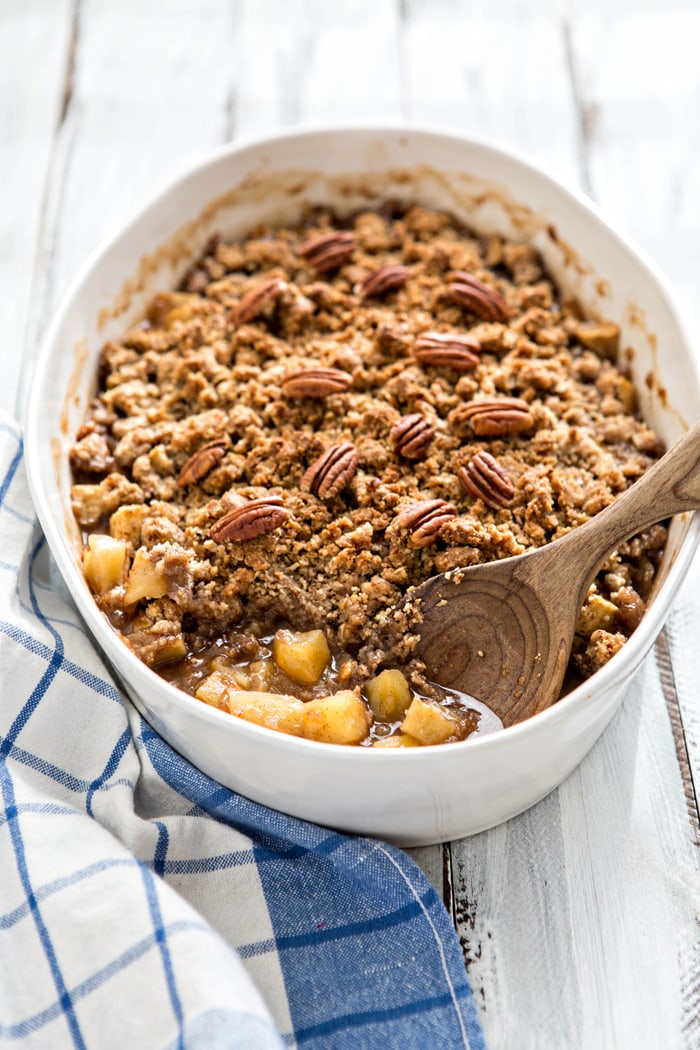 Click HERE to save this recipe for Apple Crisp with Oatmeal Pecan Crumble Topping to Pinterest!
This recipe was created in partnership with Fisher Nuts on November 18, 2017.
Creating This Homemade Apple Crisp Recipe
We celebrated Kevin's birthday last month. He didn't want a cake or cupcakes, last year he had Chocolate Chip Cookies, and he said just make something easy that is good.
This apple crisp with oatmeal Crumble topping is what I came up with, and we've made it a few times already since because I think it is just that good.
When people ask what I like to cook or what my best meal or recipe is, Kevin always likes to say that I make normal food, I just make it really good and a little bit more special. I think this homemade apple crisp is the perfect example of what he describes.
Why We Love This Apple Crisp with Oatmeal Crumb Topping
This might look like a super simple, maybe even a bit "basic," apple crisp recipe, but I would tell you that it is definitely anything but basic! Super simple, yes, I think it qualifies even if it might look like a long ingredient list, it isn't complicated at all.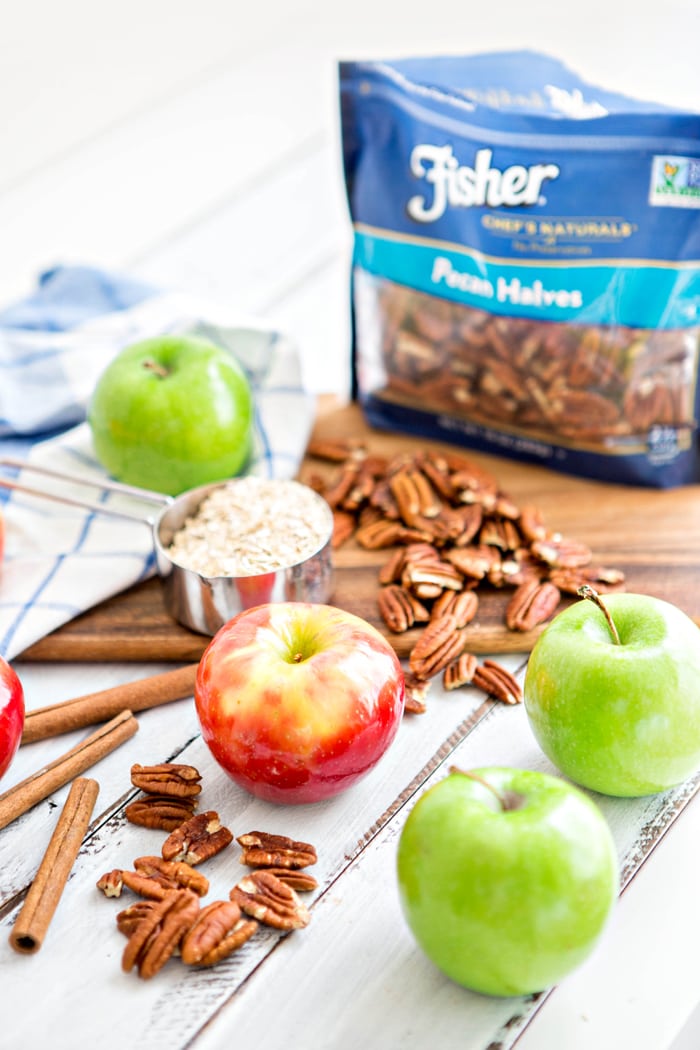 Click HERE to save this recipe for Apple Crisp with Oatmeal Pecan Crumble Topping to Pinterest!
The filling has tons of fall spice flavors thanks to the delicious combo of cinnamon, nutmeg, and cardamom. They're prominent and noticeable without being overwhelming; they pair perfectly with the sweet and tart apples.
There is maybe just a touch of bourbon and vanilla extract for a little extra depth of flavor. But, if you prefer to leave the bourbon out, no worries, it is will taste great without it.
I also love the amazing golden, crumble topping that covers the apples. The oatmeal pecan crumble topping features the same fall spices medley as the apple filling.
It also has ground oatmeal and ground Fisher Nuts Pecans Halves. The addition of oatmeal and pecans gives the topping a hearty, nutty texture to pair with the tender and buttery goodness.
I think this is my perfect and favorite version of the classic apple crisp. It rings true enough to the original, just elevated a tad higher.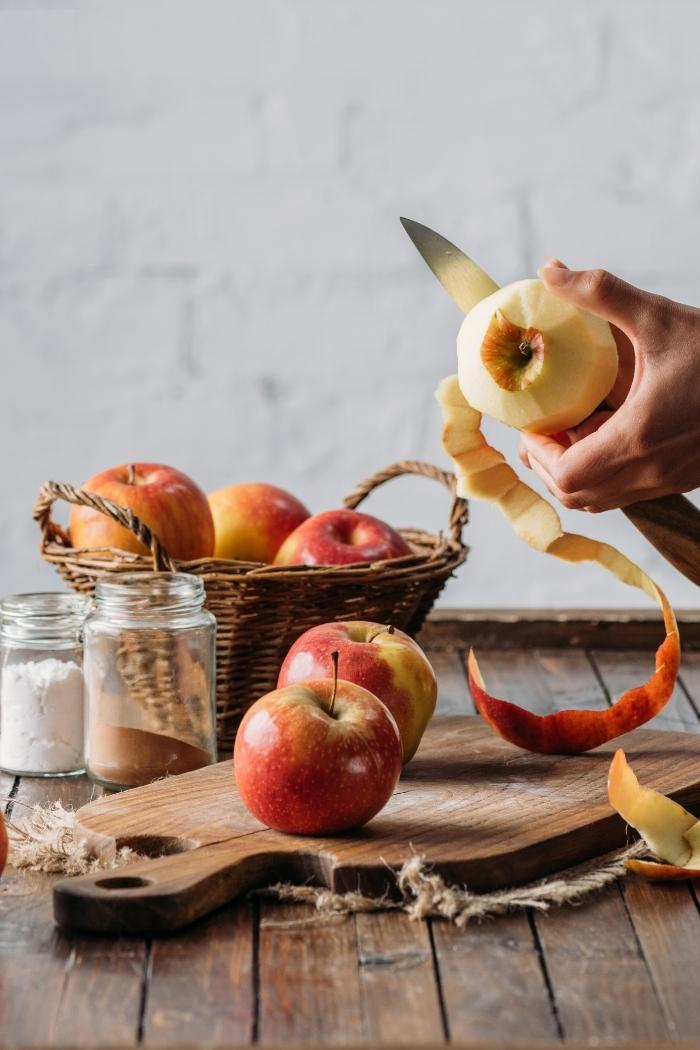 Click HERE to save this recipe for Apple Crisp with Oatmeal Pecan Crumble Topping to Pinterest!
No one on your Thanksgiving guest list is going to think this apple crisp with oatmeal crumble topping is too weird or unique and the purists won't be offended in the slightest. This recipe is also tried and approved by four kids.
Consensus: It got winning votes all around.
These guys are often some of my toughest critics, so I know that I've come up with something that must be pretty good when they love it. If we were going to be in town, I'd definitely be adding this apple crisp with oatmeal topping to our menu.
I'm glad we have had the chance to make it a few times already this fall. I can't imagine that it will be the last time either!
Apple Crisp with Oatmeal Crumble Topping Ingredients
Like I said, don't let the lengthy ingredients list fool you into thinking this apple crisp with oatmeal topping is tricky to make. Many of the ingredients are spices that you use in both the apple filling and the crumble topping.
Here's what you'll need to make this easy apple crisp recipe:
Apples
Vanilla extract
Bourbon
White sugar
Brown sugar
Spices (cinnamon, nutmeg, cardamom)
All-purpose flour
Salt
Salted butter
Quick cook oats
Fisher Nuts pecan halves
For the complete ingredient list and detailed instructions to make this simple recipe for baked apple crisp, scroll to the bottom of this post for the FREE printable recipe card.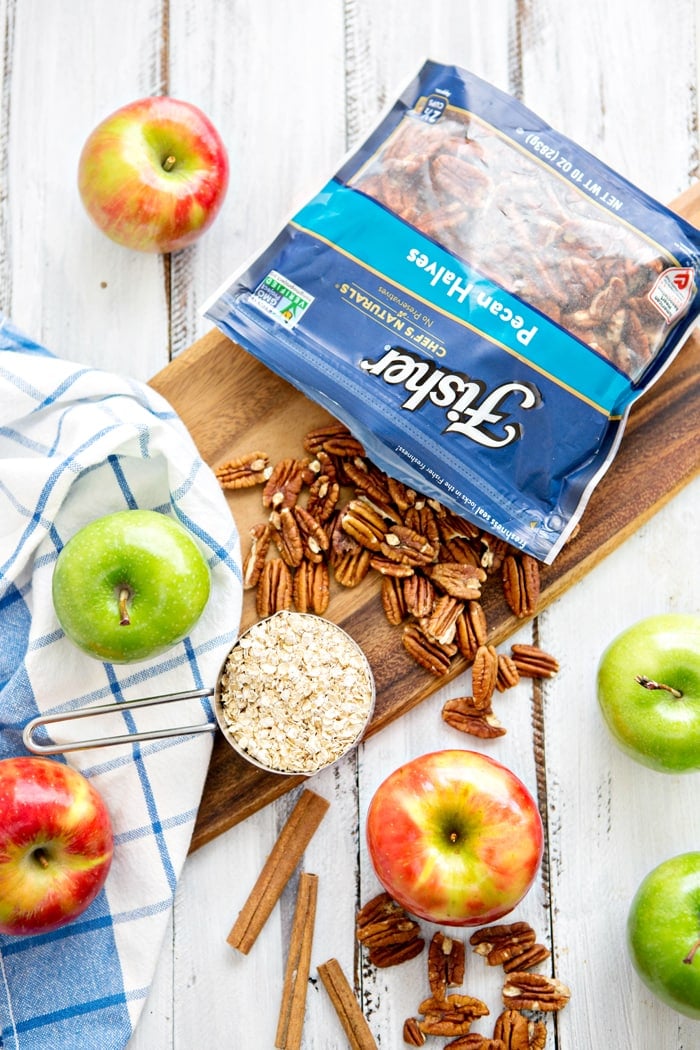 Click HERE to save this recipe for Apple Crisp with Oatmeal Pecan Crumble Topping to Pinterest!
What are the Best Apples for Apple Crisp with Oatmeal?
In this recipe, I like to use two types of apples in equal amounts — Granny Smith Apples and Honeycrisp — because I think that it creates the perfect balance of sweet and tart in the apple filling.
However, you can use any baking apple you'd like in this recipe. You want to use apples that aren't too juicy and that will hold their shape once baked. Think: Jonagold, Pink Lady, Braeburn, etc.
How to Make Apple Crisp with Oatmeal Topping
To make this apple crisp recipe with oatmeal, you'll first need to prep the filling. Peel and thinly slice the apples, then add them to a large mixing bowl along with the vanilla and bourbon.
In a separate bowl, stir together some all-purpose flour, the sugars, salt, and spices. Sprinkle over the apple mixture and give everything a good toss so the apples get coated in the spices. Transfer the apple filling to a greased baking dish.
Then, make the crisp topping. Pulse the oatmeal crumble topping ingredients in a food processor until the mixture is quite fine. Scoop the topping out with your hands and form it into balls before crumbling it over the apple filling.
Bake the homemade apple crisp until the filling is bubbling and the oatmeal crumble topping is golden brown.
The above is simply a quick summary of this apple oat crumble recipe. Check out the full recipe in the free printable recipe card at the bottom of this post for all the detailed instructions.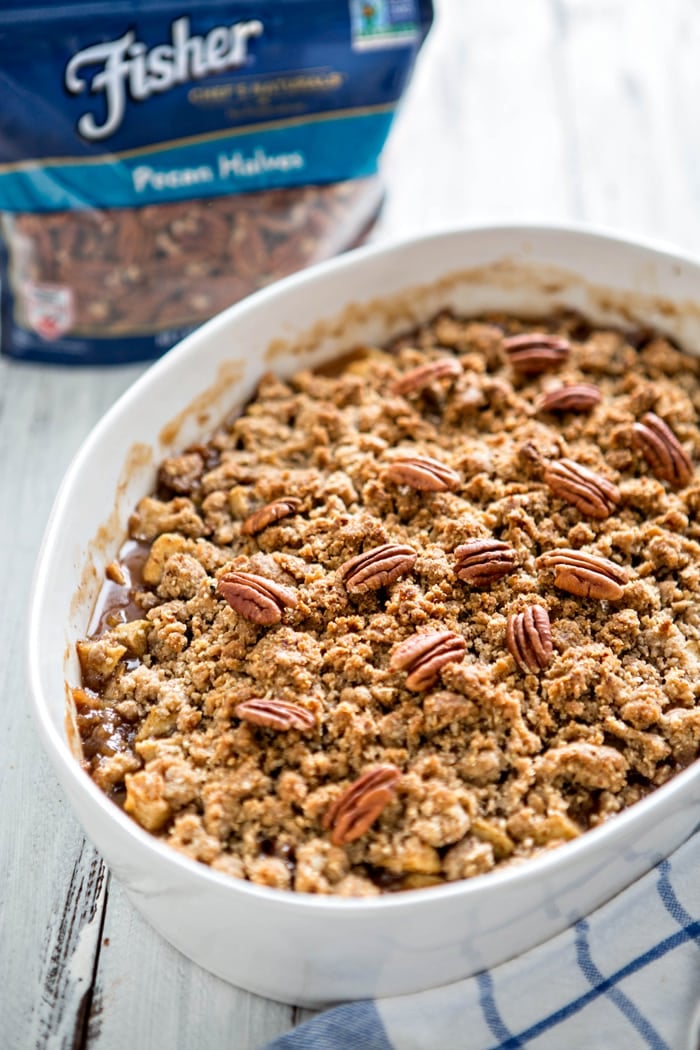 Click HERE to save this recipe for Apple Crisp with Oatmeal Pecan Crumble Topping to Pinterest!
Tips for Making Apple Crisp with Oatmeal Topping
When prepping the apple filling, you don't want to slice the apples too thinly. You want them thin enough that they'll cook down in the oven, but not so thin that they'll turn to mush.
If you or a loved one has a nut allergy, you can omit the pecans in the toppings. However, if you're able to eat nuts you should definitely use them because they add wonderful flavor and texture to this apple crisp recipe with oatmeal.
Apple Crisp FAQ
Got a question about making this simple recipe for apple crisp? Check out these answers to commonly asked questions:
Can I Use Rolled Oats Instead of Quick Oats?
Yes, both rolled (old-fashioned) and quick oats will work for this recipe. Just note that you can NOT use steel cut oats, as they're too chewy for the oatmeal crumble topping.
Can I Make this Apple Crisp Gluten-Free?
If you wish to adapt this to a gluten-free apple crisp recipe, you'll need to substitute your favorite gluten free flour in place of the all-purpose flour. You'll also want to make sure that you purchase certified gluten free oats.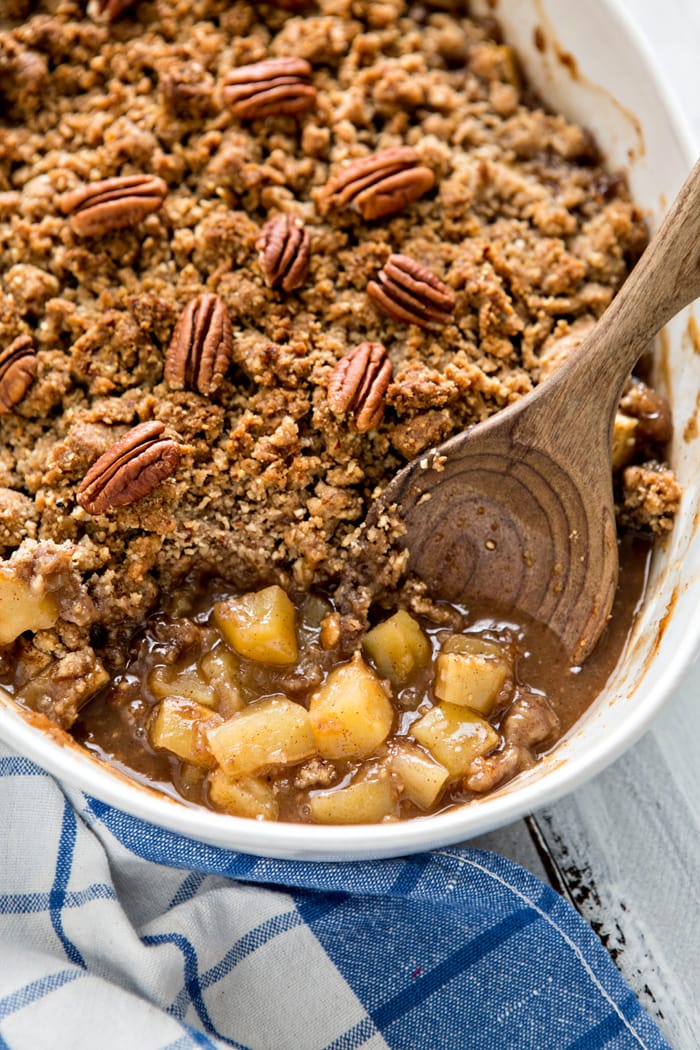 Click HERE to save this recipe for Apple Crisp with Oatmeal Pecan Crumble Topping to Pinterest!
Can I Prep Apple Crisp in Advance?
Yes, the oatmeal topping is really easy to prepare ahead of time and store in the refrigerator if you want to simplify your Thanksgiving Day prep situation. It stores well in a resealable zip top bag in the fridge or the freezer.
The apple filling can't be prepped in advance, but it only takes 5 minutes to make, so it's not a huge deal day of!
You can also completely assemble the recipe and easily leave it at room temperature for a few hours before baking it as there are no raw eggs in the ingredients, it will be fine sitting out a bit if you need to delay cooking it.
And lastly, you can also bake the Apple Crisp ahead of time if needed and reheat portions when ready to serve if you want it to be hot,
Read more: Thanksgiving Preparations Tips for a Stress-Free Turkey Day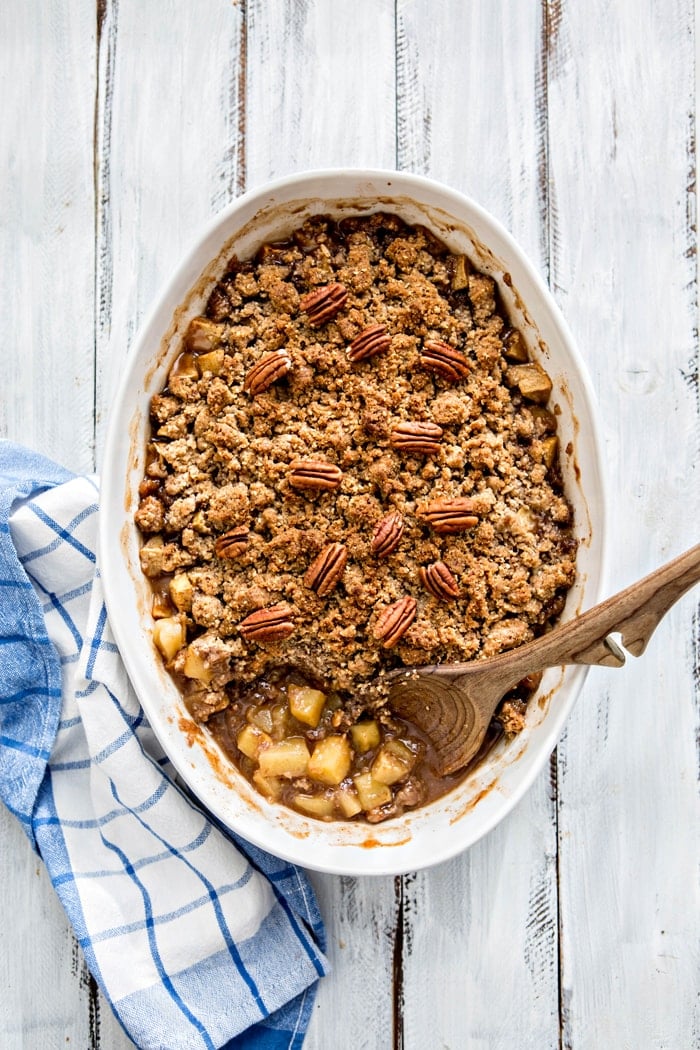 How to Serve this Apple Crisp with Oat Topping
My favorite way to serve this apple crisp is with a scoop of vanilla ice cream on top. It also tastes amazing served with whipped cream and a drizzle of caramel sauce.
I'm often guilty of enjoying the leftovers for breakfast the next day. I mean, it is full of apples, oatmeal, and pecans, so it qualifies for breakfast. Just add some Greek yogurt with it if you want to balance out the sweetness at your breakfast table.
What is the Best Way to Store Leftover Apple Crisp?
Store any leftovers in an airtight container in the refrigerator. It will last for 3-5 days. I like to reheat leftover apple crisp in the microwave until slightly warm before eating.
Reader Reviews for this Apple Crisp
"Made this for my family Thanksgiving and it turned out perfect! I did make the apple filling the night before and it turned out fine. It almost seemed better having infused the flavors over night. Baked it in the morning and then heated it up before serving later that day. The end result was so yummy. And makes a yummy breakfast."
Try this Delicious Apple Crisp!
Next time you're looking for an easy recipe for an apple dessert, give this Apple Crisp with Oatmeal Topping a try!
Did you think it was the best apple crisp recipe? Leave a comment below and give it a review for others to see what you thought of our family's favorite way to enjoy apples during apple season.
On Instagram? Share your photo and tag me with @goodlifeeats and #goodlifeeatsrecipes. I'd love to see your photo of this easy apple crisp!
More Thanksgiving Desserts:
If you're looking for additional dessert inspiration for your Thanksgiving Menu this year, here are a few other favorite recipes.
Be sure to check out the whole Thanksgiving Recipes Archive right here if you need help building the rest of your menu or my Thanksgiving Menu Planner for more ideas!

Chocolate Pumpkin Cheesecake with Chocolate Ganache is a decadent and unconventional way to get your pumpkin in for Thanksgiving.
If you're looking for the perfect kid-friendly Thanksgiving treat, check out this Easy Pumpkin Pudding; it combines a few pantry ingredients for a perfect autumn treat and is simple enough for younger helpers to assist in preparing.
This Browned Butter Bourbon Apple Crisp is a guaranteed crowd pleaser and has lots of make-ahead tips to help you simplify your Thanksgiving prep.
If you're looking for something completely different, be sure to check out this Cinnamon Pear Crostata featuring and Almond Oat Crust. Crostatas are a free form pie, so there is no need to make the crust look perfect.
This Deep Dish Apple Cranberry Pie is the kind of pie you convince yourself is perfectly okay to eat for breakfast once Thanksgiving is over.
And the pie that my Dad always asks for — let's see if he's reading this or not, because he texts me every year to ask where the recipe is again – Pumpkin Pie with Caramel Pecan Topping. It is a family tried and true favorite.
Get More Easy Recipes via Email!
Did you love this apple crumble recipe? Sign up for Good Life Eats Email Updates and get more recipes for classic desserts like this in your inbox!
What are your favorite easy apple recipes?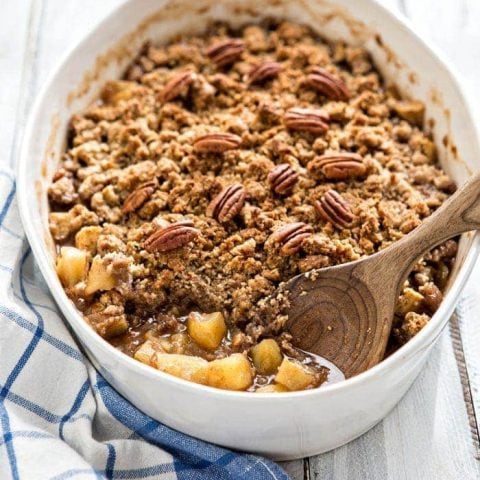 Apple Crisp with Oatmeal Pecan Crumble Topping
Total Time:
1 hour
15 minutes
Your traditional Apple Crisp is elevated with the addition of oatmeal and pecan in the topping. A perfect twist on a Thanksgiving classic.
Ingredients
FOR THE APPLE FILLING
2 pounds peeled, cored, and chopped Granny Smith Apples
2 pounds peeled, cored, and chopped Honeycrisp Apples
1 tablespoon Vanilla Extract
2 tablespoons Bourbon, optional
1/4 cup White Sugar
2/3 cup Brown Sugar
1 teaspoon Ground Cinnamon
1/4 teaspoon Ground Nutmeg
1/4 teaspoon Ground Cardamom
3 tablespoons All-Purpose Flour
Pinch of Salt
FOR THE TOPPING
1 1/2 cup All-Purpose Flour
3/4 cup Brown Sugar
1/4 teaspoon Cardamom
1/2 teaspoon Cinnamon
1/4 teaspoon Salt
16 tablespoons (2 sticks) cold Salted Butter, cut into 1/2 tablespoon pieces
2/3 cup Quick Cook Oats
Instructions
For the Filling
In a large mixing bowl, combine the Granny Smith apples, Honeycrisp apples, vanilla and bourbon.
In a smaller bowl, combine the white sugar, brown sugar, cinnamon, nutmeg, cardamom, all-purpose flour and salt. Whisk to mix well.
Sprinkle the sugar mixture over the apples and stir to combine.
For the Topping
In the bowl of a food processor, add the all purpose flour, brown sugar, cardamom, cinnamon and salt. Pulse 5 times to combine the mixture.
Then, add the butter, quick cook oats, and chopped pecans. Process 10 - 15 pulses, or until the butter is broken up into very small bits.
Remove the blade from the food processor and set the bowl aside for assembly.


FOR THE COBBLER
Pour the apple mixture into a baking dish (mine is 10"Wx13.75"Dx3"H), scraping out any juices left behind in the bowl.
Reach into the food processor bowl and grab a handfull of topping. Form it into a ball in your hands and then crumble it into bits over the top of the filling.
Repeat until you have used all of the topping mixture and the apples are covered.
Bake in a 350 degree preheated oven for 60-70 minutes on the lower middle rack, or until the filling is bubbling and the topping is golden brown.
If the topping begins to brown too quickly, lightly cover it with a small sheet of foil (do not seal around the edges of the baking dish).
Garnish with extra Fisher Nuts Pecan Halves after baking before serving.
Serve warm with fresh whipped cream or vanilla ice cream.
Notes
The topping can be made ahead of time. Prepare the topping and store refrigerated in a zip top gallon bag in the refrigerator or freezer.
Recommended Products
As an Amazon Associate and member of other affiliate programs, I earn from qualifying purchases.
Nutrition Information
Yield

12
Serving Size

1
Amount Per Serving
Calories

451
Total Fat

24g
Saturated Fat

11g
Trans Fat

1g
Unsaturated Fat

11g
Cholesterol

41mg
Sodium

223mg
Carbohydrates

56g
Fiber

4g
Sugar

33g
Protein

6g
GoodLifeEats.com offers recipe nutritional information as a courtesy and is an estimate only. This information comes from online calculators. Although GoodLifeEats.com makes every effort to provide accurate information, these figures are only estimates.
I have been partnering with Fisher Nuts since 2013 because it is one of the only brands of recipe nuts entirely without preservatives. I have been compensated for my time creating this recipe for Apple Crisp with Oatmeal Pecan Crumble Topping, but all opinions are my own.