Caramel Sauce with Vanilla and Bourbon
Silky smooth caramel sauce is so easy to make at home.
It is over the top good thanks to the addition of a little bit of vanilla and bourbon. 
If you're thinking about homemade gifting, consider this Caramel Sauce with Vanilla and Bourbon recipe.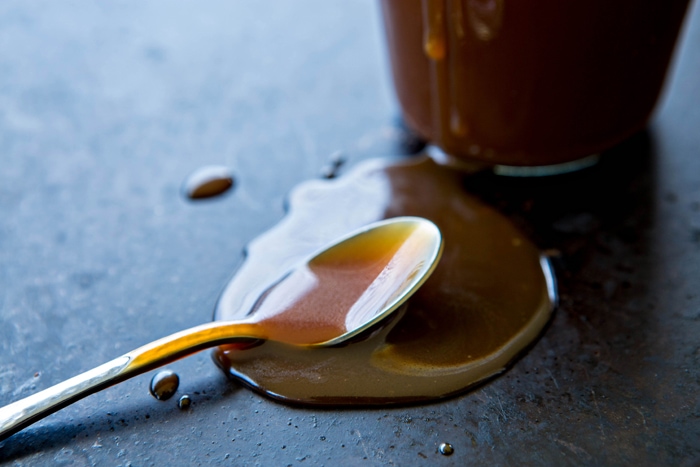 We spent so much time finishing things around the house and landscaping the backyard.
Now that we are done, Kevin and I are both like "ok, we're ready for summer to start!"
We've only been on the boat twice this summer, and sadly summer is very quickly coming to a close.
Part of me is really looking forward to getting back in to a better work/life balance and routine since I'll have more uninterrupted time during the day while the kids are at school.
But, I think we feel a little bit like we didn't have enough fun this summer.
Luckily, we still have vacation to look forward to before school is officially back in session.
One thing we did this summer that was simple, but new, and everyone loved was to make this Caramel Sauce with Vanilla and Bourbon.
We made this caramel sauce recipe SO MANY times this summer!
I have made caramel candies quite a bit, but until this summer I've never made my own caramel sauce.
I have definitely been missing out.
It tastes amazing, plus I had no idea how easy it is to make.
Unlike when you are making caramels, like this Gingerbread Caramel Recipe, you don't have to use a candy thermometer to make caramel sauce…at least not in this recipe.
I'm not sure if that is true for all of them.
Because I don't have to use a candy thermometer, that also means that I don't need to make any high altitude adjustments to the recipe and that keeps it super simple.
This recipe is has really simple ingredients.
What Ingredients Do You Need to Make Caramel Sauce
sugar
butter
cream
vanilla extract
bourbon
salt
That's it!
If you have leftover vanilla beans you can easily make Vanilla Scented Sugar and omit the vanilla extract.
Additionally, the bourbon can be omitted if you do not have any and the recipe can be made as is without additional alterations.
The alcohol burns off leaving the flavor and not much added liquid.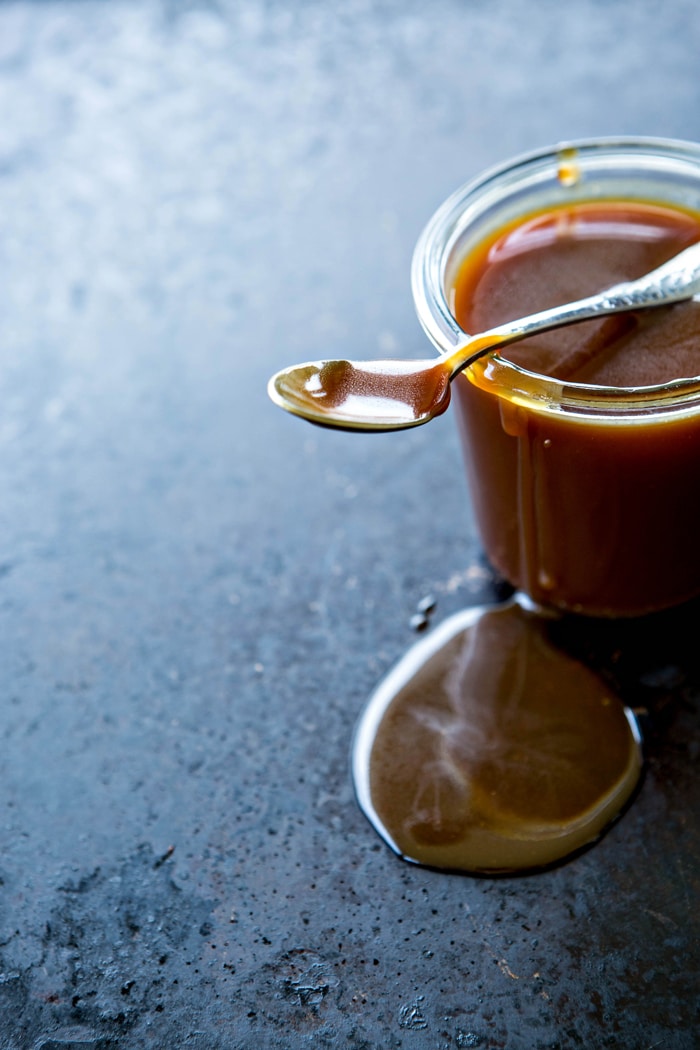 I know teacher gifts and holiday gifts are probably the last thing on anyone's mind right now.
But, it is definitely worth mentioning that this Caramel Sauce with Vanilla and Bourbon would be a super easy and GREAT idea for homemade gifting.
Actually, I think it was one of the kids that mentioned to me this recipe was so good, we should give it to all our neighbors for Christmas this year.
Ways to Use Caramel Sauce
The uses are endless, but here are a few of our favorite ways to use this recipe for Caramel Sauce.
The kids would probably tell you that their favorite way is to just lick it off a spoon.
Seriously.
I can't tell you how many times this summer I have been asked "Can I have a caramel spoon?"
Um, WHAT?
(meanwhile I'm doing this myself as soon as their back is turned!)
Make Caramel Brownies
Swirl a bit of this Caramel Sauce into the top of the batter for my Simplest Homemade Fudgy Brownies.
This is already the best ever homemade brownie recipe, but just think about it with caramel added to it!
BONUS: serve the brownies in a bowl with ice cream and more caramel.
Ice Cream Topping
This has been our main go-to use of this amazing Caramel Sauce with Vanilla and Bourbon.
Our current favorite ice cream obsession is one that is mocha flavored and has chunks of Oreo AND cookie dough in it.
Topped with this caramel sauce…it is insanely good.
Parfaits
Add caramel as a layer in your next parfait.
Healthier Chocolate Parfaits and Chocolate Chip Cookie Pudding Parfaits are both awesome candidates for the addition of caramel.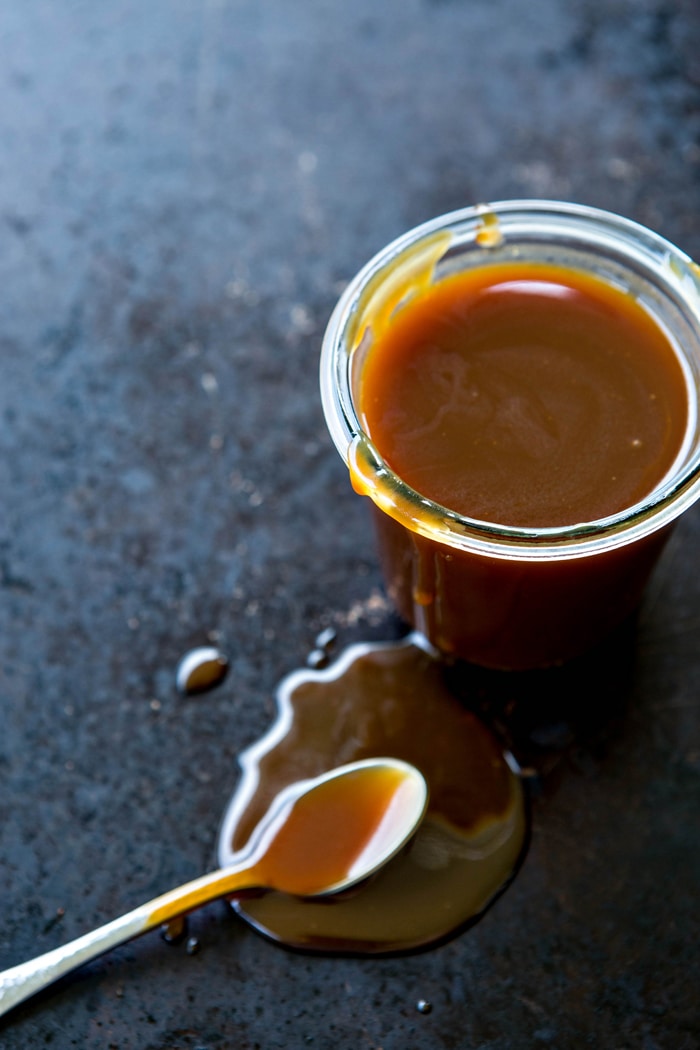 Cheesecake Topping
We celebrated our 1 Year Anniversary last weekend with a party with friends and family.
It was so much fun.
A lot of work, since we're crazy enough to make almost all the food ourselves, but so fun.
Sadly, I didn't take any photos but you can read a little bit about it on my Instagram in some of the most recent posts and in my comments on this one.
One of the recipes on the dessert table were tons of individual cheesecakes that my friend and old neighbor made to help me out.
I originally was going to make this recipe and top all of the cheesecakes with a little pool of Caramel Sauce with Vanilla and Bourbon, but I ran out of time.
We sampled the cheesecakes prior to the party, so I know it is super delicious.
Apple Desserts
Caramel and Apples flavor companions.
There are so many apple desserts that you could add just a drizzle of caramel to upon serving.
Try these: 100% Whole Grain Apple Crumble Pizza and  Browned Butter Bourbon Apple Crisp.
Or you could even just serve it in a little bowl with some apple slices for dipping.
Make a DIY Starbucks Treat
My friend Rachael has a great DIY Cold Brew Coffee tutorial.
How good with some of this caramel sauce be if it was swirled into a cup? Or make
Don't drink coffee?
Try it with hot cocoa instead with a mug of  Caramel Hot Chocolate as a treat this winter.
Have you ever made your own caramel sauce?
Caramel Sauce with Vanilla and Bourbon
Yield: 2 cups
Prep Time:5 minutes
Cook Time:10 minutes
Total Time:15 minutes
Silky smooth caramel sauce is so easy to make at home. It is over the tope good thanks to the addition of a little bit of vanilla and bourbon, and perfect for homemade gifting.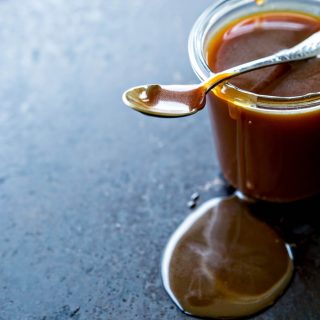 Ingredients:
2 tablespoons Bourbon, optional
1 tablespoon Pure Vanilla Extract
2 cups Granulated Sugar
12 tablespoons Salted Butter, sliced into tablespoons
1 cup Heavy Cream
Sea Salt
Directions:
In small bowl, combine the bourbon and vanilla extract. Stir and set aside.
Add the granulated super to a medium sized saucepan (3 quart size works well). Place it over medium-high heat and cook, watching the entire time and stirring occasionally, until the sugar is golden brown and completely melted.
Carefully add the butter and the vanilla bourbon mixture. Whisk the ingredients vigourously until the butter is completely melted. The contents of the saucepan will bubble up, so caution should be used.
Remove the pan from the heat and very carefully and slowly pour in the heavy cream while whisking. The caramel sauce will bubble, but keep whisking until the mixture is completely incorporated. Stir in the sea salt.
Let cool - do not attempt to lick the spoon or the whisk as the caramel will be incredibly hot. After it has cooled to room temperature, transfer to your prefered storage container and serve how you like!
Notes:
Store sealed, such as in a jar, in the refrigerator for up to 14 days.
After the caramel has chilled in the refrigerator, you will need to reheat it to make it pourable consistency again.
This can be done by transferring the amount that will be used to a microwave safe bowl and microwaving on 50% power in 15 - 20 seconds intervals. Alternatively, you can warm it in a saucepan over low heat on the stove.