Easy Homemade Fudgy Brownies
Easy Homemade Fudgy Brownies are the perfect quick dessert to whip up at home.
They only take a few minutes and totally satisfy your chocolate cravings.
Just like the recipe promises, they're easy!
Plus, I bet you have all the ingredients on hand.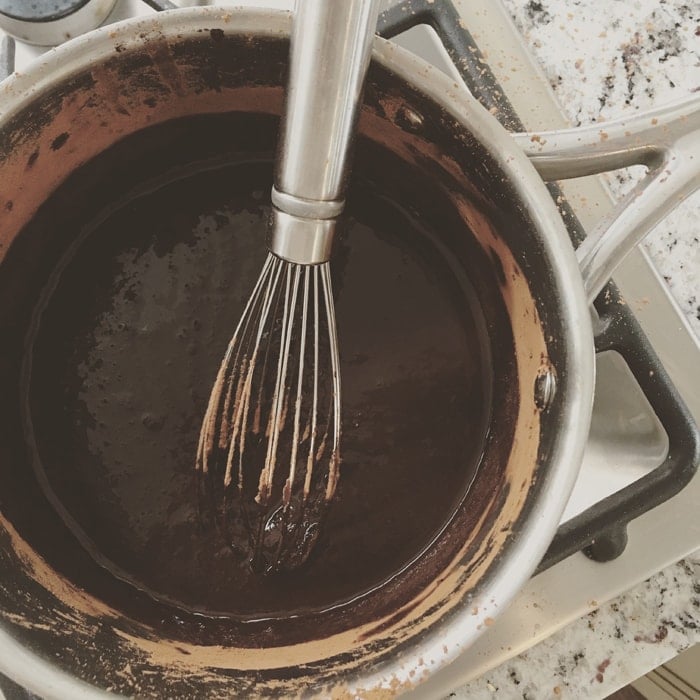 Click HERE to save this recipe for Easy Homemade Fudgy Brownies to Pinterest!
Sometimes I really cannot believe I've been blogging as long as I have.
Long enough to dig up an old recipe for updating and see that it was published in 2010.
And that isn't even the the oldest thing on the site.
Well, this recipe for Easy Homemade Fudgy Brownies is one that has been around a while.
These brownies are definitely something we still make at home all the time.
In fact, I've even had several family members tell me that this recipe for Easy Homemade Fudgy Brownies is their go-to brownie recipe.
My mom has made it so often that she apparently has it memorized.
Even I still reference my site when I'm making recipes I've previously published.
Honestly, that is one of the reasons that I started this blog to begin with!
I know that it is January and we are all about the healthy eating and the exercising and the not eating dessert.
I get it.
That is totally me too.
Remember? I just shared that recipe for Black Bean, Sweet Potato and Chicken Lettuce Wraps to help you satisfy your Taco Tuesday cravings in a healthier way?
Also? Today I went to water aerobics.
I had salad for lunch.
Kevin and I only ate out twice last weekend when the kids were gone.
We had Gyros for lunch when he got home from the airport and we went to lunch with friends to watch a football game.
Other than that it was healthy dinners at home.
But, I have to share a story about this Easy Homemade Fudgy Brownies recipe that I posted on Instagram last week.
It goes like this….
Logan is in Home Ec this term.
*proud mom moment*
I've been informed that it is actually called "Family Consumer Sciences."
He is most excited about the cooking part.
Logan has been asking me for the past week or so if he could cook something by himself, rather than just assisting me.
Every day I had a reason for saying "no," like it's 10 minutes till dinner or 20 minutes to bedtime.
Last week during a snow day an hour before he goes to his dad's he asked again.
I said "ok, how about those easy homemade fudgy brownies from my blog?
You love them and now you can learn how to make them, plus they're easy!"
Seriously.
Did I mention that this recipe is EASY?
These brownies also only require 1 saucepan to prepare them.
ONE.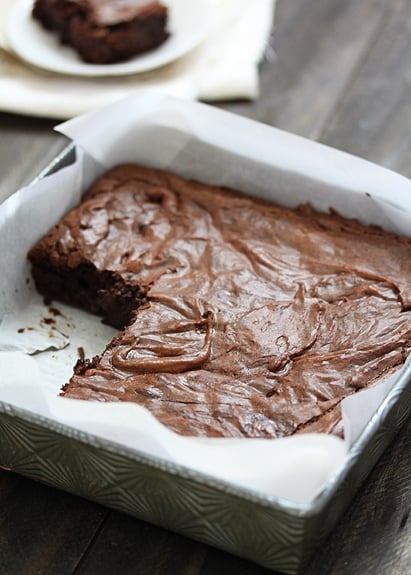 Click HERE to save this recipe for Easy Homemade Fudgy Brownies to Pinterest!
I cannot tell you how much this means to me after all the years struggling with him being literally the pickiest child I had ever met.
He eats pretty much any dinner I make now.
Though I don't cook fancy for the kids, he is usually at least curious and sometimes interested to try new things.
He likes asparagus and Roasted Brussels Sprouts with Bacon and Balsamic.
He likes steak and pork, salmon, and turkey, and chicken.
Especially my recipe for Easy Honey Mustard Baked Chicken.
There was a time I didn't think I could get him to even taste meat to see if he would like it.
No exaggeration.
The rest of my family will confirm it as they are just as amazed as I am that FINALLY Logan is eating.
I think Logan is often pretty amazed himself!
To see him interested, excited, willing to taste and learn is more than I thought I'd ever see.
Oh and he watches Food Network more than me, especially things like Chopped, Cupcake Wars, and Cooks or Cons.
They will round out the Home Ec (Excuse me….Family Consumer Sciences) term with a classroom Cupcake Wars competition – he's so excited!
Logan is grilling me all the time about what type of cupcakes he should make and PLEASE MOM CAN WE PRACTICE?!
There is a little bit of uncertainty about what the guidelines for said cupcake wars are.
I asked him if they were supposed to bake from scratch, because after all they only have one classroom period (which is like less than an hour) to complete the project.
He said he thought they were supposed to use a box mix.
That honestly baffled me a little because…hello? we are in a class learning how to cook, why not learn how to cook instead of how to open a box?
I jokingly told him that no son of mine is going to make cupcakes from a box!!
We all had a laugh.
Seriously though.
I am so proud and so happy after all the crazy pickiest eater in the world stuff that we've been through.
So, even though it is January and it is resolutions season and eating healthy time…here is an awesome recipe for Easy Homemade Fudgy Brownies.
It is ok if you eat a small one.
Just don't eat the whole pan.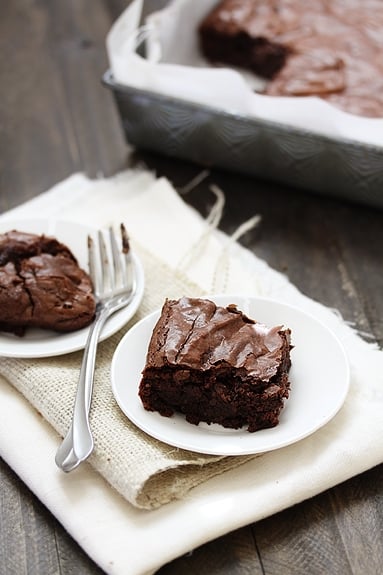 Click HERE to save this recipe for Easy Homemade Fudgy Brownies to Pinterest!
Easy Homemade Fudgy Brownies Variations
Why complicate something so deliciously simple?
These Easy Homemade Fudgy Browniesare the perfect bare bones homemade brownie recipe, and it's delicious just like this so there is no need to get fancy with it – unless you want to!
If you do want to mix things up from the traditional, here are some fun ideas to enhance your brownies:
Easy Homemade Fudgy Peppermint Brownies
This makes a great brownie variation for Christmas time!
Add chopped candy cane or peppermint crunch white chocolate chips to the batter and add a hint of peppermint extract.
Super Duper Chocolatey Easy Homemade Fudgy Brownies
Prepare the Easy Homemade Fudgy Brownies as the original recipe states.
After the brownies have cooled, prepare some chocolate ganache and pour it on top of the brownies.
Refrigerate until the ganache is set.
Then, remove the brownies from the pan and slice into squares.
Easy Homemade Fudgy Walnut Brownies
Add chopped walnuts to the batter.
This is great for people who love a little crunch in their fudgy brownies.
Salted Caramel Fudgy Brownies
Prepare the Easy Homemade Fudgy Brownies as the original recipe states.
Before baking, pour 1/2 cup of this Caramel Sauce with Vanilla and Bourbon, then swirl it with a knife through the batter.
For a little extra salty taste, sprinkle some fleur de sel on top of the brownies.
Then, go ahead and bake as instructed!
Easy Homemade Fudgy Orange Brownies
This adaptation is perfect for the person who can't get enough of that classic orange and chocolate combo.
Orange is definitely one of my favorite flavors to pair with chocolate!
Add orange zest and orange extract to the batter.
Easy Homemade Fudgy Halloween Candy Brownies
Add leftover Halloween candy to the batter instead of chocolate chips.
Reese's Pieces or Peanut Butter Cups would be delicious!
Hershey kisses or chocolate bars would work well, too.
Larger candies might need to be chopped up for best results.
Tried a different variation of these Easy Homemade Fudgy Brownies? Let me know in the comments!
Love this recipe for Easy Homemade Fudgy Brownies?
Sign up for Good Life Eats email updates and never miss another recipe!
Be sure to follow Good Life Eats on Instagram and tag #goodlifeeatsrecipes so I can see what you're cooking up in YOUR kitchen!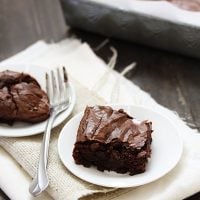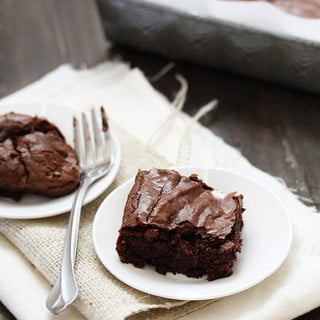 Simplest Homemade Fudgy Brownies
Yield: 16 brownies

Prep Time: 10 minutes

Cook Time: 30 minutes

Total Time: 40 minutes

Easy Homemade Fudgy Brownies are the perfect quick dessert to whip up at home. They only take a few minutes and totally satisfy your chocolate cravings. Just like the recipe promises, they're easy! Plus, I bet you have all the ingredients on hand.
Ingredients
12 tablespoons Salted Butter
1 1/2 cups Granulated Sugar
2/3 cup Cocoa Powder
1 teaspoon Pure Vanilla Extract
3 large Eggs
1 cup Flour
1/2 cup chocolate chunks, optional
Instructions
Preheat oven to 350 degrees F.
Line an 8x8 or 9x9 square baking pan with parchment paper. Set aside.
Set a medium sized saucepan over medium heat and melt the butter.
Next, add the granulated sugar and vanilla.
Stir well with a wire whisk. Then, whisk in the cocoa powder. Remove from heat.
Add the eggs, one and a time, whisking between each addition until the eggs are fully combined.
Add the flour and stir well with a wooden spoon until the flour is fully incorporated, but do not beat.
Add the chocolate chunks and stir gently to fold them into the batter.
Pour batter into the previously prepared baking pan.
Bake at 350 degrees F for 25 - 35 minutes.
Cool completely, or if you're impatient like me – at least 15 minutes, on a wire rack.
Remove parchment paper (with brownies) from the pan.
Peel away the parchment paper.
Cut the brownies into 4 rows of 4, this will yield 16 square brownies.
Notes
Store completely cooled brownies in an airtight container for up to 3 days – if they last that long!
Recommended Products
As an Amazon Associate and member of other affiliate programs, I earn from qualifying purchases.
Nutrition Information:
Yield: 16 Serving Size: 1
Amount Per Serving: Calories: 233 Total Fat: 12g Saturated Fat: 7g Trans Fat: 0g Unsaturated Fat: 4g Cholesterol: 59mg Sodium: 86mg Carbohydrates: 30g Fiber: 1g Sugar: 22g Protein: 3g

Let me know if you try this recipe and what you think of it by leaving a comment below.
Click HERE to save this recipe for Easy Homemade Fudgy Brownies to Pinterest!
Favorite Easy Dessert Recipes
Updated from the archives.
Original Easy Homemade Fudgy Brownies post from December 15, 2010 follows:
This post was originally part of a fun, holiday recipe exchange post series. Butter was the theme of the post.
What is your favorite recipe to use butter in? Is it a sweet one or a savory one?
I teased you with an image of these delicious Easy Homemade Fudgy Brownies that were oh so chocolatey and fudgy in my parchment paper kitchen tip last week
(related: Kitchen Tip: Lining Pans with Parchment – this makes removing brownies from the pan a breeze! pin this tip for later!)
Are you ready for the recipe now?
These simple from scratch homemade brownies are one of our family's favorite weeknight desserts.
Without fail, we always have the ingredients on hand and can whip them up in a matter of minutes.
I love decadent, elegant, and creative desserts.
But, some evenings all I really need is a cushy place on the warm couch, a little something to watch on TV, and a fudgy chocolate brownie.
Come share your favorite recipe!
The Kerry Gold Butter gift basket giveaway that was paired with the original post has been removed.
The giveaway is no longer active.
The original comments from the giveaway contest remain in this post.