In these Raspberry Brownie Parfait with Mascarpone Whip, fudgy brownies are layered with mascarpone whipped cream and raspberries for a delightful dessert!
Valentine's Day with kids on a weeknight is always a tricky thing.
So I thought I'd share with you one of my go-to SUPER EASY FAVORITE dessert recipes: Raspberry Brownie Parfait with Mascarpone Whip.
It's adapted from a great cookbook called Desserts 4 Today: Flavorful Desserts with Just Four Ingredients, by Abby Dodge.
Abby's version is a lot simpler, and still delicious.
But, I wanted to kick things up a notch by adding the brownie chunks and some orange oil for drool-worthy flavor.
Desserts 4 Today is a fabulous dessert cookbook for easy entertaining.
Each of the 125 recipes in Abby's new book have only 4 ingredients each (all of which are readily available), and yet they're still sophisticated and delicious.
It just proves that simple does not have to be boring.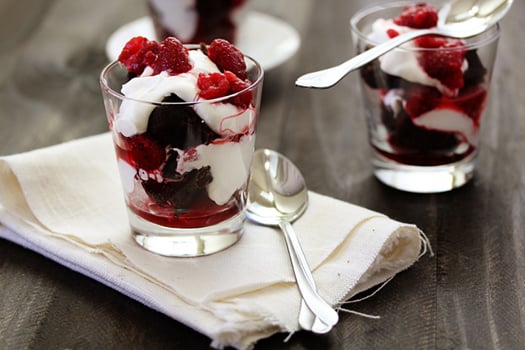 The beauty of this recipe is that the brownie and the raspberry can be prepared ahead of time.
Perfect for doing during the day when kids are in school or napping.
When the time comes, you can just whip up the mascarpone layer and assemble.
Feel free to simplify as you see fit or dress it up even more.
Hope you have a lovely Valentine's Day with whoever you love!
Tips for a Simple Valentine's Day
Food
Pass on the fussy food.
We like Italian pasta dishes with lots of flavor and ingredients that are maybe a little bit fancier, though the overall recipe is quite simple.
Do as much as you can in advance and assemble later.
This Shrimp Scampi with Sun-Dried Tomatoes and Artichokes is actually quite simple to prepare, it is the ingredients that give it flair.
If you and your significant other both love spending time in the kitchen, consider preparing a special meal together.
Music
A little quiet, romantic music is always a nice touch.
I don't even remember what I used last year, but I selected 4 or 5 songs and actually had them on repeat playing on the iPod docking speakers.
I think one of the songs was Rob Pattison Never Think from the Twilight Soundtrack.
Love that guitar.
Lighting
Harsh, bright light isn't very romantic.
Turn a few lights off and warm up the room with candles.
If you are able and it's not to warm an evening, light up your fireplace to cozy up the room.
How do you like to spend Valentine's Day?
p.s. Make sure you head over to take a look at the Deliciously Organic Meal Plan Deal and Cookbook Offer.
Carrie is offering 50% off of her Organic Meal Plan subscriptions!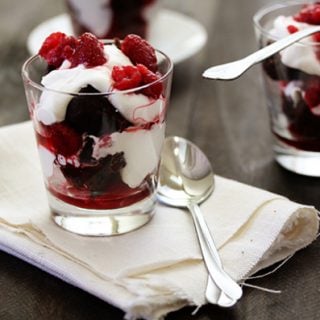 Raspberry Brownie Parfait with Mascarpone Whip
In these Raspberry Brownie Parfait with Mascarpone Whip, fudgy brownies are layered with mascarpone whipped cream and raspberries for a delightful dessert!
Ingredients
For the Brownies:
For the Berries:
18 ounces frozen raspberries, thawed
1/4 cup granulated sugar
For the Mascarpone Whip:
8 ounces mascarpone cheese
1/4 cup sugar
3/4 cup heavy cream
1 teaspoon vanilla extract
Instructions
Prepare your favorite brownies - mine are Homemade Fudgy Brownies.
Cool and then cut them into about 3/4" to 1" cubes. Set aside.
Combine the raspberries, orange oil, and 1/4 cup sugar in a bowl.
Stir until well-mixed, and set aside.
In a medium bowl, combine the mascarpone, heavy cream, orange oil vanilla, and 1/4 cup of sugar. (I use powdered sugar because I like that you don't have any accidental sugar granules that don't dissolve, but it's not necessary.)
Beat the mascarpone mixture with an electric mixer until medium-firm peaks form.
To assemble, place a few brownie chunks in the bottom of 6 individual dessert cups (small juice glasses work well for this).
Top the brownies with about 2 1/2 tablespoons of the mascarpone mixture, then with about 3 tablespoons of raspberries.
Repeat until all the elements have been evenly divided among the cups.
You can also serve this in a large trifle bowl, but I think mini, individual servings are cute for entertaining.
Refrigerate until serving.
Serve chilled.
Recommended Products
As an Amazon Associate and member of other affiliate programs, I earn from qualifying purchases.
Nutrition Information
Yield

6
Serving Size

1
Amount Per Serving
Calories

491
Total Fat

36g
Saturated Fat

18g
Trans Fat

1g
Unsaturated Fat

14g
Cholesterol

91mg
Sodium

203mg
Carbohydrates

42g
Fiber

7g
Sugar

28g
Protein

5g