Are you wondering what to make for Valentine's Day Dinner? You don't need a 5-course meal or fancy dinner reservations to treat your Valentine to a romantic evening. This year, try celebrating Valentine's Day at home with these romantic dinner ideas.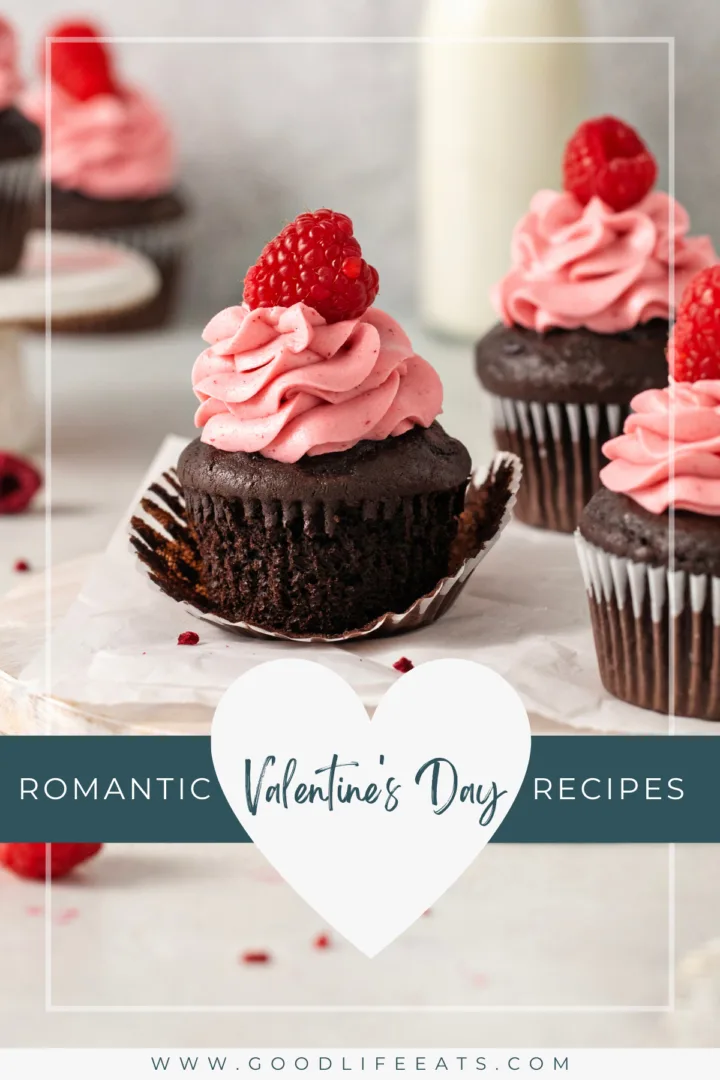 Cooking Dinner at Home for Valentine's Day Dinner
Planning an evening in for Valentine's Day ensure an intimate setting for an evening for two. It will also save you a few bucks.
In this post, you'll find everything you need to come up with an amazing Valentine's Day Menu to cook at home.
Favorite Ideas and Tips for Valentine's Day Dinner At Home
Need a few ideas for a romantic Valentine's Day in? Here are some of my favorite, easy ideas for making Valentine's Day and romantic meals at home something special:
Valentine's Day Dinner Menu Planning
Prepare a Valentine's Day Menu in advance. Create something that's a little more special than your typical evening meal. You'll want this meal to stand out as something special for the week!
Cook Valentine's Day recipes that aren't complicated but have complex flavor because its ingredients give it a nice flair. Look for ingredients you don't eat day to day to include in your Valentine's Day meal.
If you know of a favorite dish that your significant other has, consider preparing that to dine on. It's also fun to try to recreate favorite restaurant dishes for an at home date night.
Valentine's Day Dinner Recipe Prep
Do the prep work ahead of time! The less time you have to spend frantically prepping right before, the more you will be able to relax and enjoy your romantic Valentine's Day dinner.
If you and your significant other both love spending time in the kitchen, consider preparing a special meal together. Now that the kids are older and we often have time alone in the evening, my husband and I love to spend time cooking together.
Set the Mood for Romance
Set the dinner table. Now's the time to get out the placemats, special plates, glasses, and flatware to set your Valentine's Day dinner apart from the rest of the week.
A little quiet, romantic music is always a nice touch. Turn a few lights off and light up the room with candles. If it's not too warm an evening, light up your fireplace to cozy up the room.
No Romance? No Problem!
I've been there too! Planning an indulgent Gal-entine's dinner with my best Valentine's Day Recipe ideas with your best gal pals is a super fun thing to do.
Treating yourself to some self-care and a delicious dinner is a great way to celebrate February 14th if you're alone this year.
Exfoliate your skin with this Rosemary Mint Sugar Scrub, run a bath, and soak in these Lavender Eucalyptus Green Tea Bath Salts while you let a hot oil treatment sit on your hair and read a book.
Don't let being alone stop you from enjoying these delicious Valentine's Day Recipes – it is the perfect excuse to treat yourself!
The Best Valentine's Day Dinner Ideas
Get ready to celebrate the most romantic day of the year with a night in using these easy Valentine's Day dinners.
I've got you covered with all of my favorite Valentine's Day recipes – appetizers, pasta dishes, entrees. And don't forget the decadent Valentine's Day desserts!
I know you'll find something that you and your special someone will love because I'm sharing all of my favorite Valentine's Day dinner ideas!
As an Amazon Associate and member of other affiliate programs, I earn from qualifying purchases.
What are your best ideas for an indulgent meal at home for Valentine's Day?
More Valentine's Day Ideas
Need a Valentine's Day gift idea for your significant other? Here is my Valentine's Day Gift Guide – Kitchen Edition. It features a wide variety of Valentine's Day gifts perfect for the home cook from the splurge-worthy to budget friendly!
Valentine's Day doesn't have to be all about romance and candlelight. With kids at home, this February holiday can be a day focused on fun and connections for the whole family. I've pulled together a collection here of Kid Friendly Valentine's Day Ideas.
Need fun activity ideas and treats for a Valentine's Day Celebration? Check out this list of Valentine books: The BEST Valentine's Day Books for Kids. There is nothing sweeter than reading books about love and enjoying a special treat afterwards! It's the best way to make everyone feel special.
Don't see what you're looking for here? You can always head over to check out the recipe index to look for more recipes.
Did you try any of these Romantic Valentine's Day Recipes?
If you tried any of these Valentine's Day Dinner Recipes, I'd love to hear from you! Leave a comment below or head over to the recipe's post and give it a review for others to see.
On Instagram? Share your photo and tag me with @goodlifeeats and #goodlifeeatsrecipes. I'd love to see which of my favorite recipes you prepared for your romantic night!
Get More Recipes via Email
Did you love this recipe? Sign up to receive Good Life Eats Email Updates and never miss another recipe!

What are you making for Valentine's Day Dinner?