This DIY Rosemary Hot Oil Hair Treatment is a great way to soothe dry scalp and dandruff, promote healthy hair growth, add shine, and seal moisture into your hair.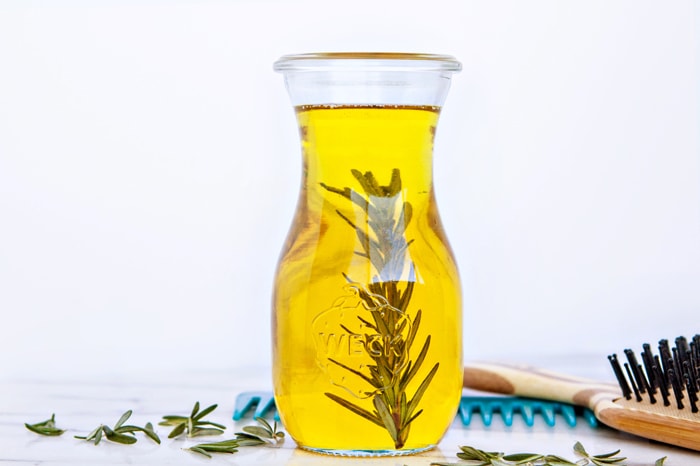 I've been growing my hair out for about 2 1/2 years now.
I started with a short bob with lots of stacked laters and now have hair that's past my shoulders with some long layers.
I love it!
The last time I had long hair was pre-children, and I didn't really know how to do my hair all that great back then.
I didn't own a flat iron or even a good curling iron.
I've definitely learned a lot about styling longer hair in the last couple of years.
One of the downsides to the growing out process is that the ends can get pretty dry since it isn't being trimmed as much or as frequently, and my hair sheds a lot more (or maybe I just notice it more since my hair is so much longer).
About 6 months ago, I started doing weekly Hot Oil Hair Treatments for my scalp and hair.
I have noticed a huge difference in my hair and scalp health since I started using this DIY Rosemary Hot Oil Hair Treatment.
Once a week, the night before I know I am going to wash my hair, I will massage a few tablespoons of this DIY Rosemary Hot Oil Hair Treatment into my scalp and hair.
Then, I braid my hair and sleep with it overnight.
Make sure to cover your pillow with an old towel, otherwise the oil can stain the pillowcase.
For extra protection, you can sleep with a shower cap on your head, too.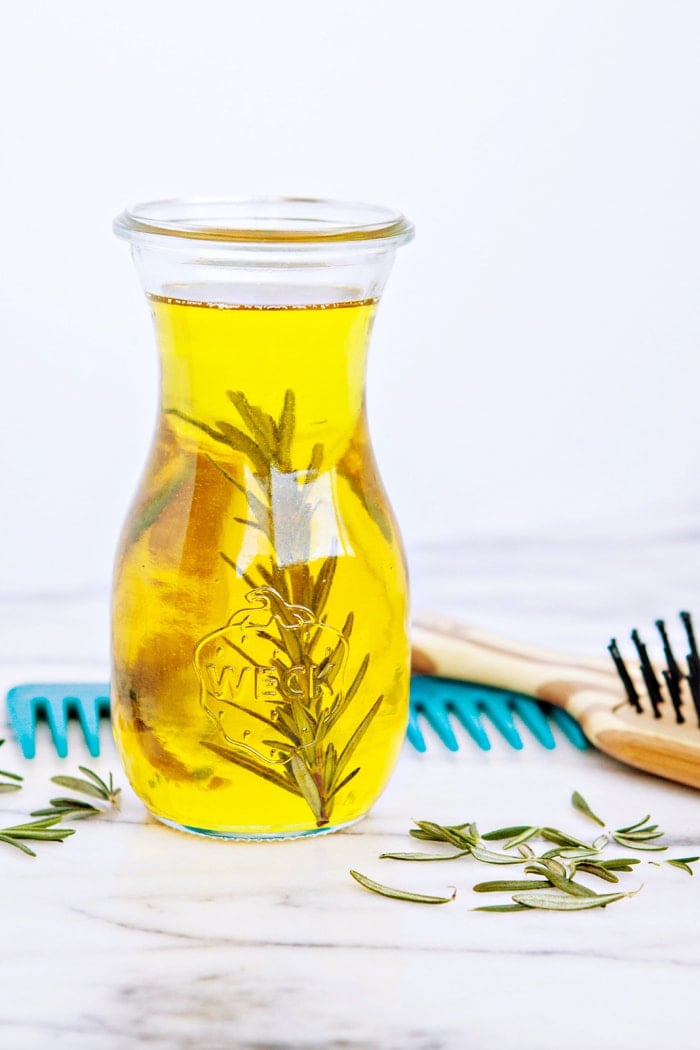 If you've ever done an overnight oil treatment on your hair, you might be wondering how do I wash the oil treatment out of my hair???
In the morning, I beat and egg with a couple tablespoons of water and massage that into my wet hair in the shower.
I don't remember where, but I read that this was a great tip to help wash the oil out of hair without having to shampoo it 5 times – I don't know why, but it totally works!
Because if you do shampoo your hair a bunch of times to get the oil out, then you just undid all the benefits of the oil by stripping your hair!
Just use very lukewarm water to wet the hair and rinse out the egg, unless you want to end up with cooked egg in your hair.
After rinsing the egg, then shampoo and condition as normal.
My hair is so much softer and the dry ends way less brittle.
Even though I'm really bad about noticing my own hair growth because I see my hair everyday, friends and my hairdresser are always commenting on how long my hair is now and that it grows so fast.
So, in addition to having scalp that is moisturized and dandruff-free, and soft, shiny hair, my hair is growing super fast – great news to me, because I would still like it to be a couple of inches longer than where I'm at now.
Why Does DIY Rosemary Hot Oil Hair Treatment work?
Each ingredient in this DIY Rosemary Hot Oil Hair Treatment is beneficial to the hair an scalp.
By warming the oil prior to adding it to your hair, dry, damaged ends are extremely moisturized.
The hot oil helps seal the ends, giving dry hair a smoother, softer feel.
Massaging this oil treatment into the hair and scalp also benefits by increasing circulation to the scalp – this helps by promoting overall scalp and hair health as well as boosting the growth process.
Coconut Oil
Coconut oil is a great, all over moisturizer.
Unlike commercial moisturizers that are full of water (and other chemicals), coconut oil's moisturizing powers are deep and long lasting.
It seals split ends and deeply moisturizes because it can penetrate the hair shaft.
Jojoba Oil
Jojoba oil adds shine to the hair and promotes softer, more manageable hair.
It also soothes the scalp as an effective treatment for dandruff.
Castor Oil
Castor oil is known for its ability to promote hair growth and thicken hair.
It also moisturizes hair and seals ends, helping to prevent breakage.
Rosemary Essential Oil
Rosemary can stimulate hair growth and slow shedding, helps with dandruff, and gives hair body.
DIY Rosemary Hot Oil Hair Treatment
This DIY Rosemary Hot Oil Hair Treatment is a great way to soothe dry scalp and dandruff, promote healthy hair growth, and add shine and moisture to your hair.
6 tablespoons Coconut Oil
6 tablespoons Jojoba Oil
3 tablespoons Castor Oil
6 drops Rosemary Essential Oil
In a small saucepan, combine the coconut oil, jojoba oil, and castor oil.
Warm over low heat until the coconut oil is melted.
Remove from heat and add the rosemary essential oil. Stir to combine and transfer to a glass storage jar (I love Weck Jars!).
To use: add a few tablespoons to a plastic squeeze bottle – I love Wilton Mini Squeeze Bottles.
Boil a saucepan of water, remove from heat, and place the squeeze bottle in the hot water until the oil has warmed.
Massage the warm oil into the scalp and all the way to the ends of the hair.
Let the oil mixture sit in hair at least 2 hours, or up to over night.
To wash: Beat and egg with a couple tablespoons of water. Wet hair in the shower with luke warm water. Massage the beaten egg into scalp, allow to sit for 3 minutes, then rinse with lukewarm water. Shampoo and condition as normal.