Recipe for Homemade Cough Syrup and Sore Throat Soother
Looking for a natural cough remedy? This homemade cough syrup recipe is a great natural remedy to have on hand to soothe sore throats and stop lingering coughs this flu and cold season.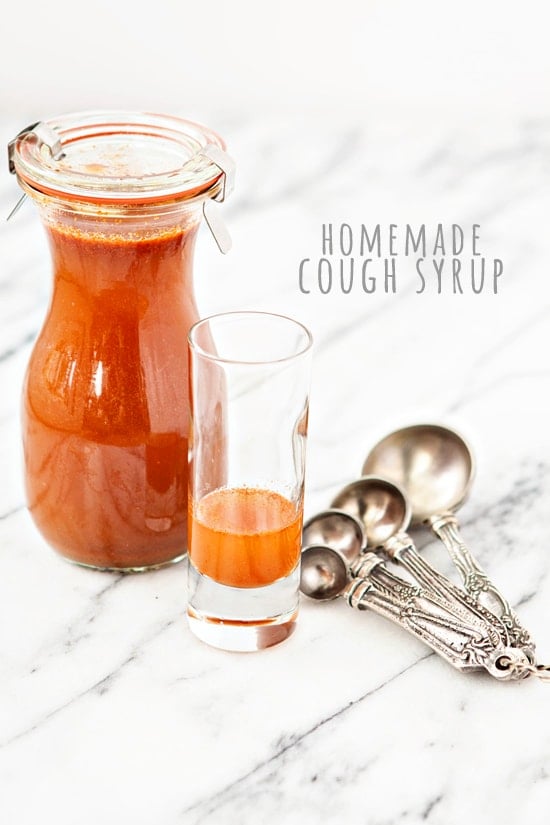 Click HERE to save this recipe for Homemade Cough Syrup to Pinterest!
I recently had the worst cold. It was one of those "I can't get out of bed but every time I lay down I start hacking up a lung" type of colds. On top of that my voice sounded super amazing.
I was frustrated because it hit me at the worst time when I had a lot of things on my plate that I needed to deal with. And though it might sound trivial, it is torture for me to lose my voice this time of year. It kind of puts a stop to the 24/7 Christmas Karaoke that happens in my house and that is no fun at all.
You might think this is a joke, but seriously…it isn't.
My friend Becca brought me some Homemade Cough Syrup after struggling for a week with this cold. I felt like I had tried everything already and yet nothing was really helping. At this point I was willing to try just about anything so that I could speak without hacking up a lung and breathing didn't feel like so much work.
Let me tell you, this homemade cough remedy is amazing stuff. Becca warned me that it would taste awful. Like, really strong. Honestly, I didn't think it was that bad. It is some seriously strong stuff and pretty hot, but it works!
After just a day of using this natural cough medicine, I'm happy to report that I was back to annoying my kids with my constant Christmas Carol singing.
Homemade Cough Syrup Ingredients
You'll need a few simple ingredients to make this homemade cough syrup and sore throat soother. I bet you have most of them in your spice cabinet already – I only had to buy the fresh lemon juice.
How Does Natural Cough Syrup Work?
Each ingredient in this homemade cough syrup has unique properties to help tackle the symptoms of sore throats and lingering coughs that come with a winter cold.
Apple Cider Vinegar
Apple Cider Vinegar restores the body's pH factor, which becomes more alkaline during a cold. It also helps slow down mucus production and thins mucous. Definitely a necessary ingredient in any homemade cough syrup recipe.
Lemon Juice
Lemon juice is loaded with Vitamin C. It helps the immune system. The lemon juice in this homemade cough syrup also cuts through phlegm, which is usually in abundance during a cold.
Ginger
Ginger is a natural antihistamine. It has anti-immflamatory properties, and relieves chest congestion.
Cayenne Pepper
Cayenne is warming (duh, because it's freaking hot!) and relieves pain. How does cayenne pepper relieve pain when it causes pain because it is hot? The cayenne pepper in this homemade cough syrup relieves pain by suppressing a chemical that carries the pain message to the brain.
Honey
This makes it taste better. As if improving the taste wasn't enough, honey actually has a medicinal purpose in this homemade cough syrup. It helps coat the throat and will draw pus from wounds. Honey also has natural antibacterial and antimicrobial properties.
*Note: it is not recommended to give honey to any child under 1 year of age under any circumstances.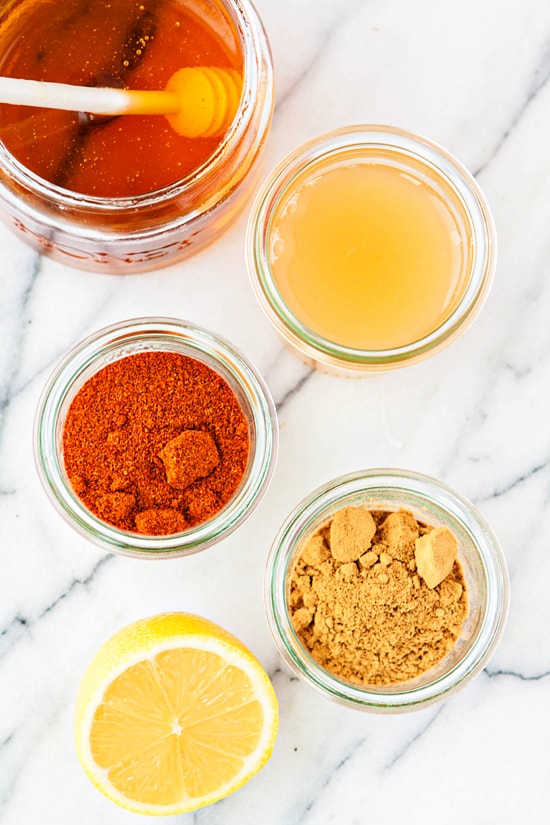 Click HERE to save this recipe for Homemade Cough Syrup to Pinterest!
How to Make Homemade Cough Syrup
The recipe instructions are super simple — combine all the ingredients in a glass jar with a lid and shake it up!
Store it in a jar, like one of these cute Weck Jars, in the refrigerator.
How to Use Homemade Cough Syrup
I found that the best way to use this cough syrup recipe was to put a teaspoon (that's all you really want to use at a time) in a small cup, like a shot glass, and down it in the back of your throat.
This method minimizes the super strong taste when you miss your tongue completely. Your throat is really what you want to coat with this homemade cough syrup — not your mouth, teeth, and tongue.
Then, chase that with a cup full of water.
I usually do a quick teeth brushing afterwards to protect the enamel of my teeth, since the mixture is pretty acidic. This isn't something you want sitting on your teeth all day.
Note: Personal discretion is advised when using this recipe for homemade cough syrup. It is hot and strong. It may not be best for children (or even adults) who have difficulty with the contained ingredients. I did find it very helpful and beneficial in my personal use, however. 
How Long Will Homemade Cough Syrup Last?
To be honest, I'm not sure! I have a big family, and when we're all sick we go through a batch of natural cough medicine in about 2 weeks.
You're probably safe to keep it in your fridge for longer than that since the individual ingredients don't go bad quickly, but I'd advise you to use your best judgement.
Tips for Making Homemade Cough Syrup
Be sure to give this homemade cough remedy a good shake before administering it. You want the ingredients to be properly mixed before taking a dose, otherwise you might not reap all the benefits.
Also note that you shouldn't make ingredient substitutions. If you swap out some of the ingredients, this natural cough syrup may not work.
What are your favorite natural remedies for a cough or sore throat?
Love this recipe for Homemade Cough Syrup?
Sign up for Good Life Eats email updates and never miss another recipe!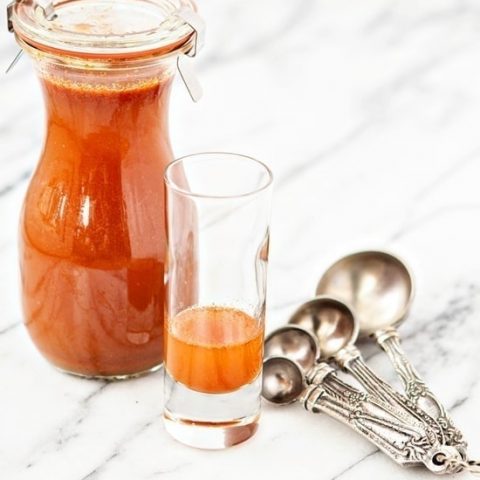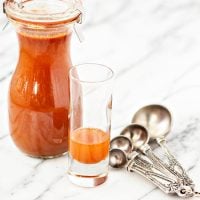 Homemade Cough Syrup
Yield:
about 40 teaspoons
Use this homemade cough syrup as a natural remedy for sore throats and coughs this winter.
Ingredients
1/2 teaspoon cayenne pepper
1/2 teaspoon ground ginger
2 tablespoons honey
2 tablespoons apple cider vinegar
2 T fresh lemon juice
1/2 cup water
Instructions
Combine all of the ingredients in a jar.
Cover with a lid and shake to combine.
Take 1 teaspoon at a time to soothe sore throats and coughs.
Repeat every couple of hours as needed.
Notes
Store in the refrigerator.
Do not give to children under 1 year because it contains honey.
Recommended Products
As an Amazon Associate and member of other affiliate programs, I earn from qualifying purchases.
Nutrition Information:
Yield:

40
Serving Size:

1
Amount Per Serving:
Calories:

4
Total Fat:

0g
Saturated Fat:

0g
Trans Fat:

0g
Unsaturated Fat:

0g
Cholesterol:

0mg
Sodium:

0mg
Carbohydrates:

1g
Fiber:

0g
Sugar:

1g
Protein:

0g
GoodLifeEats.com offers recipe nutritional information as a courtesy and is an estimate only. This information comes from online calculators. Although GoodLifeEats.com makes every effort to provide accurate information, these figures are only estimates.
Be sure to follow Good Life Eats on Instagram. Tag @goodlifeeats and include the hashtag #goodlifeeatsrecipes so I can see what you're cooking up in YOUR kitchen!
Click HERE to save this recipe for Homemade Cough Syrup to Pinterest!
Let me know if you try this recipe and what you think of it by leaving a comment below.