I never buy croutons. I think it's a waste of money and I can make them better at home anyway. The Light Whole Wheat Baguette I baked on Sunday is perfect for homemade croutons. It's already a little dried out and I don't want the last bit to go to waste.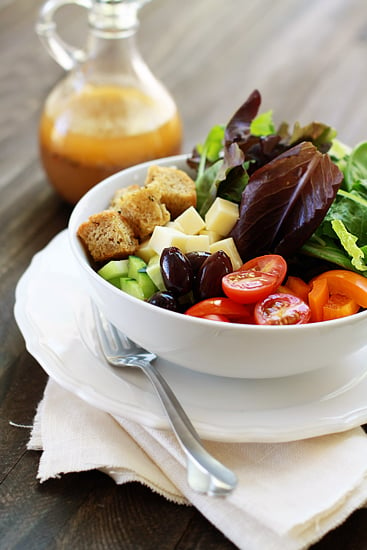 The beauty of making homemade croutons is that you control what is in them. The ingredient quality, lack of preservatives or any other nasties, and the flavor. You don't have to buy several different varieties depending on your mood. Instead, just change up the seasonings.
[print_link]
How To Make Homemade Croutons

1. Start with quality bread for quality croutons. Leftover homemade bread is perfect for this, especially if it is a couple days old. Baguette or French Bread are my favorite choices. If you can't use homemade, use a nice bakery loaf.

2. Cut the bread into 3/4 to 1 inch sized cubes. They won't all be perfect, but try to get them at least close to the same size so the smaller ones don't over-cook while you wait for the larger ones to be done.

3. Drizzle the bread cubes with 1-2 tablespoons of melted butter or olive oil per 2 cups of bread cubes, tossing to evenly coat.

4. Add any seasonings you desire. Some ideas are: salt, pepper, garlic powder, onion powder, fresh herbs (thyme or rosemary are great), or dried herbs (basil or Italian seasoning are great).

5. Bake on a cookie sheet in a preheated 375 degree F oven for 10-20 minutes, or until the bread cubes have reached your desired crunchiness. Stir the croutons every couple of minutes to ensure even browning.

Alternatively you can toast in a toaster oven.
I like them a little crunchier for use in soup since they will soak up a lot of liquid. Less crunchy croutons become soggy faster.

6. Cool completely before storing in an airtight container to maintain freshness and crunch.
[print_link]
Homemade croutons can serve many purposes: garnishing a salad, adding crunch to a big bowl of soup (see: Roasted Red Pepper Soup for an example), or to make stuffing. Do you have any favorite uses for homemade croutons?