We've all been there. The leftovers that stunk up the entire fridge. The funky smell coming from the sink. The lingering smell of nuked lunch in the microwave. The problem is, how to get rid of all those smells without having to get down and dirty. Want to know how I do it? It all involves CITRUS!
QUICK TIPS FOR DEODORIZING YOUR KITCHEN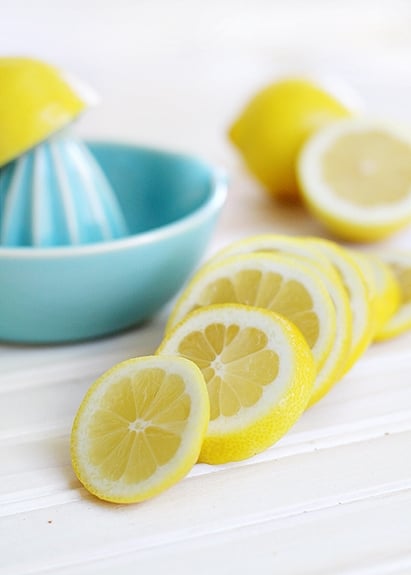 [print_link]
Getting Rid of Kitchen Sink Odors

Lemon, lime, orange, and grapefruit are natural deodorizers and smells so refreshing. Cut up any citrus into wedges, toss down the disposal and grind them up to rid your sink of unattractive odors. The acid in the citrus also helps disinfect the disposal in a natural, safe way.

I reserve any previously zested and/or juiced citrus in a bag in the fridge for this job.
Just because you've zested and juiced the lemon doesn't mean there's no use left.

Microwave Odors

Take those zested and juiced citrus and put them in a medium sized glass bowl. A couple limes, a large lemon, half an orange or grapefruit cut into pieces will do the trick. Then, fill the bowl halfway with hot water. Place the citrus and water (adding a little lemon juice wouldn't hurt either) filled bowl in the microwave, and nuke for 3-5 minutes.

If the odor isn't gone, add an additional minute or two until it smells citrus-y.
It also gets nice and steamy in there so it's easy to clean any spatters off the walls or door with a kitchen towel.
When you're done with the microwave, dump the bowl of citrus down the disposal to deodorize that!

Refrigerator Odors

Place a bowl of cut up citrus in the back of your fridge for a day or two. You can use previously zested and juiced lemons, or a new orange cut up (if you have excess) works as well. The citrus will get rid of the odors, even stinky leftovers!, and leave it nice and fresh smelling.

After a couple days when the smell is gone, then you can deodorize your microwave.
After the microwave, dump it all down the disposal and deodorize the sink. This way it's a 3-in-1!

Garbage Can Odors

What we do as a precaution against yucky smelling kitchen garbage cans is to throw the really stinky stuff in the garage garbage can so we can keep it out of the kitchen. But sometimes, kitchen garbage still gets stinky. The easiest way is to take out the trash!

If a smell still persists, you can toss cut up citrus in the bottom of the new trash bag.
Alternatively, you can sprinkle baking soda in the bottom.
If the can itself smells really bad and not the trash, try wiping the insides of the can with a 4:1 solution of water and lemon juice.
[print_link]