I don't have a lot of kitchen gadgets. Mostly just the basics and a couple more specialized pieces, but the specialized pieces I choose have multiple uses so I'm okay with having them. If I had to pick just one kitchen gadget, it would be a toss up between my Microplane and my Large Scoop. I really love both of these and don't think I could part with either.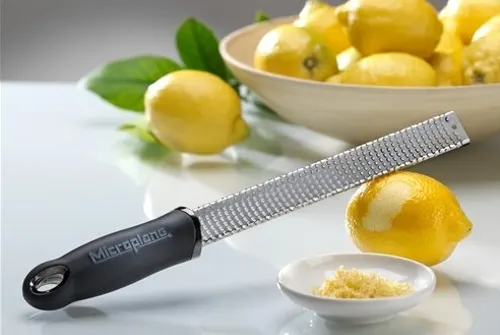 Since I told you one of my favorite ways to use my large scoop last week (see: Kitchen Tip: Trick for Filling Muffin Tins), I thought I'd tell you about my other favorite gadget and all it's tricks this week: the Microplane. If you don't have one, I highly recommend adding one to your gadget drawer. It's worth it to buy the name brand. I've used knock-offs before with not as satisfying results.
The Many Uses of a Microplane:
Grating Garlic – I hate mincing garlic. I'm capable of doing it, but it gets old doing it almost every night when I'm preparing dinner. Grating it on the microplane is super fast.
Grating Hard Cheeses – The Microplane is PERFECT for freshly grating hard cheeses like Parmesan, Asiago, Romano, and more.
Chocolate Shavings – Chocolate shavings are a great way to garnish desserts and it's really simple to make shavings with the microplane. (Examples: see White Chocolate Pudding and Orange Chocolate Chunk Brownies)
Citrus Zest – Zesting citrus with a microplane is a great way to get off the satisfying flavor from the peel of the fruit without the bitter pith. I love to add zest (lemon, lime, orange, grapefruit) to dishes and baked goods for extra flavor.
Fresh Coconut – If you want freshly shredded coconut, the microplane is your tool also!
Fresh Ginger – Instead of chopping or mincing ginger, I peel the skin off and grate it into a nice fine pulp with my microplane.
The method is the same for all of these uses. Just rub whatever it is you want to grate along the top of the microplane, just as if you were grating cheese. So simple – hardly any work at all!
Do you have any other favorite uses for a Microplane?