Baking soda isn't just for baking. Read on to learn about the many uses for baking soda in this kitchen tip!
Baking Soda is such an amazing thing.
There are so many uses for it beyond it's most common use as a chemical leavener in baked goods.
So I thought I'd that for this week's kitchen tip I would share share some of my favorite uses for baking soda.
Take my advice and don't fuss with buying a small box of baking soda next time you're out.
If available in your area, a 13 lb. bag of baking soda (purchased at my Costco) is much more cost effective.
Thinking "what could I possibly need 13 lbs. of baking soda for?"
Think again!
Baking Soda is a great household product for all sorts of reasons.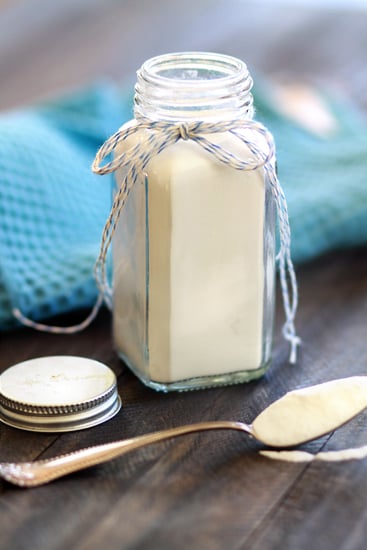 My Favorite Uses for Baking Soda (besides in baking)
Deodorizing
Baking soda is great to help get ride of bad smells.
A few of my favorite ways to deodorize with baking soda are:
For a stinky refrigerator, place a bowl of baking soda on one of the shelves.
For Trash cans, liberally sprinkle baking soda on top of the smelly trash.
Personal Hygiene
Baking Soda works well as a substitute for several other personal hygiene products.
For a gentle facial exfoliant, keep a small tupperware of it in your shower for radiant skin.
Swish and gargle 1 teaspoon with a glass of water to freshen your breath and relieve canker sores.
Use as a toothpaste substitute. It also helps remove stains and whitens your teeth naturally.
Relax and enjoy a detox bath using baking soda. Learn How to Take a Detox Bath and try this recipe for Lavender Eucalyptus Green Tea Detox Bath Salts
Laundry Additive
For brighter, fresher clothes, I always add 1/2 cup of baking soda to my laundry.
Adding baking soda to laundry really helps keeps whites looking whiter and brights looking clean and fresh.
It also helps remove grease stains and bad odors from clothing, plus it is a natural fabric softener!
Dirty Dishes
Baking soda helps get the job done when you're faced with really dirty dishes.
Sprinkle the broiler pan with heavily with baking soda, then top with a wet paper towel. Let soak for 30 minutes, then clean as usual. This also works well on BBQ grills.
Sprinkle the bottom of your dishwasher with baking soda and then run as usual to reduce odor build up.
Homemade Baking Powder
Out of baking powder?
Make your own using 2 parts cream of tartar to 1 part baking soda and 1 part cornstarch
From My Friends
I asked a few of my friends what their favorite uses for baking soda were because I knew they'd think of some good ones that weren't on my list.
Here's what they had to say:
Shaina: Making volcanoes and soda bottle rockets with the kids. Put it on insect bites. Underarm Deodorant.
Cheryl: Scouring my sink. I also make a paste with vinegar and put it on insect bites.
Kristan: I only like baking soda to bake…I'm so boring. (you are NOT)
Jamie: To absorb carpet spills…for example, if someone spills soda we blot up the area, spray with water, and shake on baking soda. It will lift the stain, once it dries, you simply vacuum it up and rub the area a bit.
What are some of your favorite uses for baking soda?