Easy Pumpkin Custard from Pam Anderson
Picture this. It's eight years ago. I am a bride to be and I'm meeting my in-laws for the first time.
It's a rainy Thanksgiving day in Washington and my soon to be Mother-in-Law has just prepared the BEST.TURKEY.EVER.
It has amazing, juicy flavor and the breast meat isn't dry at all. I think to myself, "where has this turkey been all my life?"
I know someday, probably sooner than I realize, I will be the one making a turkey. And I'll want it to taste exactly like that.
So I email my Mother-in-Law and ask how on Earth that delicious turkey was created. And this is the response I get:
Pam Anderson recommends buying a 10-12 pound turkey and using a V-rack in your roaster. Adjust oven rack to lowest position and preheat to 400 degrees. Place turkey, breast side down, on V-rack. Brush back and sides with melted butter. Roast for 45 minutes.

Baste the turkey with drippings. Turn the turkey on its side. Brush exposed area of turkey with pan drippings. If broth has evaporated, add 1/2 c more. Return to oven and roast for 20 minutes. Remove turkey and turn to other leg/wing side.

Baste with the pan drippings. Add broth if necessary. Roast for 20 minutes. Remove turkey and turn breast-side up. Baste. Roast 35-55 minutes longer, until meat thermometer inserted in breast registers 160-165 degrees and the leg/thigh registers about 170. Check to make sure broth has not totally evaporated, allowing the herbs to burn. Transfer turkey to platter let rest 20-30 minutes.

Pam Anderson says that the brining process makes frozen turkeys taste as good as fresh. Her roasting method creates even browning and prevents the breast from drying out.
Little did I know that THAT Pam was from Three Many Cooks who I would one day meet at a blogging conference (what the heck was a blog, anyway?). Well, THAT Pam has done it again.
Her latest book, Perfect One-Dish Dinners: All You Need for Easy Get-Togethers, is full of delicious and simple recipes for low-stress entertaining. Recipes just like this Easy Pumpkin Custard, which would be a wonderful addition to your Thanksgiving table.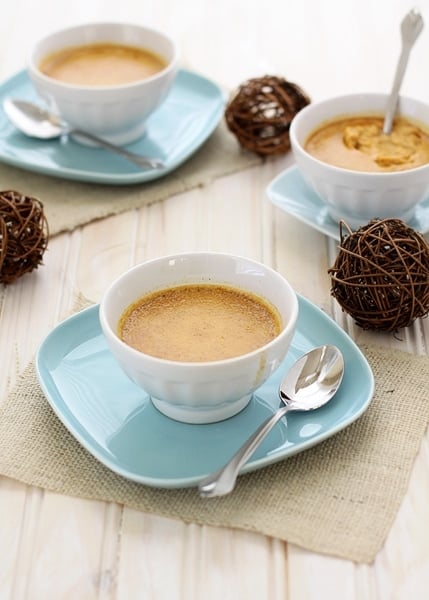 Looking for more Pumpkin Recipes?
Be sure to check out these 25 Pumpkin Recipes to Try this Fall – So, if like me, you have a pumpkin hoarding problem you now have a very good excuse. I've just shared my favorite Pumpkin Recipes for you to try this fall.
Pumpkin Custards with Ginger and Cinnamon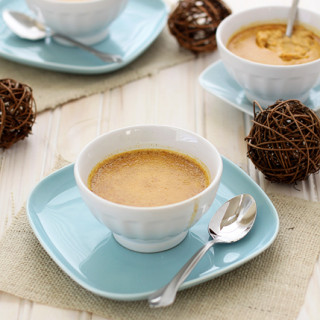 Ingredients:
1/2 cup pure pumpkin puree
1/2 teaspoon ground ginger
1/2 teaspoon ground cinnamon
1/2 cup packed dark brown sugar
2 cups evaporated milk
1 large egg plus 2 egg yolks
Directions:
Bring 1 quarter water to boil for a water bath. Set eight 6-ounce custard cups in two 8-inch square pans. Adjust the oven rack to the lower-middle position and preheat to 325 degrees.
Heat pumpkin, ginger, and cinnamon in a medium saucepan over medium heat until puree sputters and flavors intensify, about 3 minutes. Whisk in brown sugar and evaporated milk. Bring to a simmer.
Meanwhile, whisk egg and yolks in a medium bowl. Gradually whisk hot-pumpkin mixture into the eggs, then pour into custard cups. Set pans in oven and carefully pour enough water in the pan to come halfway up the sides of the cups.
Bake until the custards are set, about 30 minutes. Remove custard cups from the baking dish and cool slightly. Lay plastic wrap directly over each custard to prevent a skin from forming. Chill until ready to serve.
Did you love this post?
Sign up for Good Life Eats email updates and never miss another update!