This recipe for Pumpkin Cobbler is an easy dessert that is perfect for fall!
Have you ever felt that you're so utterly engrossed in the task at hand that nothing could distract you? As a mom, I know better. It's a rare occasion that I'm not interrupted at least once when I'm busy doing whatever it is I'm busy doing.
Even the mundane things. It's hard to not be annoyed by the disruption, and I'll be honest: I almost always fail in the not being annoyed (at least internally) department.
I know I'm not the only mom out there feeling like if she could just not be interrupted that she'd get whatever thing it is done a million times faster.
Okay, maybe more like a dozen times faster. It's just a rule: interruption happens and mom's plans are messed with.
Sometimes…you are interrupted for a very, very good reason. Minding my own business, making a pumpkin cobbler that I've been dreaming about oh for the past week or so and I hear that cry. That cry that means something is terribly wrong.
The terribly wrong thing being that Madeline flew off the glider of our swing set and hit her head on the wood boarder that surrounds the play area.
(For the sake of any finger pointers out there, yes she was absolutely 100% supervised by an adult. In a freak accident she tried to get off while the glider was still swinging. If you're a parent, you know, that sometimes things like this just happen no matter how careful you are, and when they do – it's heartbreaking.)
So, we spent the evening in the ER as suggested by the nurse at our pediatrician's office. We didn't want to take any risks. She hit her head pretty hard and seemed a bit confused.
When I hear talk of x-rays and CAT scans, I can't think of anything other than: how in the world did we get here tonight? and…I hope we don't catch whatever bug everyone else has that is in here sick.
In the end she turned out to be just fine. Her pupils were very responsive, she wasn't bleeding, no bones were broken, and after a little time in our room in the ER she was back to her normal happy, bubbly self and she didn't need any crazy scans.
It could have been 10 times worse, but we were so lucky!
Now, where were was I? The pumpkin cobbler, that's right. It didn't make it for dessert that night as planed. Heck, we didn't even eat dinner until after 8 pm by the time the partially started Chicken Pot Pie was out of the oven.
Kids were even in bed before dinner was ready, so we weren't really thinking about dessert. But it sure did make a good breakfast the next morning. And this time it was really dessert for breakfast, not just breakfast that tastes like dessert.
looking for more pumpkin recipes?
Be sure to check out these 25 Pumpkin Recipes to Try this Fall – So, if like me, you have a pumpkin hoarding problem you now have a very good excuse. I've just shared my favorite Pumpkin Recipes for you to try this fall.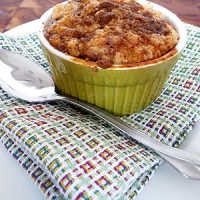 Pumpkin Cobbler
This recipe for Pumpkin Cobbler is an easy dessert that is perfect for fall!
Ingredients
For the pumpkin:
15 oz. pumpkin puree
1 cup milk
2 eggs
2/3 cup brown sugar
1/2 tsp vanilla
1/2 tsp cinnamon
1/4 tsp allspice
1/8 tsp nutmeg
For the crumble/cobbler topping:
1 1/3 cup flour
3/4 teaspoon baking powder
1/4 cup brown sugar
1/2 tsp lemon zest
8 Tbs butter
1 egg yolk
For the streusel:
2 Tbs flour
1/4 cup brown sugar
1/4 tsp cinnamon
1/8 tsp allspice
dash nutmeg
2 1/2 Tbs cold butter, cut into bits
Instructions
Preheat oven to 400 degrees F. Grease 8 individual sized ramekins, set aside.
For the pumpkin:
In a medium sized bowl, whisk the pumpkin, milk and egg together.
Stir in the sugar, vanilla, and spices until well combined.
Divide evenly among the 8 ramekins. Set aside. Rinse bowl.

For the topping:
In the same, now rinsed bowl, sift together the flour, baking powder, and sugar. Stir in the zest.
Melt the butter. Whisk the egg yolk into the melted butter and pour the mixture into the dry ingredients.
Stir with a fork until well combined and pea sized crumbs are formed.
Divide this mixture evenly among the 8 ramekins, topping the pumpkin with the cobbler topping.

For the streusel:
In the same bowl, stir together the flour, brown sugar, cinnamon, and allspice.
Stir in the butter until coated with the mixture and small bits are formed. You can also use a pastry cutter to help with this.
Sprinkle on top of the topping in the 8 ramekins.
Place all the ramekins a top a baking sheet.
Bake on the center rack in the oven for 20-30 minutes, or until the mixture is set through and slightly browned on top.
Cool 5 minutes before serving.
Optionally, you can serve this with a dollop of vanilla ice cream or whipped cream.
Recommended Products
As an Amazon Associate and member of other affiliate programs, I earn from qualifying purchases.
Nutrition Information
Yield

8
Serving Size

1
Amount Per Serving
Calories

378
Total Fat

18g
Saturated Fat

11g
Trans Fat

1g
Unsaturated Fat

6g
Cholesterol

112mg
Sodium

211mg
Carbohydrates

50g
Fiber

2g
Sugar

28g
Protein

6g
GoodLifeEats.com offers recipe nutritional information as a courtesy and is an estimate only. This information comes from online calculators. Although GoodLifeEats.com makes every effort to provide accurate information, these figures are only estimates.