My sister just moved to Boulder.
We live near each other for the first time since I was still living at home and in high school.
Within a week of her moving here we celebrated her birthday.
Naturally, Chocolate Pumpkin Cheesecake was in order. There were definitely things to celebrate!
Allie said she wanted something chocolate-y.
I'm no good at layer cakes, which is why you've never seen one on GoodLife Eats.
She didn't feel like cupcakes.
Maybe pie?
Then I thought…cheesecake.
With chocolate.
And Pumpkin.
Yep, that sounded just about right.
This cheesecake won over Eric, who before has confessed that he really doesn't like cheesecake.
As evidenced by two slices in one evening I think it is safe to say he's changed his mind.
A winner all around, this will be gracing our Thanksgiving table for sure!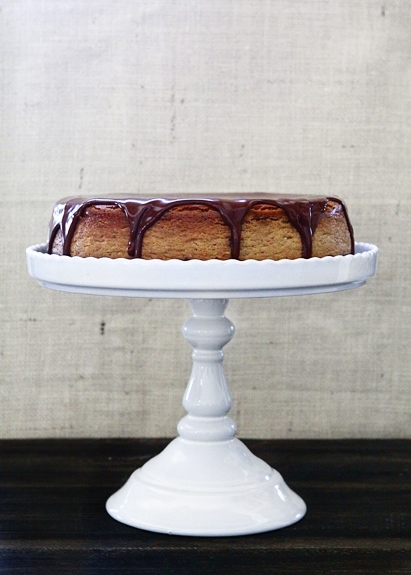 Pin this recipe for Chocolate Pumpkin Cheesecake to Pinterest!
Cheesecake can sometimes feel like a tricky thing.
They take forever to bake, and require a lot of cream cheese, but overall I feel like they are much less intensive than a layer cake despite the rather long looking directions.
Here are a few tips to ensure you are perfectly satisfied when you bake this Chocolate Pumpkin Cheesecake.
4 Tips for the Perfect Cheesecake
Room Temperature Ingredients
It is best to bring the ingredients to room temperature before beginning recipe preparations.
To do this, set the eggs, heavy cream, and cream cheese out on the counter 30 minutes before beginning.
Don't Over Mix the Ingredients
Cheesecake doesn't rely on air being beaten into the batter like flour based cakes.
Room temperature ingredients will help the filling for this Chocolate Pumpkin Cheesecake come together quickly and easily without over beating.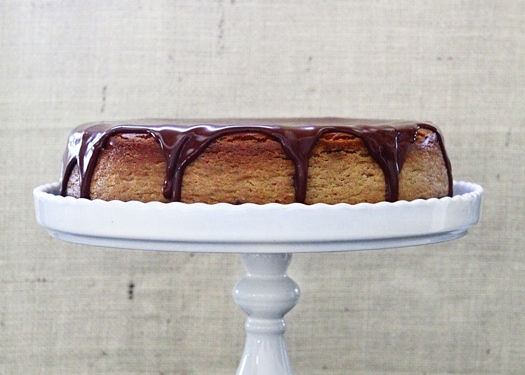 Pin this recipe for Chocolate Pumpkin Cheesecake to Pinterest!
Cook Slow, Cool Slow
Cheesecakes can form cracks in their tops when cooked or cooled too quickly.
To minimize cracking, I prefer to allow the cheesecake to slowly cool inside the oven rather than making a shocking transfer from hot oven to cool counter top.
Additionally, resist the urge to open the oven while the cake is baking.
Use a Hot, Clean Knife to Cut
Cheesecake can really gunk up a knife when cutting, making it difficult to cut clean and precise slices.
I rinse the knife in hot water after each slice I cut of this Chocolate Pumpkin Cheesecake.
The heat helps the knife pass quickly and easily through the rich cheese while rinsing it after each slice keeps the knife cutting sharp and precise.
Looking for more Pumpkin Recipes?
Be sure to check out these 25 Pumpkin Recipes to Try this Fall – So, if like me, you have a pumpkin hoarding problem you now have a very good excuse. I've just shared my favorite Pumpkin Recipes for you to try this fall.
What is your favorite dessert for celebrating birthdays?
Love this recipe for How to Make Easy Homemade Turkey Stock?
Sign up for Good Life Eats email updates and never miss another recipe!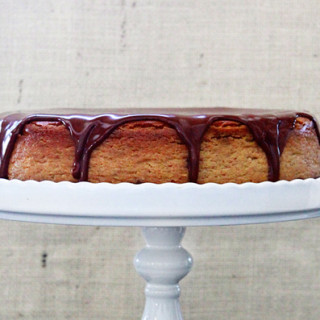 Chocolate Pumpkin Cheesecake
Yield:
serves about 14 - 18
Cook Time:
1 hour
40 minutes
Total Time:
10 hours
10 minutes
I love making cheesecakes because even though they bake a while and have to cool all the way through, they are really easy to put together. This chocolate pumpkin cheesecake is the perfect fall dessert.
Ingredients
For the Chocolate Crust:
6 ounces chocolate graham crackers or Teddy Grahams
1/4 cup sugar
6 tablespoons (3/4 of a stick) butter, melted
For the Pumpkin Cheesecake Filling
4 8-ounce packages cream cheese, room temperature
1 1/2 cups organic whole cane sugar
3 large eggs, room temperature
1 15-ounce can pure pumpkin
1 cup whipping cream, room temperature
2 teaspoons vanilla extract
2 teaspoons ground cinnamon
1 teaspoon ground ginger
1/2 teaspoon ground nutmeg
1/2 teaspoon ground allspice
1/4 teaspoon ground cloves
For the Chocolate Ganache:
1/2 cup heavy cream, room temperature
4 ounces dark chocolate, chopped
Instructions
For the Chocolate Crust:
Place the rack in the center position of the oven. Preheat the oven to 325 degrees F. Wrap the bottom and up the sides on the outside of a 10-inch springform in a double layer of heavy-duty foil.
In a food processor, combine the sugar and chocolate graham crackers. Grind until the crackers are very fine. Slowly stream the melted butter in while pulsing the food processor on button. Pulse just until the crackers begin to come together with the butter.
Press the cracker mixture into the bottom of a 10-inch springform pan. You do not need to go up the sides. Bake for 10 minutes, then remove and cool. Set aside while preparing the filling.
For the Pumpkin Cheesecake Filling:
Add the cream cheese and the sugar to the bowl of a stand mixer. Beat using medium speed until light and fluffy. Scrape the sides as needed. Add the eggs, 1 at a time, beating in between additions. Then add the pumpkin puree, whipping cream, vanilla, and spices. Beat the mixture just until blended.
Pour the pumpkin mixture into the prepared crust. Place the prepared springform pan in the center of a large roasting pan. Add enough water to come halfway up sides of pan.
Transfer the springform pan to the center rack of the oven. Bake the cheesecake at 325 degrees F until the outside of the cheesecake is set but the center is still slightly loose, about 1 hour and 30 minutes - 1 hour and 45 minutes.
Turn the oven off, crack the door slightly ajar, then close and allow to cool until the oven has come to room temperature - about an hour.
Then carefully, remove from the roasting pan and cool on a rack to room temperature. Run a knife around the edges of the pan, cover and refrigerate the cheesecake at least 8 hours or overnight.
For the Chocolate Ganache:
After the cake has chilled, prepare the chocolate ganache. Depending on your personal preference you may choose to double the amount of chocolate ganache prepared.
Place the chopped dark chocolate into a medium mixing bowl. Set aside. Then, pour the cream into a small saucepan and warm over medium-low heat until bubbles begin to form along the edges and the cream is hot. Do not bring to a boil.
Pour the hot cream into the bowl with the chopped chocolate and allow to sit while the chocolate melts. Whisk using a small wire whisk to combine until smooth. Pour the ganache over the cheesecake. Let sit until the ganache has cooled.
Recommended Products
As an Amazon Associate and member of other affiliate programs, I earn from qualifying purchases.
Nutrition Information
Yield

18
Serving Size

1
Amount Per Serving
Calories

418
Total Fat

29g
Saturated Fat

17g
Trans Fat

0g
Unsaturated Fat

9g
Cholesterol

105mg
Sodium

236mg
Carbohydrates

36g
Fiber

1g
Sugar

29g
Protein

6g
GoodLifeEats.com offers recipe nutritional information as a courtesy and is an estimate only. This information comes from online calculators. Although GoodLifeEats.com makes every effort to provide accurate information, these figures are only estimates.
Be sure to follow Good Life Eats on Instagram. Tag @goodlifeeats and include the hashtag #goodlifeeatsrecipes so I can see what you're cooking up in YOUR kitchen!
Did you make this recipe? I'd love to hear what you thought! Leave me a comment below.