Allison of Some the Wiser is treating us to this Dark Chocolate Chip Pumpkin Cookie recipe today.
Pumpkin is one of my favorite parts of fall.
I can vouch for the deliciousness of these soft pumpkin cookies because Allison shared them at the park with us this past Monday.
Welcome, Allison!
Today it finally feels like fall in my corner of the world.
I woke up to grey skies and the sound of rain.
I knew as soon as my feet hit the chilly wood floor that today was going to be a baking day.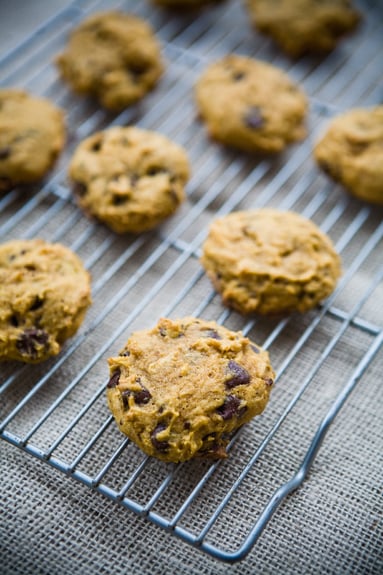 When the temperature outside starts dropping, I start thinking of ways to invite warmth indoors.
A hot oven is at the top of my list.
Since today felt like the first real day of Autumn, with the cooler weather and the first appearance of yellow leaves in my yard, I pulled out the pumpkin recipes.
I know that there are so many fine squashes out there.
Butternut, Kobocha, and Acorn are some of my favorites.
But this time of year, pumpkin has a special place in my heart.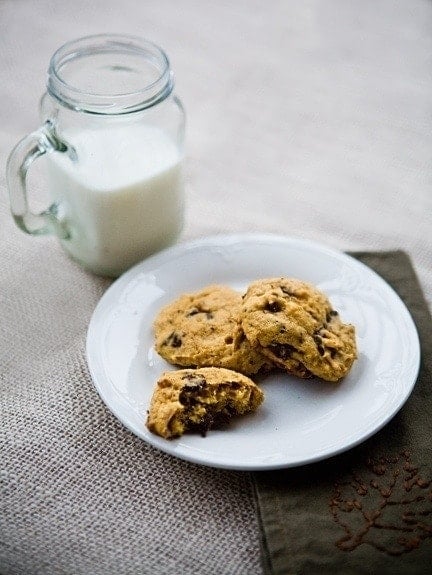 This Dark Chocolate Chip Pumpkin Cookie recipe is a tried and true favorite.
It is a family recipe, passed along from kitchen to kitchen, that has only improved with time.
When you use a high quality pumpkin puree (I like to use homemade pumpkin puree, but in a pinch you can't beat canned pumpkin!) and some good dark chocolate, these Dark Chocolate Chip Pumpkin Cookies are a perfect Autumn treat.
More Pumpkin Fall Favorite Recipes:
Looking for even more Pumpkin Recipes?
Be sure to check out these 25 Pumpkin Recipes to Try this Fall – So, if like me, you have a pumpkin hoarding problem you now have a very good excuse. I've just shared my favorite Pumpkin Recipes for you to try this fall.
What are some of your favorite things about Autumn?