Pumpkin Chocolate Chip Cookie S'mores combine two of our family's fall favorites – pumpkin cookies and roasted marshmallows for a tasty Halloween treat!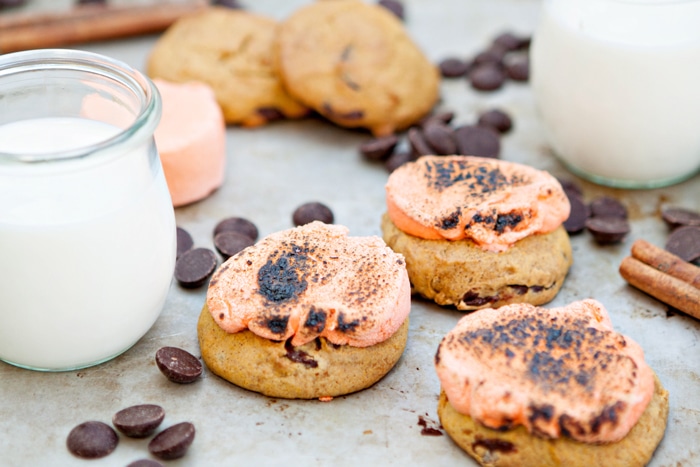 I was compensated by Campfire® Marshmallows for my time in developing this recipe and post. All opinions are my own. I love that these marshmallows are allergy-friendly.
It's fall, so we've been full swing baking up pumpkin spice flavored treats the last couple of weeks. One of my favorites this time of year is Pumpkin Chocolate Chip Cookies. I love the pairing of pumpkin, cinnamon, pumpkin pie spic, and dark chocolate together.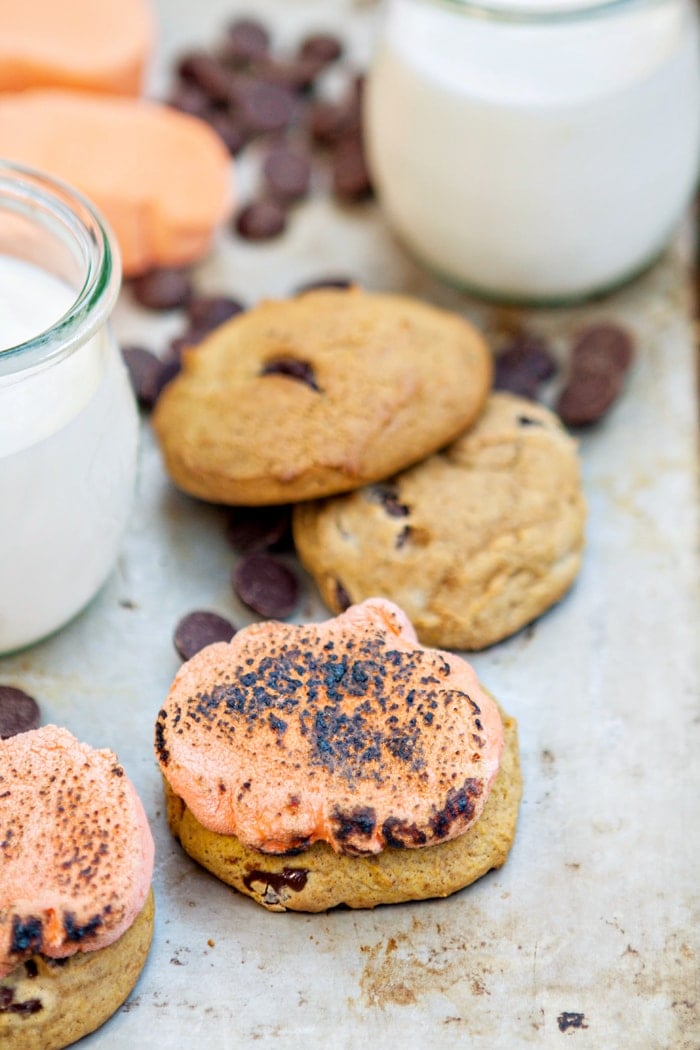 Another one of our fall favorites things is to make S'mores. You might normally think of S'mores and roasting marshmallows as a summer activity, but a few years ago our street became pretty active with having block parties and impromptu S'more roasting get togethers during the fall, easily one of my favorite memories and activities while we lived there.
It was one of those activities that made it easy for me to start socializing and getting to know people again after all of the stress and change of going through a divorce. I felt like there was always something going on outside, especially when I was alone during the weekends my kids were gone, when I needed to get out of the house and enjoy some adult interaction. I started laughing and having a lot more fun again – many of those times it was around a fire pit on a neighbor's driveway or back deck with a s'mores roaster in my hand.
I remember about about 2 years ago, receiving a big huge box of marshmallows from Campfire® Marhsmallows for an upcoming recipe post and discussing with my neighbors what I was going to do with the marshmallows for my recipe post.
I ended up making these Mini Sweet Potato Tarts with Gingersnap Pecan Crust and Toasted Marshmallows, which was actually my second recipe attempt for the post. The first idea I had was a total bust and I wasn't sure if it was because it was a bad idea or simply because every time I was working on developing it I had a pack of neighbor kids running through the house with my own kids…some of which turned out to be my new step kids just two years later.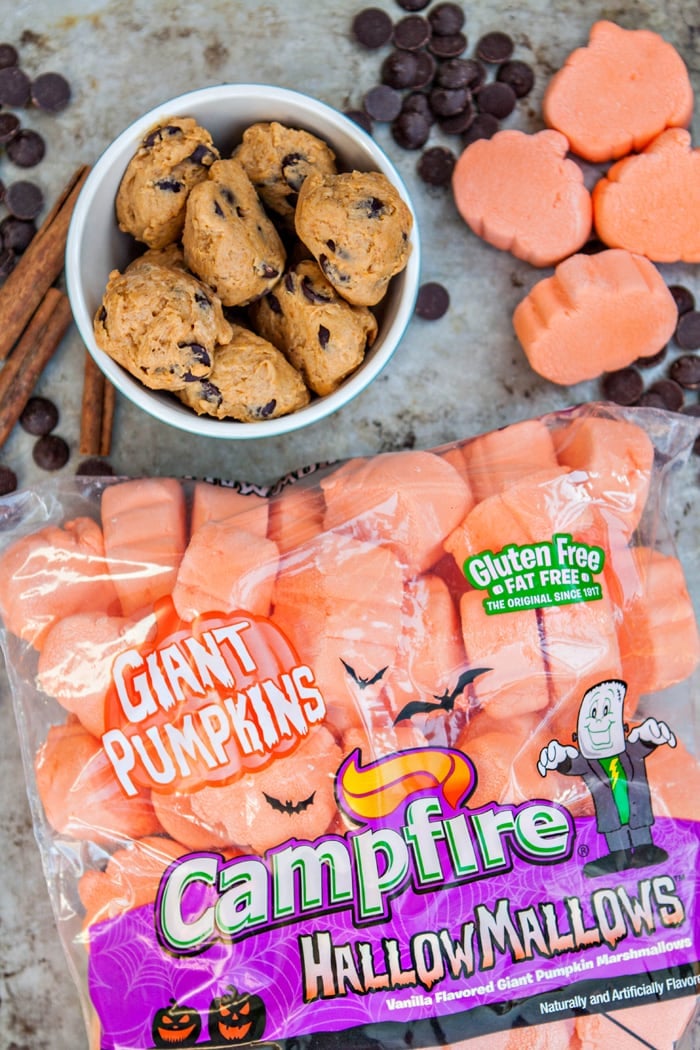 After I posted the recipe I had tons of leftover marshmallows, so we got together one Saturday evening on someone's driveway with a fire pit, graham crackers, chocolate bars, and lots and lots of marshmallows.
We hung out outside chatting, staying warm by the fire, stuffing our faces with freshly made S'mores and sipping hot chocolate and cider until it the fire was dying and it was too cold to be outside. Them, I discovered at a pretty late hour that Logan had mistakenly closed our garage while all the doors in the house were locked.
My two kids ended up spending the night with friends across the street because it was already so late. A locksmith eventually came since the garage door code never worked and not a single window or door was unlocked. One of my neighbors, Caroline, even climbed up a ladder to check the second story windows on the off chance that one of the kids left a window unlocked. We had no such luck!
Kevin, being the handy single neighbor friend that he was, installed a new garage door code panel the following week so I'd never have to worry about getting locked out of my house again. He didn't just install the garage door code panel, because when removing the old until he found it was never painted underneath. Then, he proceeded to sand the whole frame of my garage door opening, repaint it, and install the code panel…all so it would look right.
It's a night we still laugh about. Some of my favorite memories happened on that street. And as excited as I am about our new house – we close on Halloween! – I'm uncertain and a little nervous that we won't make the same great connections with neighbors and form fun, new traditions with the people we'll live near.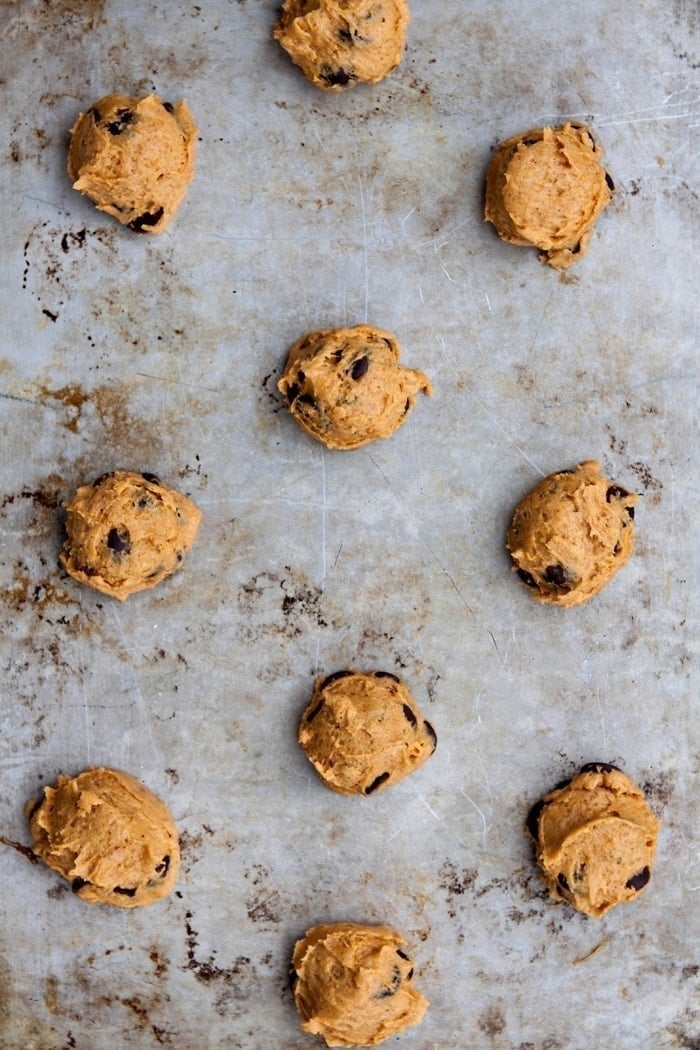 Even though we've only moved about 5 minutes away, I am missing these impromptu fall get togethers. We still see our friends and old neighbors periodically, but it is pretty different when you aren't living right across the street anymore.
You no longer naturally congregate with the rest of the adults out front after dinner while the kids play. It has to become more deliberate when you get together, and it sometimes isn't always as easy to plan and schedule as it is when you live in such close proximity.
Between my love of all things pumpkin, missing the dynamics of our old neighborhood street, and feeling a little disconnected from my friends over there, I decided to make some Pumpkin Chocolate Chip Cookie S'mores – combining two things that I love so much this time of year.
I tweaked this Dark Chocolate Chip Pumpkin Cookie just a tad, adding some extra Pumpkin Spice Flavors and extra chocolate so the cookies would be really chocolate-y just like S'mores. Then, I roasted these adorable pumpkin shaped HallowMallows from Campfire® Marshmallows and pressed them on top of the freshly baked cookies. How cute are these pumpkin shaped marshmallows? I didn't think anything was more perfect to use for a Pumpkin Chocolate Chip Cookie S'more than a pumpkin shaped marshmallow.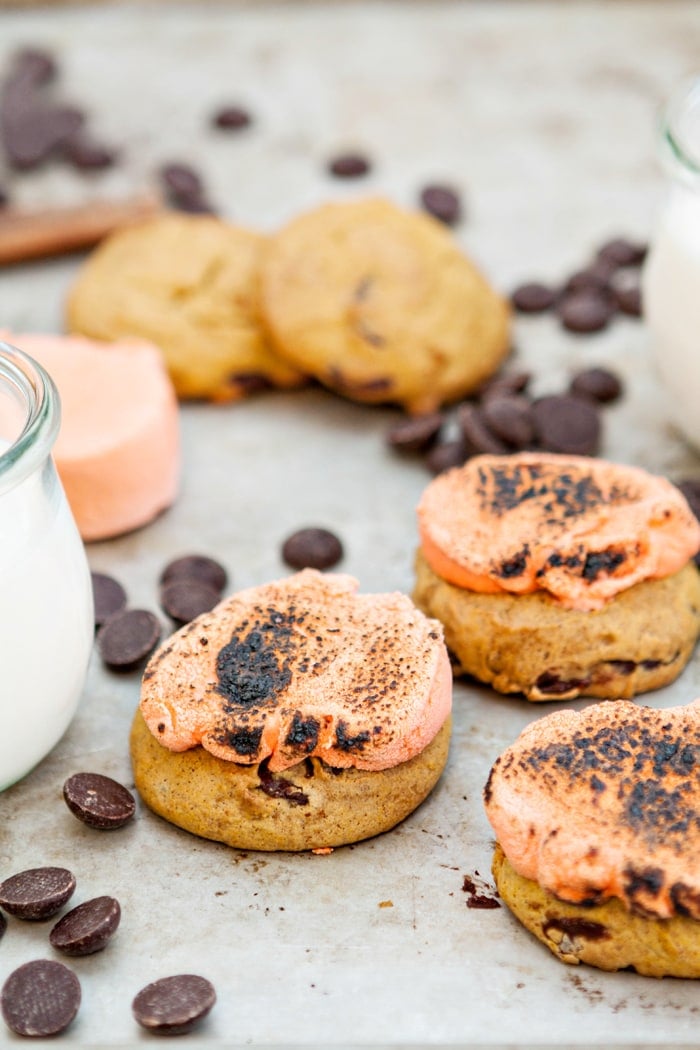 I don't think I know a kid who wouldn't like these adorable, seasonal cookies. It is so fun to make something that is normally a campfire food on just a normal, typical day for a special dessert treat. And since you have to roast the marshmallows, it is the perfect family fun activity.
If you can't find pumpkin marshmallows, you can definitely use traditional white marshmallows instead. This is what the cookies will look like then…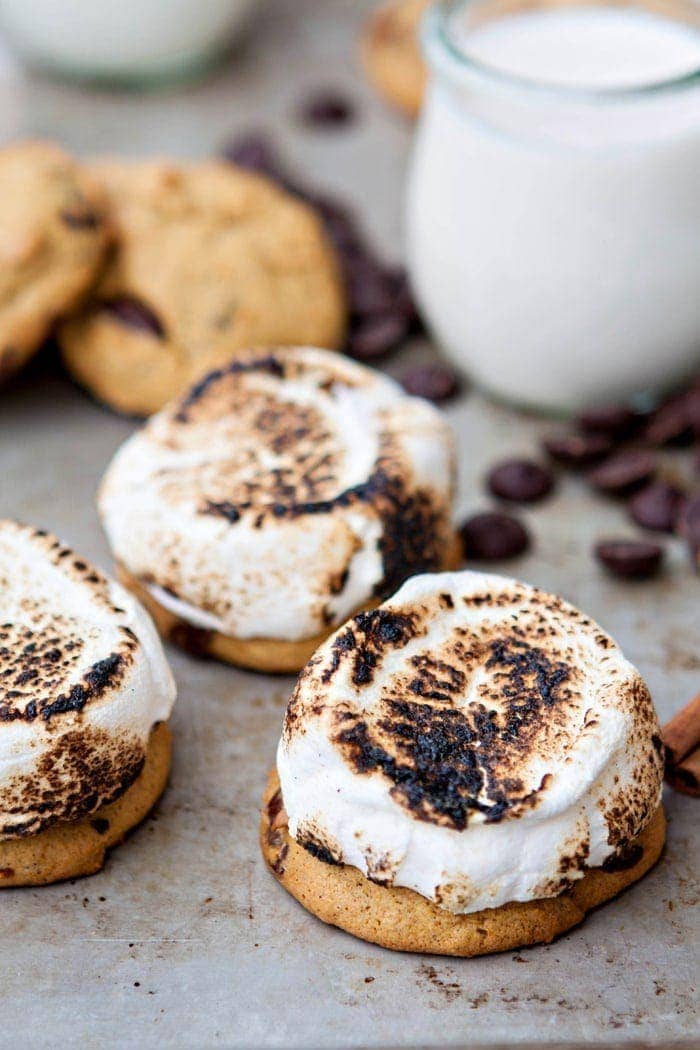 Looking for more Pumpkin Recipes?
Be sure to check out these 25 Pumpkin Recipes to Try this Fall – So, if like me, you have a pumpkin hoarding problem you now have a very good excuse. I've just shared my favorite Pumpkin Recipes for you to try this fall.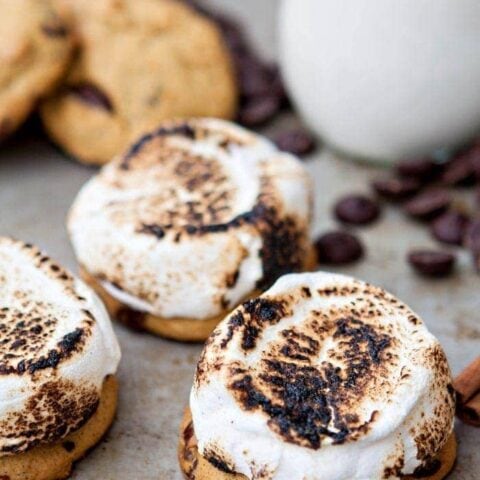 Pumpkin Chocolate Chip Cookie Smores
Pumpkin Chocolate Chip Cookie Smores combine two of our family's fall favorites - pumpkin cookies and roasted marshmallows for a tasty Halloween treat!
Ingredients
2 1/2 cups flour
1 1/4 teaspoon cinnamon
1/2 teaspoon pumpkin pie spice
1 teaspoon baking powder
1 teaspoon baking soda
1/2 teaspoon salt
1 cup pumpkin puree
1 cup sugar
1/3 cup brown sugar
1 egg
1/2 cup butter, softened
1 teaspoon vanilla
2 1/2 cups dark chocolate chips
12 HallowMallows from Campfire® Marshmallows, sliced in half
Instructions
In a medium-sized mixing bowl, combine the flour, cinnamon, pumpkin pie spice, baking powder, baking soda, and salt. Using a wire whisk, stir the dry ingredients well until they are evenly incorporated. Set aside while you prepare the wet ingredients.
In a large mixing bowl, combine the pumpkin puree, granulated sugar, brown sugar, egg, vanilla, and softened butter. Using a hand mixer fitted with the manufacturer's beaters, mix the ingredients over medium speed until well incorporated and evenly combined, making sure to scrape the sides of the bowl periodically with a rubber spatula.
Turn the hand mixer off and scrape the excess ingredients off of the beaters and put them back in the bowl. Add the dry ingredients and the chocolate chips. Stir with a wooden spoon until well combined, making sure to scrape the sides and evenly mix without over mixing. Cover the bowl containing the prepared cookie dough with plastic wrap and chill for 1 -2 hours, until it begins to firm up.
Preheat the oven to 350 degrees F. Line a baking sheet with parchment paper.
Drop cookie dough on the prepared baking sheet, approximately 2 tablespoons per cookie, spread 2 inches apart from each other. This will take multiple cookie sheets and baking periods if you choose to bake all the cookies at once.
Bake the cookies at 350 degrees for 10 - 15 minutes. Remove from the oven, and let cool until they are warm to the touch.
Meanwhile, roast the marshmallows to your desired gooeyness and brownness. I like them golden brown, gooey and with a bit of char on them.
Place the roasted marshmallows on top of the pumpkin chocolate chip cookies. Serve.
Recommended Products
As an Amazon Associate and member of other affiliate programs, I earn from qualifying purchases.
Nutrition Information
Yield

24
Serving Size

1
Amount Per Serving
Calories

226
Total Fat

10g
Saturated Fat

6g
Trans Fat

0g
Unsaturated Fat

3g
Cholesterol

19mg
Sodium

156mg
Carbohydrates

32g
Fiber

2g
Sugar

20g
Protein

3g
GoodLifeEats.com offers recipe nutritional information as a courtesy and is an estimate only. This information comes from online calculators. Although GoodLifeEats.com makes every effort to provide accurate information, these figures are only estimates.