If you like cherry and chocolate, you should definitely add these Chocolate Cherry Cordial Thumbprint Cookies to your Christmas baking list!
Our latest Christmas Cookie experiment was this recipe for Chocolate Cherry Cordial Thumbprint Cookies.
I won't deny it.
I love all the sweets this time of year!
It is one time where it is perfectly acceptable to bake cookies and whip up a batch of caramels within days of each other.
And then wash it down with a cup of hot cocoa or spiced cider.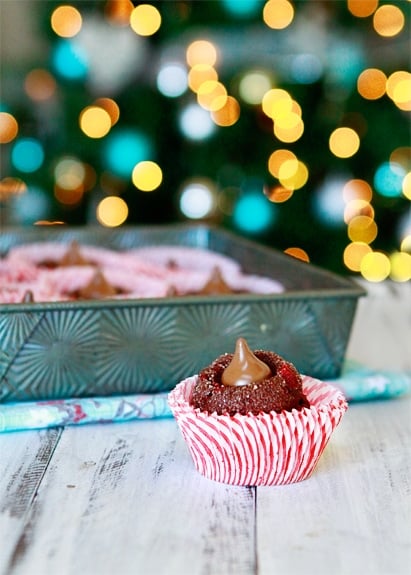 For these Chocolate Cherry Cordial Thumbprint Cookies I originally had Chocolate Thumbprint Cookiess with jam centers in mind.
During a stroll down the Christmas Candy aisle at Target I was reminder how much our family loves the Cherry Cordial Hershey's Kisses – a special flavor available seasonally for Valentine's Day and Christmas.
Of course I tossed a bag or two into the cart.
Then on Pinterest I saw this fun recipe for Cherry Chocolate Kisses.
I decided to combine the two ideas to create a Chocolate Cherry Cookie with a Cherry Chocolate Kiss in the center.
The result was delicious!
These Chocolate Cherry Cordial Thumbprint Cookies are now a family favorite for Christmas.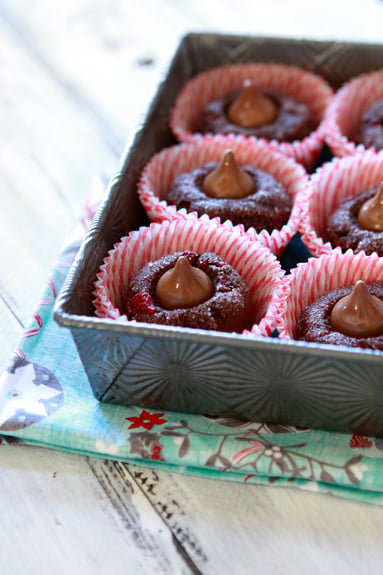 Flavor Customizations for Chocolate Thumbprint Cookies
If you don't like cherries or can't find this seasonal kiss flavor from Hershey's you can totally customize the recipe.
Or maybe you just feel like making some other flavors along with these Chocolate Cherry Cordial Thumbprint Cookies.
Really, you can put whatever you want in the center of the thumbprint, but here are a few ideas.
Candy Cane Chocolate Thumbprint Cookies
Add crushed candy cane to the batter and place candy cane Hershey's Kisses in the middle.
Coconut Chocolate Thumbprint Cookies
Add shredded coconut to the batter and place a Hershey's Kisses filled with Coconut Creme on top.
Caramel Chocolate Thumbprint Cookies
Leave out the cherries from the batter and top with a Hershey's Kisses filled with Caramel.
Or, try adding either Caramel Sauce with Vanilla and Bourbon or Pumpkin Spice Salted Caramel to the center
Orange Chocolate Thumbprint Cookies
Add diced candied orange peel bits to the batter and fill the center with orange marmalade.
Chocolate Thumbprint Cookies with Jam
Leave out the cherries and add your favorite jam flavor to the center: raspberry, marmalade, strawberry, etc.
Raspberry Chocolate Thumbprint Cookies
Leave out the kiss from the center and instead, fill the center with homemade raspberry curd.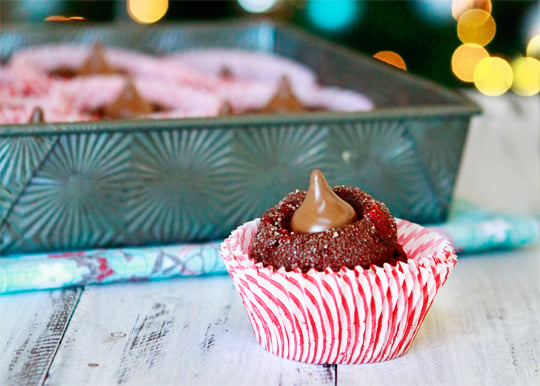 I love how the heat from the cookies warms the cherry chocolate kisses, but they still hold their shape.
Such a pleasant surprise when you bit into the Chocolate Cherry Cordial Thumbprint Cookies!
We already devoured one batch of these fun cookies and will most definitely be baking up another batch just in time for several members of our family to arrive in town this weekend.
I think these would also be a huge hit for Valentine's Day.
MORE CHRISTMAS TREATS:
If you're looking for additional inspiration for your Christmas treats this year, here are a few other favorite Christmas recipes to go along with this recipe for Chocolate Gingerbread.
Be sure to check out the Christmas Recipes Archive and the Dessert Recipe Archives if you need help building the rest of your holiday treat plans.
Bittersweet Chocolate Swirl Fruit and Nut Bark pairs bittersweet chocolate, white chocolate, almonds, raspberries, strawberries, pumpkin and chia seeds for a delectable holiday treat.
Do you like making candied nuts?
Cinnamon Vanilla Glazed Walnuts or Sweet and Spicy Rosemary Bar Nuts make great gifts or an addition to any exchange party for something sweet and savory as well as a great snack to have out for all your holiday parties.
This recipe for Chocolate Gingerbread Cake takes the classic flavors of Gingerbread and pairs them with dark cocoa.
This cake takes about 10 minutes to throw together and bakes up deliciously.
Candy Cane Crunch Funfetti Sugar Cookie Bars are super festive with red and green funfetti and crunch up candy cane sprinkled on top.
For a fun, unique twist on gingerbread cut out cookies, try these Chocolate Gingerbread Cookies!
Cranberry Pomegranate Walnut Bars are the perfect wintery recipe to add to your Christmas Baking list.
A crumb crust is layered with sweet and tart cranberries and topped with a crunchy and crumbly walnut topping.
What new Christmas Cookie recipe have you tried this year?