Oatmeal Almond Chocolate Chunk Cookies
May I interest you in a cookie? I changed up this Almond Butter Cookie Recipe a bit for something a little different. They're full of protein, whole wheat flour, oatmeal and dark chocolate (which, you know…is good for you). Never-mind that it's a cookie. These Oatmeal Almond Chocolate Chunk Cookies have some pretty good things in them too. And by good, I mean healthy.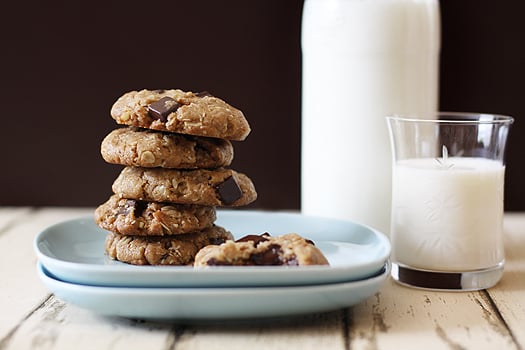 These are so good. So good that Logan, who was convinced that he would not like them (because of the oatmeal and he's picky about the strangest things) ate two. I love how chewy they are. I actually think I like almond butter cookies better than peanut butter cookies. The oatmeal. The chocolate. I love these dark chocolate chunks I found at the grocery store.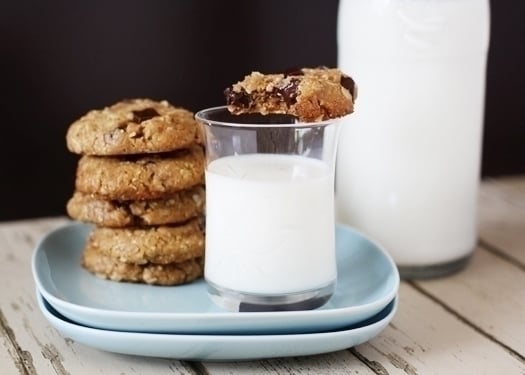 You know how sometimes peanut butter cookies are kind of dry? Not these. I think it's the oatmeal. But they're ooey, gooey, chewy, chocolately good. So go ahead and give them a try. And don't feel too bad about it either, because after all there are some healthy things about them. Not that dessert needs to be healthy to be good, but it always helps.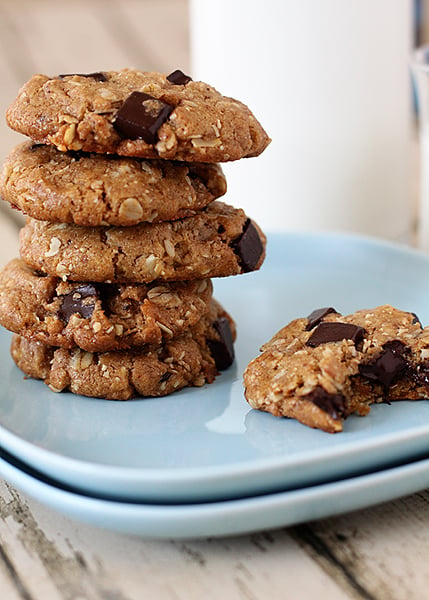 Oatmeal Almond Chocolate Chunk Cookies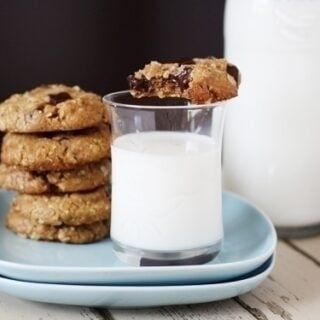 Ingredients:
1 3/4 stick (14 tablespoons) unsalted butter
3/4 cup granulated sugar
1 cup brown sugar
2 eggs
1 1/2 teaspoons vanilla extract
1 cup almond butter
1 1/4 cup whole wheat pastry flour
3/4 cup all-purpose flour
1/2 teaspoon baking powder
1/2 teaspoon baking soda
1 teaspoon salt
1 cup ground almonds
1 1/2 cups old-fashioned oatmeal (not quick cook)
8 ounces semi-sweet or dark chocolate chunks or chips
Directions:
Line baking sheet with parchment paper or silicone baking mat. Preheat oven to 350 degrees F.
Combine flour, baking soda, baking powder, and salt. Set aside. Beat butter until creamy. Add sugars beating until fluffy, approximately 3 minutes. Scrap the bowl as necessary. Beat in almond butter until incorporated. Beat in vanilla and then eggs, one at a time.
Gently stir in the dry ingredients (I switched to the paddle on my kitchen aid mixer). Add ground almonds and oatmeal and stir until just incorporated. Stir in the chocolate chunks.
Roll cookies into 2 Tbs sized balls. Place on baking sheets and bake cookies for 10-12 minutes. Edges should be slightly browned and the cookies puffed. Cool on sheets for 5 minutes before transferring to a cookie cooling rack.
Freeze any leftover cookie dough for use later. Check out my How To Freeze Cookie Dough post.
If peanut allergy is a concern: Look for an almond butter labeled "Peanut Free," i.e. Barney Butter. For the ground almonds, I recommend Blue Diamond Brand as a peanut-free option.