Chocolate Peanut Butter Cookie for One
If you're like me, theres always that moment where you really crave a cookie. But then you realize that to make a dozen cookies means creating a big mess in the kitchen. A dozen baked cookies means being tempted to eat the entire batch of cookies.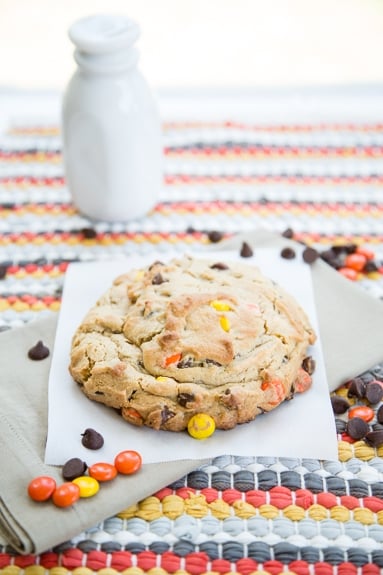 Written by: Caroline Edwards of chocolate & carrots
That's why this giant cookie for one is the answer to all of our problems. Technically, you could break this cookie up into fourths and share, but I say eat it all yourself! One cookie, less mess, and you've satisfied your cravings.
When you serve it warm out of the oven, the chocolate is melted and the Reeses Pieces crack open to reveal a melted center. Perfection.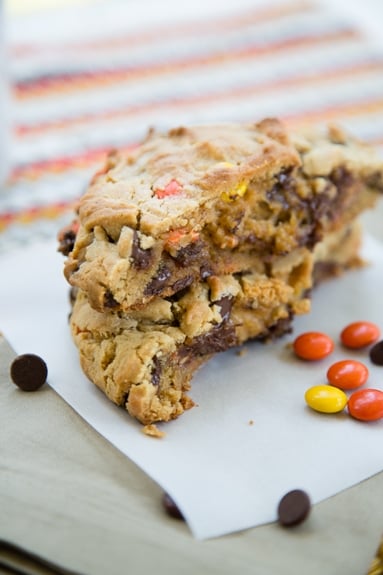 Plus, it has peanut butter in it, so it's healthy right? Protein anyone?
For peanut allergies, feel free to substitute almond butter for the peanut butter. Barney Butter brand almond butter is great because it is produced in an almond only facility and has a texture that resembles peanut butter.
You'll also want to leave out the Reese's Pieces. Double up on the chocolate chips or substitute plain M&Ms if you prefer.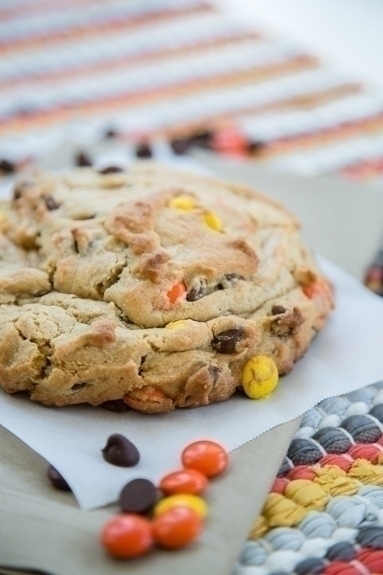 With hardly any clean up involved, this cookie is the best for that quick cookie fix. It's perfectly crunchy on the outside and soft and gooey on the inside. If you can't help yourself and need to make more than one, try these Kitchen Tips for Freezing Cookie Dough.
More Cookie Recipes:
When are you going to get your cookie fix?
Chocolate Peanut Butter Cookie for One
Yield: 1 cookie
Prep Time: 10 minutes
Cook Time: 17 minutes
Total Time: 30 minutes
One giant cookie, but will serve four if you're willing to share!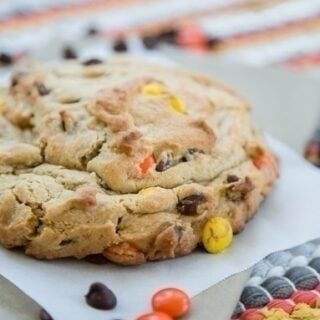 Ingredients:
2 tablespoons unsalted butter, softened
2 tablespoons sugar
2 tablespoons light brown sugar, packed
2 tablespoons beaten egg
1/2 teaspoon vanilla extract
2 tablespoons natural creamy peanut butter
1/2 cup unbleached all purpose flour
1/4 teaspoon baking soda
1/4 cup Reeses Pieces
1/4 cup semi sweet chocolate chips
Directions:
Preheat the oven to 350F and set aside a parchment paper or silpat covered baking sheet.
In a medium bowl whisk the butter and sugars together until combined. Whisk in the egg and vanilla.
Stir in the peanut butter. Stir in the flour and baking soda. Stir in the Reeses Pieces and chocolate chips.
Scoop the dough onto the baking sheet. Bake for 16-18 minutes.
Notes:
For peanut allergies, feel free to substitute Almond Butter. I recommend the brand Barney Butter because it is processed in an almond only facility to avoid cross contamination.