Black Bean and Egg Breakfast Tacos
I love tacos for dinner, especially these Black Bean and Egg breakfast Tacos. Breakfast tacos with eggs are always a personal favorite because they are delicious for breakfast or dinner.
Eggs are so quick to cook up and this recipe really doesn't make much of a mess at all in the kitchen. I love other tacos too and there are so many different variations to cook up.
Other Black Bean Taco Filling Ideas
Grilled chicken or steak or ground beef or chicken instead of eggs
No eggs, no meat, add sautéed or grilled veggies like zucchini, red peppers, and corn
Refried pinto or refried black beans spread onto the tortilla
Fresh salsa, salsa verde, or pico de gallo
Hot sauce or enchilada sauce
You can also make these as burritos using a larger tortilla so you can roll them up and tuck the ends in to keep all of the ingredients inside.
This particular recipe happens to be my favorite way to eat a breakfast taco with eggs. I like the smaller tortillas because they are just the right size and they're stuffed with all things I love: scrambled eggs, avocado, cilantro, salsa, and seasoned black beans.
More Black Bean Recipes
What are your favorite taco fillings?
Black Bean and Egg Breakfast Tacos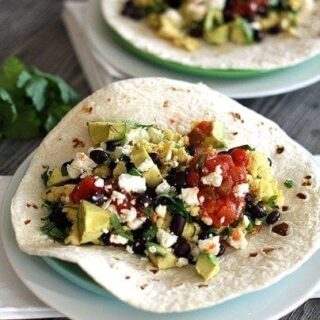 Ingredients:
6 large eggs
2 tablespoons milk
salt and pepper, to taste
1 – 15 oz. can Bush's Black Beans, drained and rinsed
1/2 of a lime, juiced
1/4 teaspoon cumin
1/4 teaspoon chili powder
3/4 cup feta cheese, crumbled
1 avocado, diced
salsa, your choice of heat
1/2 cup cilantro leaves, rinsed and chopped
6 soft taco sized flour or corn tortillas, warmed
Directions:
Combine the eggs, milk, salt, and pepper. Hand beat the eggs using a whisk or fork until yolk and white are evenly mixed and the eggs are frothy, about 1 minute.
Combine the drained and rinsed beans with the lime juice, cumin and chili powder. Cook covered over the stove or in the microwave until warm. Set aside.
Grease a nonstick saute pan and set it over medium-high heat. Add eggs to the pan. After the eggs begin to set, gently move them around in the pan with a spatula or wooded spoon. Move the eggs to the center while tilting your pan to redistribute the unset parts.
Break apart large pieces with your spoon or spatula. Turn the eggs as needed until the are cooked through. Stir in the chopped cilantro.
To assemble the burrito: divide the egg and black bean evenly among the tortillas. Garnish each burrito with feta, avocado, and salsa. Top with additional cilantro, if desired. Serve immediately.
Notes:
Pepper jack, cheddar, Mexican blend or Monterey Jack cheeses are also tasty.
For folded and tucked burritos, use 8-inch sized tortillas.