Southwestern Black Bean Pasta
You're probably not even missing the recipes posts this week with the Mother's Day Gift Guide running daily and all those fabulous prizes! Here's one anyway: Southwestern Black Bean Pasta.
I shared this recipe this morning over at Good (&CHEAP) Eats for Jessica's Building a Frugal Pantry series. Black beans are definitely a staple in our pantry! Just check out all these recipes I've made featuring black beans:
This series that Jessica has going is a great resource for anyone needing a little encouragement and information on how to stock a pantry well, and frugally. My other posts in this series include 5 Grain Pancakes with Flax and Quinoa Stuffed Bell Peppers.
Southwestern Black Bean Pasta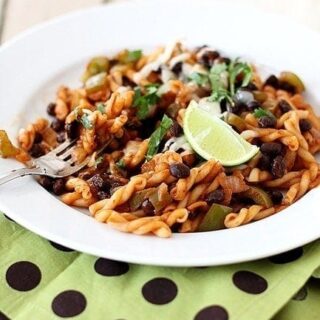 Ingredients:
1 tablespoon Olive Oil
2 Green Bell Peppers, diced
1 Yellow Onion, diced
2 cloves minced Garlic
1 teaspoon Dried Oregano
1 teaspoon Ground Cumin
3 cans Black Beans, rinsed and drained
2 - 14 ounce cans Tomato Sauce
1 - 14 ounce can Diced Tomatoes
Salt and Pepper, to taste
1 lb Pasta of choice (penne, rigatoni, rotini, or shells all work great), cooked according to package instructions
serve with shredded Pepper Jack or Cheddar Cheese if desired
Directions:
Heat the olive oil in a large skillet over medium heat. Add the bell pepper and onion and saute until tender, about 3 - 5 minutes. Add the minced garlic, dried oregano, and ground cumin. Saute another minute, until fragrant.
Stir in the black beans, tomato sauce, and diced tomatoes. Cook over medium heat until bubbling, then reduce and simmer for about 20 - 30 minutes. Season to taste with salt and pepper.
Add prepared pasta to a large shallow bowl. Pour the black bean sauce over top. Serve, passing shredded cheese (if desired) for sprinkling over individual plates of pasta.