Easy Black Bean Salad
I'm back in Colorado after a few days in Vermont, which means we are back to warm weather. Kind of a contrast after this week's Beefy Kidney Bean Chili post, but oh well. It is supposed to be gorgeous this weekend, which is great because Logan's spring soccer season is just beginning.
With the warmer weather I have been more inclined to craver lighter, fresher foods.  I am thrilled to be seeing all of the spring produce in the stores and to just feel like wow, there are so many more choices now that it is warming up. If you're looking for a few new spring recipes to add to your rotation, check out my spring produce guide to see what is in season.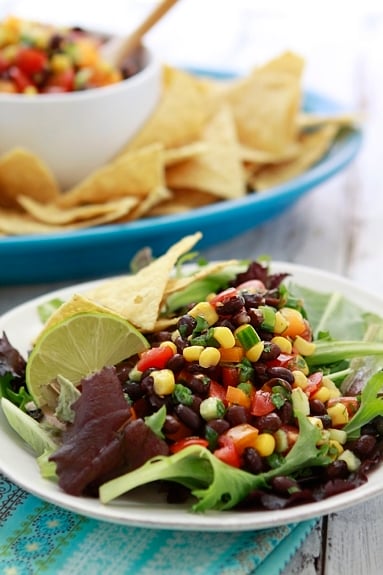 One of my favorite warmer weather dishes is this Easy Black Bean Salad. It's full of colorful vegetables, beans and flavor. 
I know I might be getting a little ahead of myself here, as this is a pretty summery dish. But my friend and I were just talking today about how we can't believe that summer is literally just around the corner.
Our kids have less than 2 months of school left which I know is going to just fly by. And then the pool opens.  It is also perfect for snacking, which….makes it perfect to take to the pool. But more importantly, Easy Black Bean Salad is totally versatile.
Uses for Black Bean Salad
Eat like salsa with store bought or homemade tortilla chips
A topping for grilled meats – this is delicious on grilled chicken or steak if you're looking for southwestern flavors with your meat
Inside steamed flour or corn tortillas with cheese and avocado or guacamole for no-cook tacos
On top of a bed of mixed greens for a simple, Mexican inspired salad.
Mix with steamed white rice for a colorful rice side dish
Inside an omelet or on top of scrambled eggs
Tossed with chilled couscous or quinoa; sprinkle with feta or other cheese of choice
With summer just around the corner I will definitely be keeping this Easy Black Bean Salad in mind when we pack our cooler lunches for our afternoon pool trips. I can't wait to enjoy this poolside with some tortilla chips while the kiddos and all their friends play. Seriously, is it summer yet?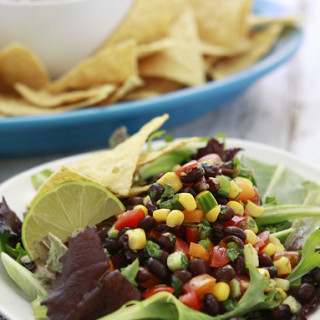 Ingredients:
1 can Bush's Low Sodium Black Beans, drained and rinsed
1/2 cup diced orange bell pepper
3/4 cup diced fresh tomato
1/2 cup corn kernels
1/3 cup diced English cucumber
3 green onions, sliced thin
1 jalapeno, deseeded and minced
2 tablespoons finely chopped cilantro
the juice of 1 lime
1/2 teaspoon olive oil
2 – 3 dashes cumin
salt and pepper to taste
Directions:
Combine the beans, bell pepper, tomato, corn, cucumber, green onion, jalapeno, and cilantro in a medium bowl. Stir until ingredients are well distributed.
In another bowl, combine the lime juice, oil, cumin, salt and pepper. Pour over the bean mixture, tossing to combine. Chill until serving time.
I have an ongoing relationship with Bush's Beans where I am compensated for my time, however this is a brand that I have always used in my own kitchen and any opinions expressed regarding the product are my own.