Roasted Poblano Cilantro Quinoa
This Roasted Poblano Cilantro Quinoa is so good! Just had to put that out there.
As I mentioned when I shared this Easy Coconut Quinoa Recipe, my kids actually like quinoa better than they like rice. I'm not really sure why so I just go with it.
Roasted Poblano Cilantro Quinoa might sound like a lot of work but it actually is really quick to prepare. While the quinoa cooked, I followed these tips for how to roast peppers and roasted my poblano pepper right on top of the gas stove. If you don't have a gas stove, you can follow the same basic idea using a gas grill.
After the pepper roasted, I peeled away the blacked skin and pureed the pepper. Then, I chopped up some cilantro. Mix that with the cooked quinoa and you've got Roasted Poblano Cilantro Quinoa. You get tons of flavor from the roasted poblano and the cilantro adds a nice bit of flavor too, as well as adding a little pop of color.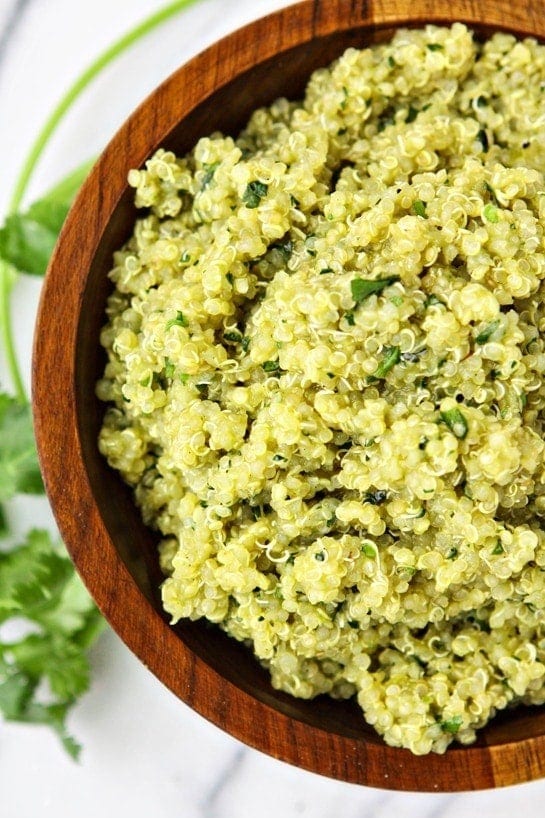 I like to think of this Roasted Poblano Cilantro Quinoa as a healthier alternative to cilantro rice. It is a great side dish for any Mexican meal but also works well as the base of a main dish.
Try it topped with some Crock Pot Mexican Chicken, Easy Black Bean Salad, and Roasted Tomatillo Guacamole for a Mexican Quinoa Bowl, as a filling alternative for chicken and rice burritos or Quinoa Stuffed Peppers.
Roasted Poblano Cilantro Quinoa is perfect for Meatless Mondays. Use it to build this recipe for Mexican Sweet Potato Quinoa Salad rather than plain quinoa or stuffed some Zucchini Boats with a few spoonfuls of Roasted Poblano Cilantro Quinoa. There are so many options!
Roasted Poblano Cilantro Quinoa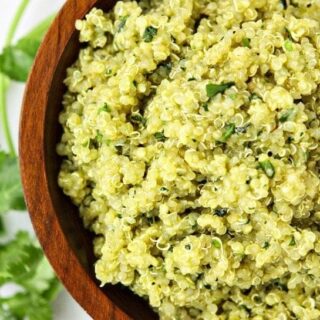 Ingredients:
1 cup quinoa
2 teaspoons butter
1 cup water
1 cup vegetable or chicken broth
salt, to taste
1 poblano pepper, roasted
3 tablespoons finely chopped fresh cilantro
Directions:
Melt the butter over medium heat in a medium sized saucepan. Add the quinoa to the saucepan and cook, stirring often, until the quinoa is golden, about 5 minutes.
Add the water, broth, and salt and bring to a boil. Cover and turn heat to low. Simmer on low for 15 minutes. After 15 minutes, turn the heat off but leave the lid on and let sit for 15 minutes.
Meanwhile, roast the poblano pepper (see tips for how to roast peppers). After removing the charred skin, stem and seeds (if desired - I don't like mine too hot so I remove the seeds), puree the pepper using a blender or small food processor.
Using a fork, fluff the quinoa and stir in the pureed poblano and chopped cilantro.
Notes:
You may like adding the juice of half a lime or lime zest to this recipe.